How your fitness tracker can help detect signs of long Covid
A new study highlights how data from fitness trackers such as Fitbits and Apple Watch can highlight long-term effects of Covid-19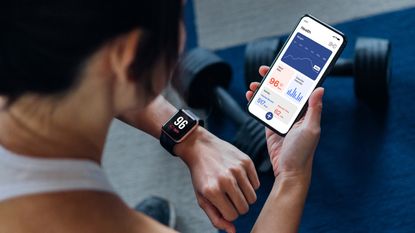 (Image credit: Getty)
Many of us use fitness trackers to monitor our general health, including heart rate, sleep patterns and daily step count. Indeed, recent figures showed that some 21% of Americans now wear a fitness wearable.
Now new research suggests that there's an additional way that the best fitness trackers can help us track and understand our health - claiming that they could help detect signs of so-called 'long Covid'.
Conducted by researchers at Scripps Research Translational Institute in California, the study looked at data from some 38,000 fitness wearable users over a 10 month period.
Participants used the MyDataHelps research app to sync their data from either their Fitbit, Apple Watch or other fitness watch. To make sure the results were accurate they also input any symptoms of illness and reported any Covid-19 test results.
Of those 38,000, researchers honed in on 875 participants who had respiratory symptoms, of whom 234 then tested positive for coronavirus. This then allowed for data comparisons between Covid negative and positive participants.
The results showed significant variances in the health stats collected via the participants' fitness trackers of those people who tested positive for Covid-19 when compared to their negative counterparts.
For example, whilst all 875 participants with respiratory issues were found to sleep more and take less steps, the effects were 2.5 times more for Covid-positive participants, and lasted for a month.
However, the most significant finding was the effect of Covid on heart rate. After a brief period of bradycardia (slower than normal heart rate), Covid-positive participants suffered from prolonged tachycardia (elevated heart rate over 100 beats per minute). On average, their heart rate didn't return to normal until 79 days after their symptoms began. A smaller group of people (14%) saw their heart rate go up by five beats per minute and didn't go back down for nearly five months (133 days).
Dr. Robert Hirten, a gastroenterologist and wearables expert at the Icahn School of Medicine at Mount Sinai, told The New York Times: "This was an interesting study, and I think it's important. Wearable devices offer an ability for us to be able to monitor people unobtrusively over long periods of time to see, in an objective way, how really has the virus affected them?"
If you don't already own a fitness tracker but want to invest, we're here to help with our dedicated article on the best cheap fitness tracker deals. We've also picked the best Fitbits, one of the most known and trusted brands on the market, and also track all the latest prices over on our Fitbit deals page.
Get the Fit&Well Newsletter
Start your week with achievable workout ideas, health tips and wellbeing advice in your inbox.
Sarah is a freelance journalist who writes about fitness and wellbeing for the BBC, Woman&Home and Tech Radar. During lockdown she found her love of running outside again and now attempts to run around 50 miles a month. When it comes to other fitness, she loves a sweaty cardio session – although since she's been working out from home she's sure her downstairs neighbors aren't too happy about it. She also loves to challenge herself - and has signed up to do hiking holidays, intense bootcamps and last year she went on her dream activity holiday: paddle boarding around deserted islands in Croatia. On her rest days, she loves to recover with a simple yoga flow session – the perfect antidote to her active fitness schedule.