The Allbirds Tree Runners are great for gentle walking – but not for cross-country hikes.
The Allbirds Tree Runner shoes are made from breathable, flexible materials but there's not much cushioning or support in the eco-friendly shoe.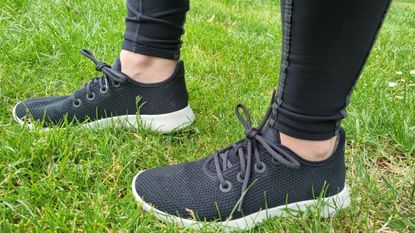 (Image credit: Future)
These eco-friendly shoes have a breathable mesh upper and a flexible sole, which makes them super light on the feet. The minimal cushioning in the mid-sole won't suit all walkers, but it's sufficient if you're only going for gentle walks on even ground.
Reasons to buy
+

Lightweight

+

Flexible sole

+

Eco-friendly
Reasons to avoid
-

Minimal cushioning

-

Not waterproof
There's a lot to like about the Allbirds Tree Runners. They're very eco-friendly – thanks to their sustainable materials – and they look fairly stylish too. The breathable, eucalyptus upper means that the shoe doesn't feel too warm in hot weather and the lightweight material means that they feel almost weightless on the foot.
These are undoubtedly the best shoes for walking if you're an eco-conscious buyer. However, there is a catch, which is that they don't provide much in the way of cushioning. If you're using these to walk over uneven ground, you'll feel everything that passes underfoot.
We didn't find this caused any serious discomfort and there are even some benefits to wearing a lightweight, pliable shoe. But if you're buying shoes for more serious off-the-grid walking holidays, then you should opt for something more substantial.
Design and technology
The Tree Runner is a shoe for the environmentally conscious. The upper is made from eucalyptus fiber, a fast-growing tree that lives on natural rainfall, while the SweetFoam midsole is made from renewable sugarcane. There's also a soft insole made from Merino wool and castor bean oil – and the shoelaces are made from recycled polyester.
Using these sustainably sourced materials does come at a price. The SweetFoam midsole was noticeably thinner than those on the other shoes we tested. And while the eucalyptus upper is breathable, it isn't thick, so it won't protect you from prickly bushes and other niggly plants.
Arguably, this is looking at the Allbirds in the wrong light; if you're using the shoes to travel across city streets and sandy roads, then you don't need all these layers of protection. In fact, having a pliable, soft-material shoe allows you to connect more solidly with the ground beneath you. And their soft, breathable design means that they're excellent in hot weather.
Fit, feel and comfort
As mentioned, there's minimum cushioning here, especially under the ball of the foot. The silver lining to this minimalist approach is that the shoes are lightweight, coming in at just 0.5lbs. If you hate feeling constricted by clunky, heavy boots, then these are a great option.
We also found that there were situations where the flexibility of that thin midsole came in handy. When pulling ourselves along uneven terrain, we were able to easily bend the shoe around awkward shapes in the ground.
Allbirds actively encourages you to wear your shoes without socks, which we tried out. We were pleasantly surprised that there was no odor after doing this. This quality is apparently down to the Merino wool insole liner, which wicks away moisture when you sweat. The shoes can get surprisingly hot if you do wear socks, so we'd recommend getting comfortable being barefoot in these sneakers.
Everything feels pliable about this design: the heel counter, which forms the back column of the shoe, and the collar are soft. And the stretchy eucalyptus upper on this shoe means that it can accomodate any foot shape. If your toes splay out a little or you have wider feet, you should be able to fit into them comfortably.
Support
The outsole of the shoe is lined with deep ridges, which provide a decent level of grip. This isn't as comprehensive as something like the GoWALK Arch Fit Motion Breeze, which has two types of rubber installed on the bottom. But if your shoes are primarily going to be used for walking along streets or sandy areas, it should be sufficient.
There's a nice little curve of arch support built into the shoe, thanks to that removable insole, which provided support during longer walks of 10,000+ steps.
User reviews
There are hundreds of glowingly positive reviews for these shoes online. Out of 665 bits of feedback on the Allbirds website, the shoes have netted an impressive 4.7 out of five stars. Happy customers praise the comfort, aesthetics and sustainability credentials of the shoe.
The handful of negative reviews are mostly focused on sizing issues: the website advises that customers go down a size, as the shoe supposedly expands to fit your feet, but some customers have found this isn't the case. Other negative reviews state that the shoes are too soft and provide too little support.
Verdict
These are the ideal shoes for traveling: lightweight and breathable, they are great in hot weather as long as you're happy to ditch your socks. The flexible outsole on the shoe means that they can easily be flexed around uneven terrain, but the lack of cushioning might not suit all walkers.
We'd recommend these shoes if you're someone who prioritizes sustainability. The credentials for the shoes are watertight, thanks to the use of renewable materials and a carbon-neutral manufacturing process. However, if you're planning on a serious hiking holiday that's going to take you into rough, rugged terrain, we'd recommend you look elsewhere for a walking shoe.
Also try
Merrell Moab 3
The Merrell Moab 3s might not have the same sustainable materials as the Allbirds design, but they are built to last. Made from tough pig skin, it's packed with all kinds of rigid support, with a protective toe cap and a special air cushion heel that absorbs impact.
Skechers Go Walk Arch Fit Motion Breeze
These chunky trainers from Skechers are a little heavier than the Allbirds, but they look surprisingly similar. With a more cushioned midsole and a greater level of grip, they're more of a 'serious' walking shoe with a higher level of support. This does mean that the sole is inflexible, but if you prefer a 'springier' type of shoe then this is a good option.
Ruth Gaukrodger is the fitness editor for Fit&Well and its sister site Coach, responsible for editing articles on everything from fitness trackers to walking shoes. A lot of her time is spent setting up testing protocols for our in-depth buying guides and making sure everything is reviewed to a set standard, so you can be confident we only recommend the best products on the market.
When she's not wrestling with equipment in our dedicated testing centre, you can find her pursuing running PBs around the streets of London or improving her yoga skills from the comfort of her living room. She's a keen believer in working out for enjoyment first and is always open to hearing about new, fun ways to exercise.