Incus Nova review
Our Incus Nova review found this pioneering bit of kit impressive, but there are still kinks to be ironed out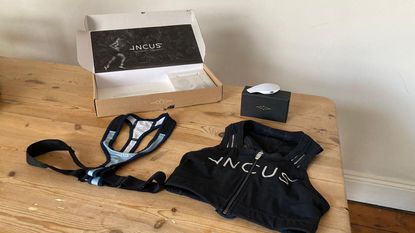 (Image credit: Future)
The Incus Nova does what other fitness trackers can't, providing actionable coaching cues to help you improve both your running and swimming performance - something serious athletes and competitive triathletes will love. However, while creators say updates are incoming, discrepancies when tracking swims meant it didn't yet feel like the finished article.
Reasons to buy
+

Unique technique cues and coaching

+

App loaded with detailed feedback and advice for running and swimming

+

One time fee - no ongoing subscription

+
+
Reasons to avoid
-

Issues with swim-tracking lacked accuracy

-

No in-built GPS

-

Hard to access controls when swimming
I can't pretend I wasn't looking forward to this Incus Nova review. When much of my testing revolves around established categories - like the best running watches or walking shoes - it's always exciting to try out a pioneering new product.
The Incus Nova is just that, with its spaceship-esque central module slipping into a specially-designed vest and sitting at the top of the spine to analyze both running and swimming performance.
Through its unique central positioning, it tracks your technique rather than your physiological responses to the activity - like heart rate. So, you can enjoy detailed data on your cadence, stride impact and flight time when running, or your body angles and swim economy when in the water (more on this below).
The information-packed Incus Cloud app also provides plenty of actionable technique tips to help improve your performance too - acting as a compact coach without the running cost of regular one-to-one sessions.
So, is it as clever as it sounds, or is it too good to be true? We got our hands on the Incus Nova to find out.
Incus Nova: Price and features
There are several options when buying the product from the Incus website. The swim bundle and the running bundle will each set you back $247/ £213. These contain the central unit, Incus Cloud app access for viewing your feedback, and a specially-designed vest - the Core Run T-Strap for running and the Incus FIIN Vest for swimming.
Alternatively, you can buy the swim plus run bundle for $370/ £320, which comes with both vests and allows you to track both activities on the app. Music to the ears of triathletes; the creators of the Incus Nova tell me cycling tracking is currently in the works.
This may seem like a hefty investment at first, but when the likes of Whoop and Fitbit are charging monthly fees for no-holds-barred access to their tracking apps, it can be nice to pay a one-off fee. You also get in-depth data you would expect from a coach or professional analyst, and it's definitely cheaper than privately hiring either of these.
Incus Nova: Workout performance
While there was a lot to love with the Incus Nova, I found it was a tale of two activities when reviewing its workout performance. Let's start with where it excelled during my tests: running.
I went for three runs with the tracker; a short and relatively fast 3km, an interval session, and a recovery run. It doesn't have an in-built GPS, so I linked it to my phone for route and distance tracking.
The Incus Nova can be controlled intuitively from the app, where you can start, stop and sync your session. Syncing workout data can take a while, particularly for longer sessions, but the result is worth it.
I was met with a veritable smorgasbord of data, including everything from my cadence to the average impact and takeoff force of my strides (with data for both my left and right side to highlight any imbalances).
Alongside each data set was a digestible graph and a question mark button which revealed insights into what each figure meant and how to improve your score. As something of a stat-fiend, this was my favorite feature of the product, acting like a personal performance analyst in my pocket.
Following this, I was excited to try it in the water. However, it was here that I encountered a few problems.
For obvious reasons, you can't control swim-tracking from your phone. Instead, just before you're about to push off to start your swim, you press the solitary power button on the central unit to start recording. This will cause it to vibrate and a light on the unit will switch from green to blue. But, with the unit on my back, I had no way of knowing whether the light had changed.
As a result, when I checked to see if the first part of my swimming session had recorded successfully, I found the unit had switched off rather than started tracking, leaving me without any data.
I then switched it on and tracked the second half of my swim, but the data I received was incomplete. There was interesting feedback on my body angles in the water, which were above the recommended range meaning I was tilting too far from side to side with each stroke. However, I was missing other data such as a full swim economy score.
Contacting the Incus team, I was told this was likely down to the use of the Core Run T-Strap rather than the specialist swimming FIIN vest, with the T-Strap working well in some swim sessions during the brand's testing but moving too much while swimming to provide accurate data in others (more on this in the Design and Comfort section below).
Incus Nova: Data tracking
Providing in-depth metrics for every run and swim, the Incus Nova feels like having a one-to-one instructor at your beck and call.
The running feedback shows your pacing and cadence, power and elevation (a measure of energy per step versus height gained), take off and landing (the acceleration and impact forces generated with each step), and stride flight and contact times.
Meanwhile, after swimming sessions, you can view your pacing and splits, swim economy (a measure of stroke efficiency using the ratio of propulsive and restrictive forces acting upon you), stroke rate, and (most interestingly) body angles in the water. This last one was the most interesting in my eyes, as your torso should not pitch more than 20 degrees either way while doing front crawl - something my results showed I definitely need to work on.
Thanks to its central position at the top of the spine, the Incus Nova can also provide individual figures for your left and right side. I found this a really smart feature, showing any imbalances in your technique that may need addressing to improve efficiency.
Incus Nova: Design and comfort
One of the most important things to address when testing wearable fitness tech is whether it's comfortable or cumbersome. Happily, the Incus Core Run T-Strap vest proved to be the latter; within a few meters I forgot I was even wearing it, with the stretchy, lightweight material moving well with my body.
I was provided with both the T-Strap and the FIIN Vest for testing. The unisex FIIN vest is designed to fit tightly to be unobtrusive and provide "NetZero drag effects". However, while the T-Strap vest fit me perfectly, the FIIN vest proved too small and I could not attach the front zipper. So, it might be worth ordering a size up, or paying close attention to the size guide on the Incus website.
I was advised the T-Strap could be worn in the water, and this felt comfortable and unrestrictive throughout my pool sessions, though it was attributed with causing the tracking errors mentioned above.
Incus Nova: User reviews
As a niche product only available via the Incus website, user reviews of the Nova available online are few and far between, though the Incus website features favorable feedback from wearers.
Pro triathlete David McNamee says that, "Tracking run power means I can stay consistent in my training," and Olympic gold medal-winning triathlete Alistair Brownlee (who has been a part of the product's development process) adds: "I've really enjoyed working with the Incus team to produce accurate and useful information that can add something to everyone's training."
Incus Nova: Verdict
It's hard to compare the Incus Nova to other running watches as it fills a very different role - providing technique feedback rather than showing how your body responds to exercise. Given this differing functionality and its ability to link to a Garmin or iPhone (with further brands to follow) it's likely you would want both devices rather than choosing one or the other.
I was a big fan of the running feedback and actionable advice for improving my performance available via the app, which I was able to put into practice on my very next session. The individualized data for your right and left side is another feature that sets it apart, highlighting imbalances in your technique.
However, it was let down by the incomplete swimming feedback provided.
Overall, I would recommend this to serious runners and triathletes chasing that competitive edge. The detailed data goes beyond what casual exercisers will want or need, but performance-driven individuals will love the depth of the forensic feedback.
Also consider
Polar Vantage V2
You may want a wrist-worn running watch to accompany your Incus Nova. If that's the case, you can't go far wrong with the Polar Vantage V2 - our top-rated tried and tested running watch. It does everything you would expect from a running watch, and then some, with sleep tracking, fitness tests, and more. It can also monitor running, swimming and cycling non-stop - welcome news for passionate triathletes.
Garmin Enduro
Alternatively, we have no hesitation in recommending the Garmin Enduro. Garmin rarely misses a beat when it comes to wearable tech, and the Enduro is no different, with a wealth of data available and phenomenal battery life. There's even a solar-charged boost, so it's got enough juice to see you through even the longest endurance events.
Get the Fit&Well Newsletter
Start your week with achievable workout ideas, health tips and wellbeing advice in your inbox.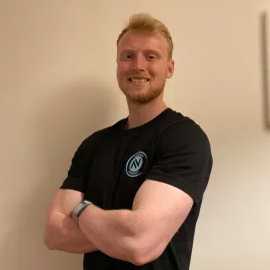 Harry Bullmore is a Fitness Writer for Fit&Well and its sister site Coach, covering accessible home workouts, strength training session, and yoga routines. He joined the team from Hearst, where he reviewed products for Men's Health, Women's Health, and Runner's World. He is passionate about the physical and mental benefits of exercise, and splits his time between weightlifting, CrossFit, and gymnastics, which he does to build strength, boost his wellbeing, and have fun.
Harry is a NCTJ-qualified journalist, and has written for Vice, Learning Disability Today, and The Argus, where he was a crime, politics, and sports reporter for several UK regional and national newspapers.