Garmin Enduro review: the ultimate running watch
The latest top-end running watch from Garmin powers your workouts for longer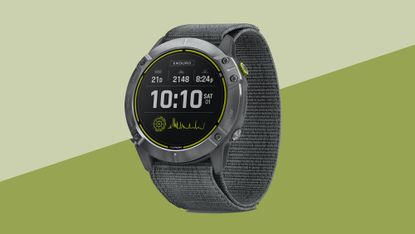 (Image credit: Garmin)
A watch with a battery life that puts all others to shame, the Garmin Enduro can go weeks without recharging, features a solar-charged boost and will record your longest endurance runs. It provides a wealth of data, and can track every sport you can think of.
Reasons to buy
+

Phenomenal battery life that will see you through any activity

+

Ability to boost charge via the sun

+

Easy to navigate and clear-to-see screen
Reasons to avoid
-

The price - this isn't a pocket money purchase

-

Large face size may be too big for smaller wrists

-

No ability to download music onto the watch
In this Garmin Enduro review, we put the brand's ultra-performance GPS watch to the test to see if it can really deliver.
The number of people taking on challenges that are longer, more mountainous, over multiple days is increasing. Athletes are looking for new ways to challenge themselves and see what their bodies are capable of.
As a result, there's a bigger demand for tech that will see them through these ultra-long events. Step forward the Garmin Enduro. Released in February 2021, it is designed to record the longest of multi-day endurance events without requiring another charge thanks to an ultra-long battery life that surpasses most other fitness watches on the market - earning it a spot in our best running watch list. It also offers an array of fitness tracking and health-monitoring data, which we will explore in more detail below.
Garmin Enduro review: price and features
Garmin's Enduro retails for $799.99/£699.99, and the Titanium version for $899.99/£799.99.
It's aimed at endurance athletes looking for advanced features such as accurate GPS, extra-long battery life, and a wealth of metrics and data - all of which the Enduro provides.
It also has innovative features such as solar recharging, so you can charge it via sunlight when in use, and ways to conserve the battery by managing sensor use.
The watch comes with a double-ended Velcro strap for a secure and adjustable fit, and it can easily be tightened or loosened while on the move. The oversized watch face is easy to read, and made from Power Glass, which is scratch-resistant and provides clear readings even in the sun's glare.
Garmin Enduro review: design
Design-wise, the Enduro follows the mold of other Garmin watches, and you can instantly tell that it's a Garmin device due to its design, colorway, and digital font. The Enduro adds a flash of lime green around the bezel and on the main stop/start button to make it stand out from the other buttons.
There's no escaping the fact this is a big watch, though – if you have small wrists, you may find it overwhelms your arm. It's also not the lightest watch available by some stretch – the steel version is 71g. The titanium version (which I tested) is 10g lighter at 61g, but that's still heavier than other running watches on the market, such as the Polar Vantage V2 (52g).
The watch features five buttons that control the device. These make it easy to navigate through the screens, settings and options and operate in a similar manner to other Garmin watches such as the Garmin Vivosport.
Garmin Enduro review: screen
The Garmin Enduro's screen is crafted from Power Glass Solar, which means it's tough, scratch-resistant glass that also has the ability to charge the battery in sunlight. How? The lens is solar, meaning it will take power from the sun to extend battery life. But, is it any good?
The color screen is always-on with a transflective LCD sunlight-optimized display. In my testing, I found this clear to read even with the brightest sun shining directly onto the screen - something that some watches can struggle with.
Garmin Enduro review: data tracking
As you'd expect from any fitness smartwatch, the Enduro covers standard metrics such as daily steps, floors climbed, and sleep. It also records heart rate via a wrist sensor while you wear it, and can measure your pulse ox levels (how much oxygen your blood is carrying), either constantly (which will drain the battery slightly faster) or just at select times when you want to check it.
But for the price of the Enduro, you'll understandably demand more than the basics, so the watch also offers an array of features such as respiration rate tracking (my average was 15 breaths per minute at rest), where it suggests breath workouts if it registers you as stressed. There's also a raft of swimming and cycling-based features, and even golf-specific features including 42,000 courses preloaded.
Sports Modes
The watch is not simply a running watch. Like most watches now, it tracks multiple sports, and the list of sports that the Enduro can record is long and varied. You can select a shortlist of sports that you regularly track so that you don't have to scroll down a huge list each time you want to find 'Run'. And, as an example, there's not simply 'Run' – you can choose 'Treadmill Running', 'Indoor Track Running', 'Trail Running', 'Ultra Running' and 'Virtual Running'.
It truly is a multi-tasker – for instance, if you choose MTB, it gives you specific data on your 'Flow' (how well you maintain speed during the ride) and 'Grit' (ride difficulty) levels. These extra details make it a data lover's dream. The flipside of that is that if you easily get overwhelmed by data, you may want to consider a simpler model.
Performance

In testing, the watch lived up to its battery hype. The first time I charged it was after wearing it constantly for 32 days, and even then it didn't actually need a charge, as it still said it had 21 days of charge left. In that time, I recorded 24 activities on the watch, most around an hour in length. By any standard, this is impressive.
One of the new features on this watch that trail runners will appreciate is Trail Run VO2 Max. This provides more accurate VO2 Max readings (the maximum amount of oxygen you use during exercise) for trail runners, as most watches base VO2 Max readings on pace, and when you're running off-road your pace can drop. As a result, the Trail Run VO2 Max takes this into account and provides a more accurate VO2 Max reading.
Battery life
As mentioned, battery life is where the Enduro raises head and shoulders above most, if not all, of its competitors. On the Garmin website, the battery life is described as "epic", and that's a valid description.
It's designed to last you through the longest of ultra-endurance events across multiple days – in its max battery mode, it can record for up to 200 hours with GPS on. Battery Saver Watch Mode, meanwhile, can last for up to 130 days between charges.
Connectivity
Like most Garmin watches, this pairs with your smartphone seamlessly, and will notify you when you get a call, message, even when a new episode of your favourite podcast drops.
The watch offers the ability to control your phone's music, but does not allow you to download music onto it, like other Garmin watches. So if you want to listen to music you'll need to take a device with you on your run.
Garmin Enduro: verdict
This watch is ideal for adventurers who run multiple times a week but also dabble in other sports such as mountain biking or stand-up paddleboarding, as it can track multiple sports. The battery leaves other watches in the shade, going up to 130 days between charges, so you never have to worry about running out of power. GPS and HR are accurate, and pulse ox is always handy.
Also consider
Garmin Fenix 6X
The Enduro's main competitor within Garmin's own stable, the largest-screen Fenix offers similar features to the Enduro and comes in at a similar price. There's even a solar-powered version, although this addition pushes the price up to $949.99 / £849.99.
Coros Vertix
Another watch with a head-turning battery life, Coros's Vertix is built for adventurers, is lighter than the Enduro, and can operate at extreme depths of water and low temperatures.
Polar Vantage V2
The Vantage V2 is yet another watch that can go for weeks between charges thanks to a super-charged battery, it also features a wide watch face and the ability to track 130 different sports. It's also light, at only 52g, making it a viable lightweight and long-lasting alternative to the Enduro.
Get the Fit&Well Newsletter
Start your week with achievable workout ideas, health tips and wellbeing advice in your inbox.
Howard is a freelance health and fitness journalist and copywriter. He has written for publications including ShortList, Runner's World, Trail Running, Women's Running, Red Bulletin, Wareable and Cycling Weekly. He enjoys nothing more than lacing up his trail shoes and heading out to explore new trails. He's run ultramarathons everywhere from the French Alps and Canadian mountains to the Welsh coast and Peak District. When not running, he's usually found hitting his local MTB singletrack trails or on a quest to find the country's best cinnamon bun.