Keiser M3i Lite Exercise Bike Review: A top-notch versatile smart bike
Our Keiser M3i Lite exercise bike review, as we put one of the most popular at-home smart stationary bikes to the test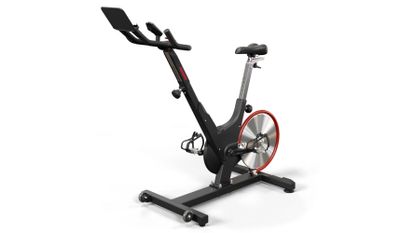 (Image credit: Keiser)
The Keiser M3i Lite Exercise Bike is a basic, smooth indoor cycling machine with a wide range of gears (24) and links up to Digme At Home cycle live and on-demand classes (via a paid subscription). No power cable means you can position it anywhere in the house.
Reasons to buy
+

Smooth, quiet, and dependable

+

No power cable required

+

Links to Digme At Home classes
Reasons to avoid
-

If you want tonnes of workout data

-

No wi-fi connectivity
Welcome to Fit&Well's review of the Keiser M3i Lite exercise bike. Read on to find out how it performed under testing conditions.
Indoor cycling is constantly upping its game, with new bikes arriving packed with increasing levels of tech and all kinds of ways to record data. While this is great for those who love nothing more of an evening than analyzing their latest workout and ways to improve their pedaling technique and cycling efficiency, not everyone wants – or needs – that level of information.
This is where the stripped-down Keiser M3i Lite exercise bike comes in. This is the kind of bike you'll find in spin classes, certainly ranking among our best exercise bikes. Its simple V-shaped design makes it easy to adjust and importantly lighter than many stationary bikes. You can move it around easily thanks to two small wheels positioned on the front of the base of the bike.
Its footprint is small – at 26in wide and 51in long it will easily fit into a small space, and although it's not the lightest at 40kg, it still took two people to lift it upstairs to house it in my spare room.
Keiser M3i Lite Exercise Bike: Price and features
The Keiser M3i Lite exercise bike is available in both the UK and US. It is currently priced £1,440/$2,095. For that, you get the bike only – no access to fitness subscriptions.
If you want to add a cycling subscription in the UK, Digme At Home instructors use the Keiser m3i Lite bike, so it works well with their classes. Their monthly subscription is £25, with the first 30 days free.
Keiser M3i Lite Exercise Bike: Set-up
The Keiser m3i arrived fully constructed and set up ready to go. This made it exceptionally easy to get started – I used it to connect to Digme's At Home classes, and set-up was seamless. Once I had positioned the bike where I wanted it, it was ready to go.
My review bike was supplied with clipless pedals that could accommodate both SPD and SPD-SL-type pedals (via each side of the pedal). I'm told that if you purchase a Keiser M3i it comes with these pedals plus a pair of regular pedals with a toe cage too if you prefer riding without clipless pedals.
In terms of setting up the bike to fit me, I found it to be a simple procedure. The saddle height is adjusted with a simple twist knob, and the notches are labeled with letters, which makes it easy to remember if you're sharing the bike with other house members who need to adjust the seat to their own measurements. The saddle can also slide forward and backward, and the handlebars also adjust up and down.
Overall, the set-up was quick and without major headaches, meaning you can get to the intended purpose of the machine – working out – even quicker. And the fact that it does not require mains power means that you can position it anywhere without having to worry about the nearest plug socket or wires snaking across the floor.
Keiser M3i Lite Exercise Bike: Performance
Due to the pared-back nature of the bike, it's refreshingly simple to use. It features Bluetooth connectivity to external HR sensors, which found my Polar HR sensor quickly. Aside from HR, the display shows cadence in RPM, power output (in watts), time elapsed, distance and your gear.
The bike features 24 gears which are changed via a small lever in the centre of the handlebars. Pull the lever up and the gears go higher, increasing the resistance, up to a maximum of 24 (although you can still push the lever higher to make it more resistant, and if you push it as far as it will go it acts like an emergency brake).
I found that the lever was very sensitive to alteration, and sometimes a tiny nudge was all it took to move it to the next gear, so if you're following the gear suggestions on a Digme At Home cycle workout for example, it may take a little practise to move up a single gear at a time. However, gear changes were quick and easy and featured no glitches or errors.
Keiser M3i Lite Exercise Bike: Design
Like many indoor bikes, in particular bikes designed for spin classes, the bike is designed in a simple 'V' shape. At 6ft 1in, I've had problems banging my knees on the handlebars with some spin bikes in the past, but this was not a problem on the Keiser M3i.
In my experience, the saddle was comfortable and well-padded, and the handlebars curved upwards, providing at least five different positions, including aero. The top of the aero bars feature a tablet holder, which is the ideal place as it's at eye level while cycling, although I used a desktop computer for my workouts.
The bike's most impressive feature, however, only makes itself noticeable when you begin pedalling. And this feature is notable by its absence – there is almost no noise. Many exercise bikes produce high levels of noise, but due to the Keiser's magnetic resistance, noise output is suprisingly low. This means there's no risk of upsetting the neighbours, and you can hear your music or the workout instructor's instructions without having the dial up the volume to 11.
Pedalling itself is as smooth as oil. I experienced no issues with clunky gear changes or problems with resistance dropping out – the bike impressed with its smooth, quiet pedal action and seamless magnetic resistance. The flywheel is also positioned at the rear of the bike, meaning that it won't be at risk of rusting due to sweat dripping on it over time. It's also sturdy and stands its ground well – when I was standing up, with the resistance high pushing with all I had, the bike stayed true and did not rock side to side like some other bikes can do.
It also features a subtle slot in the 'V' to store your water bottle, which you'll definitely need during workouts on the bike, plus handy 'stretch pads' on the rear mounts designed to provide a platform to help you stretch your hamstrings post-ride.
Keiser M3i Lite Exercise Bike: Connectivity
Aside from the aforementioned HR connection, the Keiser's only other connectivity is to its own Keiser M Series app. This displays the same information as the bike's small screen display, as well as connecting with external apps Strava and TraingPeaks so you can sync your workouts directly to those platforms after you've finished your workout.
Keiser M3i Lite exercise bike: Verdict
The whole experience of riding the Keiser M3i Lite was a joy, from the easy set-up to the quiet output, the liquid-smooth gear changes and the simple screen with basic readouts. It made joining in online spin workouts a breeze, and with 24 gear options you'll find you have enough range of resistance to suit you whatever your fitness level.
Also consider: Peloton Bike+
Peloton has become synonymous with at-home workouts for a reason – it's a high-quality workout experience, from the bike itself to the level of instruction and interactivity, it's a slick and seamless exercise experience. But for that level of user experience, you pay a high, high price.
Also consider: Echelon Smart Connect Bike EX-5s
Similarly priced to the Keiser, the Echelon Smart Connect Bike EX-5s is a comparable type of indoor bike. It features 32 magnetic resistance gears, but the big selling point is the 21.5in HD screen, which flips 180 degrees for off-bike classes. You have to subscribe to get access to the classes, both cycling and off-bike: subscriptions are £39.99 a month.
Get the Fit&Well Newsletter
Start your week with achievable workout ideas, health tips and wellbeing advice in your inbox.
Howard is a freelance health and fitness journalist and copywriter. He has written for publications including ShortList, Runner's World, Trail Running, Women's Running, Red Bulletin, Wareable and Cycling Weekly. He enjoys nothing more than lacing up his trail shoes and heading out to explore new trails. He's run ultramarathons everywhere from the French Alps and Canadian mountains to the Welsh coast and Peak District. When not running, he's usually found hitting his local MTB singletrack trails or on a quest to find the country's best cinnamon bun.