Peloton Bike+ review: the bike that really is worth your money
The Peloton bike+ is the upper crust of home fitness equipment, but is it worth that price tag?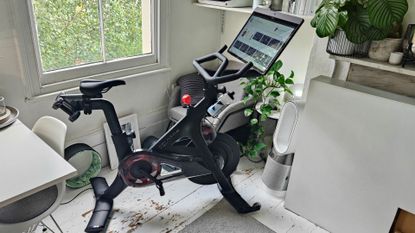 (Image credit: Lee Bell)
The Peloton Bike+ is the top dog of exercise bikes, and while you do have to fork out quite a lot to own one, you'll be safe in the knowledge that there's no other bike out there that's quite like it. That's thanks to its top-notch design, impeccable fitness platform, and overall amazing experience.
Reasons to buy
+

Exceptionally well made

+

Amazing live and on-demand classes

+

Intuitive user interface

+

Accessible: suitable for anyone
Reasons to avoid
-

Expensive

-

Limited offering of 'just ride' routes
Get the Fit&Well Newsletter
Start your week with achievable workout ideas, health tips and wellbeing advice in your inbox.
Thank you for signing up to Fit And Well. You will receive a verification email shortly.
There was a problem. Please refresh the page and try again.
In this Peloton Bike+ review, we'll be covering everything you need to know about this premium model. Peloton is one of the most hyped brands of the moment. The US company has grown hugely in popularity, especially during the pandemic when people around the world were desperate to work out and had nowhere to go other than their living room, spare room, or garage.
But there's a reason why Peloton has done so well, with its hardware continually ranked as some of the best exercise bikes around. The brand has produced some absolutely amazing, premium bits of equipment that have proven immensely popular with millions of users across the globe.
The company's latest edition - the Bike+ - is no exception. In what is probably one of the most innovative exercise bikes you can buy right now, the Bike+ offers a bunch of upgrades over the original Peloton Bike that make it even more desirable, such as the slightly larger 24-inch display, which swivels around so users can perform floor exercises, all in one place.
But is the Bike+ really worth the huge price tag? We find out whether this model is a bike worth buying and whether it deserves a spot as one of the best exercise machines to lose weight.
PELOTON BIKE+ REVIEW: PRICE AND AVAILABILITY
The Peloton Bike+ hit the market in October 2020 and is available to buy in the UK, US, Canada, and Germany, but no other countries as of yet, unfortunately. For the most basic version, you're looking at a wallet-busting price of $2,495/ £2,295. That's $737/ £545 more than Peloton's cheaper Bike option, which retails for $1,895/ £1,750.
The costs don't end there, either. After splashing out on the bike, you'll need to access the virtual classes that the Peloton Bike+'s display broadcasts either live or on-demand. That's an additional cost of $12.99 per month plus tax/ £12.99 per month. That might sound steep, but if you compare it to what you'd pay for a membership to a spin studio each month (and how much it would cost you to get there and back, too) it's not so bad. It can also be canceled at any time if you find you're not using it as much as you'd like, although you would be left with a bike that you can't do much else than let you ride aimlessly If you do decide to stick with the monthly subscription, you'll get unlimited access to the service for everyone in your household.
Any other costs to consider? Unfortunately, yes. Once Peloton hooks you in it can be hard not to say no to all the other accessories on offer, such as clip-in shoes, floor protection mat, an exercise mat, matching weights, water bottle, resistance bands - the list goes on. And, of course, these don't come cheap either, so that's something else worth considering.
PELOTON BIKE+ REVIEW: DESIGN
We've already established that the Peloton Bike+ will leave a dent in your bank balance, but does its design and build quality live up to that somewhat extraordinary price tag? We'd have to say, it really does. As soon as it is delivered to your home and unveiled from the plastic wrap, you see why this exercise bike is so hyped. It's super slick: every inch exudes luxury and the whole experience of having it delivered in a Peloton-branded van and set up by two product experts in your home is nothing but impressive. It's all a premium experience and definitely hits the standards you'd find in equipment at a professional gym or sleek boutique studio.
This high-end design is complemented by the Bike+'s high-grade powder-coated carbon steel construction and 23.8-inch HD display that is mounted on a 360-degree swiveling hinge so you can tilt it up and down for a better view during a spin class, or spin it around 180 degrees left and right for floor workouts. These design features mean the bike is quite heavy, though - weighing 304 lbs/ 138kg. While there are two wheels mounted on the front for easier maneuverability, it will still require two people to carry it if moving from one room to another.
When it comes to size, the Bike+ is pretty average for an exercise bike apart from the addition of the screen. This will take up an extra bit of space width-wise, as it doesn't fold down out of sight, which would have been a much-welcomed design feature.
PELOTON BIKE+ REVIEW: PERFORMANCE
It's not until you're sat on that saddle and fire up the screen that the Peloton Bike+ really comes into its own. Rides are incredibly smooth and comfortable. The saddle, for example, has just the right amount of cushion and you won't notice any soreness on the backside, even after long workouts.
As for the resistance, this is supplied via a weighty 37.4 lb/ 17kg magnetic flywheel at the front of the bike. During a ride, you control this resistance via an eye-catching Peloton logo-emblazoned red knob just below the handlebars. It goes from 0 (the lowest setting) right up to 100 (the highest) and offers by far enough resistance range, serving anyone from a beginner right through to an athlete.
The super cool thing about the Bike+'s resistance is that it features an electronic resistance controller, which essentially means the bike will control the resistance for you automatically during a class so you can focus on other things, like cadence (the tempo of your pedaling). This nifty feature can be easily enabled and turned off again during class by tapping the 'Auto-Follow' option on the screen. Note that this only works during on-demand classes and not live workouts.

But what about stability? Thankfully, we found the Peloton Bike+ remains sturdy and in one place even when you're really thrashing it out. Drenched in sweat, the handlebars offer substantial grip and are comfortable to lean on.
Music played during classes is nice and loud and remains of good quality, even when at full volume. If you're worried about irritating the rest of your household, or even your neighbors, you can connect some of the best workout earbuds via Bluetooth, or there's a 3.5mm audio jack on the handlebars.
Overall, the Bike+ performs effortlessly during workouts, offering an accessible and entertaining experience from start to finish. If we had to pick out one flaw, it would be that the handlebars can come a little loose over time, but that's nothing a quick tightening of the bolts won't fix.
PELOTON BIKE+ REVIEW: CLASSES AND PLATFORM
Anyone purchasing a Bike+ will find that the classes on the Peloton platform are just as well made as the bike they are sitting on. Production is of exceptionally high quality, which really helps the classes feel more immersive. Instructors are motivating but really fun, too - and there's a great range to pick from, both from the US and the UK, all offering different personalities and music preferences. There's definitely something for everyone here.
During a class, the instructor will welcome you, remind you how best to position yourself on the saddle and what all the stats on the screen mean. The great thing here is that you're shown your stats in real-time, including cadence (RPM, or the speed you're going), what your current resistance level is set to, and the total power output. The latter is simply a calculation of your resistance combined with cadence and is measured in kilojoules (KJ). This is converted to points, which represent your position on a live leaderboard where you are pitted against other members. On the screen, you'll also see your heart rate data if you've got a monitor or smartwatch connected, which track is currently playing, and time remaining in the class.
It's easy to see that Peloton has gone to a lot of effort to make this interface a seamless and hassle-free experience for anyone using it. It's well-thought-through, intuitive, and delivers a tonne of fitness data all without being too overwhelming. The post-workout summary is a particular highlight as it shows you how well you performed in the workout, which is a great motivator.
The major negative here, however, is that there is a very limited selection of 'just ride' routes on the Peloton platform. If you don't want to do a spin class, and instead just cycle leisurely along to some pleasant scenery, you only have a handful of options and none are really long distance. Very disappointing and also surprising that Peloton would limit its platform in this way.
PELOTON BIKE+ REVIEW: VERDICT
With a solid, robust construction, gorgeous minimal design, and a super intuitive yet engaging platform, the Peloton Bike+ is a great choice for those who want a spin studio-style exercise bike for the home. However, most people will find the price to be the greatest barrier here. The steep initial costs and then added expense of monthly subscription to live and on-demand classes can be very off-putting for most, or at least require a lot of consideration. It is an investment, though and if it's in your budget, all we can say is: go for it, you won't regret it.
Also consider...
Apex Bike
The British-made Apex Bike is a more accessible alternative to Peloton, but that doesn't mean it's subpar. Like its US competitor, Apex brings motivational spin classes for all levels to the home through a collection of high-energy virtual workouts curated by top London spin studio Boom Cycle. Instead of a built-in display, the bike connects to an iPad, giving you unlimited access to on-demand classes for up to six people per household. Instructors are down-to-earth, edgy, and fun while live class stats are generated on-screen, converted to points, and added to a leaderboard for the ultimate kick up the backside.
Wattbike Atom
If on-demand spin classes aren't really your thing, and you'd prefer an exercise bike that delivers more of a true-to-life bike ride experience, take a look at our Wattbike Atom review. Through its presence in gyms across the world, it's become known as the ultimate cycle training tool. Thanks to some innovative electromagnetic resistance, the Wattbike Atom delivers fast and accurate rides for that authentic on-the-tarmac feeling coupled with super smooth and quiet performance. What's more, the bike comes with ANT+ and Bluetooth connectivity so you can sweat it out along to set workouts on the Wattbike Hub training and analysis platform, or hook it up to a VR cycling app like Zwift for the ultimate indoor endurance training experience.
Get the Fit&Well Newsletter
Start your week with achievable workout ideas, health tips and wellbeing advice in your inbox.
Lee Bell is a London-based journalist, copywriter, specializing in all things tech and lifestyle. He is also a qualified personal trainer. He started his journalism career a decade ago as a reporter covering the latest gadgets and innovations at tech tabloid The Inquirer. Lee went freelance in 2016 to broaden his expertise, moving into news, reviews and feature writing for a host of national print and online lifestyle titles such as GQ, Forbes, Esquire, Men's Health, Wired, The Metro, and The Mirror. He has an insatiable appetite for travel, Dharma yoga, and the odd outdoor challenge.