Manduka PROlite Yoga Mat review: A sturdy mat suitable for most people
The Manduka PROlite Yoga Mat is a good all-rounder that impresses with its large size and comfortable thickness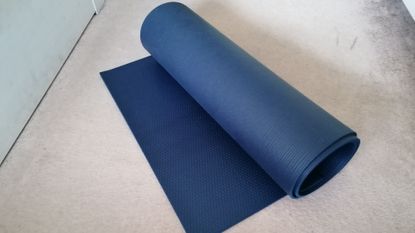 (Image credit: Mina Frost)
The Manduka PROlite Yoga Mat is, as its name suggests, suitable even for experienced yogis and fitness fans. Its thickness and large dimensions mean it will be great even for taller people. The flipside of its large dimensions is that it's quite heavy to carry, so this mat is best purchased for home use only. Another drawback is the mat tends to get a bit slippery during hot and sweaty workouts.
Reasons to buy
+

Good thickness

+

Large dimensions make it good for taller people

+

Suitable for people allergic to rubber

+

Lifetime guarantee
Reasons to avoid
-

Heavy

-

Gets slippery during intense workouts

-

On the expensive side
Wondering whether the Manduka PROlite Yoga Mat is worth it? We spent several sweaty sessions on the mat to assess it for things like grip, length and durability.
The most striking feature of the mat is its apparent thickness and sturdiness, even for a "lite" mat. Its larger size means that we're a bit reluctant to class it as a travel mat, but it's a solid choice for home use and intensive workouts.
Manduka boasts that even the standard size on this mat is 3 inches longer and 2 inches wider than other standard mats, so it's great if you're taller or after extra room. The other advantage of this mat is that it's made of synthetic materials, so you don't have to worry about using it if you're allergic to rubber.
Despite our misgivings, we still rank think of it as one of the best yoga mats for home use. Here's how we got on with it during our testing period.
Manduka PROlite Yoga Mat: price & specs
The Manduka PROlite Yoga Mat is available on Amazon and on the Manduka website for $99 / £75.
It's available in two lengths: 71 inches and 79 inches. We tested the 71-inch (180cm) long one, which is a whole 5ft4. We were very impressed with how roomy the standard model was; Manduka says it is both three inches longer and two inches wider than other standard mats.
The flipside of these dimensions is the weight. This mat is the lighter, travel version of the Manduka PRO 6mm mat, which weighs 7.5 lbs (3.4 kgs). Compared to that, the Manduka PROlite is quite "lite" at just 4 lbs (1.8 kgs) - but it's still heftier than a lot of travel mats, and could be a pain to carry to the studio on a regular basis. Definitely invest in a carry bag if you're planning on using it on the go!
Manduka PROlite Yoga Mat: look and feel
The Manduka PROlite Yoga Mat is available in three neutral dark colors, a navy blue called Midnight, a grey called Thunder, and a burgundy shade called Indulge. The dark colors seem a wise choice to conceal any signs of sweat and wear common on yoga mats. We selected the navy model, and we're enjoying the fact its appearance hasn't changed since we've started using it.
Apart from the color choice, the design on this mat is as minimal as you get. The small red Manduka logo features in one corner, but the rest of the mat is uniform in color. If you are after a striking mat to make an impression at the gym, this is not the one for you!
Despite having "lite" in the name, the Manduka PROlite Yoga Mat is still pretty hefty, weighing 4lbs (1.8 kgs). What you gain from the weight, however, is a lovely 4.7mm thickness, which makes this mat very comfortable. We felt very cushioned and padded during workouts, sometimes forgetting there were only a few millimeters between us and our wooden floorboards.
Good news for people who suffer from rubber allergies: this mat is made from PVC, a synthetic polymer of plastic. Although it's not made from natural materials, the PVC is OKEO-TEX certified meaning it is produced sustainably.
The mat was built with resistance in mind and feels very sturdy; it also comes with a lifetime guarantee, which should put your mind at ease when splashing out on it.
The Manduka PROlite Yoga Mat has a closed-cell construction meaning it is designed to prevent moisture, sweat and dirt from absorbing into the mat. As a result, it is very easy to wipe clean. The flipside of the closed-cell construction is the mat gets slippery very easily, so it's not ideal for intense and sweaty workouts. We didn't find this an issue until we got to the end of a particularly intense HIIT session.
Manduka PROlite Yoga Mat: performance
A cool feature of the Manduka PROlite Yoga Mat is the textured dots on the bottom side, which help it grip the floor and prevent it from sliding. We found this very nifty and it definitely helped with our stability.
Once you've unrolled the mat for the first time and let it air for 24 hours as instructed, you should have no issues getting it to stay flat. Ours has been rolled and unrolled countless times and stays put during all of our workouts!
This mat is great for a wide range of exercises due to its larger size; you definitely notice the extra couple of inches on the sides and the end when you're exercising in your living room.
The other big draw is the thickness: despite being a "lite" mat, the Manduka PROlite Yoga Mat is 4.7mm thick. This means it's a suitable choice for someone who might need more support (although if you have joint pains, We'd recommend checking out the Manduka PRO 6mm or the Lululemon Reversible 5mm Yoga Mat). We even practiced headstands on this mat and found we could do without a towel.
In terms of grip, this mat performs quite well for basic yoga sessions and workouts. However, due to the closed-cell construction, it doesn't absorb sweat and gets quite slippery during intense sessions. Definitely don't attempt hot yoga or a HIIT workout without a towel on hand!
Manduka PROlite Yoga Mat: Care
Rather oddly, Manduka suggests you break in your mat using salt. We did as we were told and sprinkled the mat with sea salt after unrolling it, before letting it sit for 24 hours. We then removed the salt with a damp cloth and waited for the mat to dry.
This process was quite messy and space-consuming, especially in a small apartment. It apparently helps wear in the top surface, though we can't say we noticed the difference. Manduka recommends repeating this process as often as needed, as this should help with the slip.
To clean the mat, wipe it down after every practice. As it has a closed-cell construction, that's all you need to do to clean it. Absolutely do not wash it down in the shower or submerge it, as that would damage it irretrievably.
If you're after more care information, take a look at this article about cleaning your workout gear.
Manduka PROlite Yoga Mat: user reviews
The Manduka PROlite Yoga Mat is rated 4.5 out of 5 stars from 3,075 ratings on Amazon.
Satisfied customers were especially pleased with how sturdy and comfortable the mat is, with one person saying "It's been getting better and better since I've started using it, and I can't wait until it fully breaks in – this mat is going to last me a lifetime! The closed-cell surface is great also. I haven't noticed any smells, plus the mat looks perfect so far even with multiple uses."
However, lots of reviews mention how slippery the mat gets, even with the regular salt brushing technique suggested by Manduka. One unhappy customer states "I've practiced 4-5 times a week for 4 months and done the salt scrub-down 3 times. They cheerfully tell you to scrub it with salt and leave it in the sun which is maybe ok in California but I live in an apartment with no balcony in a dark country. Still hoovering up salt months later."
Manduka PROlite Yoga Mat: verdict
Overall, the Manduka PROlite Yoga Mat is a great all-rounder and a good mat for fitness enthusiasts who want to upgrade to a more premium mat. It's undeniably high quality and very sturdy – it's built to last and comes with a lifetime guarantee. For $99, that's a great investment.
Its larger size, good thickness, and synthetic materials mean it will suit pretty much anyone. The only two drawbacks are its hefty weight, and the fact it tends to get slippery.
While it doesn't look as premium or eye-catching as the Lululemon Reversible 5mm Yoga Mat, it feels sturdier and longer-lasting. If you're not bothered about aesthetics and just want a solid yoga mat to upgrade to, the Manduka PROlite Yoga Mat might be the one for you.
Also consider
If you're after a proper travel mat to take with you on holiday, take a look at the JadeYoga Travel Mat. This nifty mat folds up into a square as well as rolling up, so you can fit it in your suitcase! It's also really light at just 2.9 lbs (1.3 kgs) and a bit cheaper than the Manduka PROlite ($58/ £62.72).
If you want a mat made from natural rubber, consider the Manduka eKO Lite Yoga Mat. For a similar price to the Manduka PROlite, you get a mat with great grip and sustainable materials.
Get the Fit&Well Newsletter
Start your week with achievable workout ideas, health tips and wellbeing advice in your inbox.