Lululemon Reversible 5mm Yoga Mat review: a springy mat for everyday practice
The Lululemon Reversible 5mm Yoga Mat is a well designed grippy mat ideal for daily use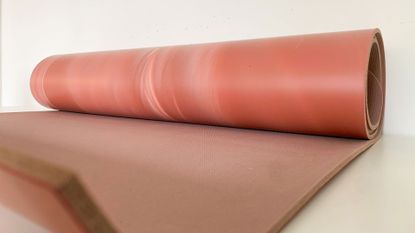 (Image credit: Emma Hall)
The Lululemon Reversible 5mm Yoga Mat is a bestseller for good reason. With its superb grip, excellent cushioning, and multipurpose design, this is a great value yoga mat that delivers on function and style.
Reasons to buy
+

Awesome grip

+

Antimicrobial rubber

+

Springy
Reasons to avoid
-

Heavy

-

Scratches and marks easily (polyurethane side)
The Lululemon Reversible 5mm Yoga Mat often tops the best yoga mats lists and after testing it out for ourselves, we can see why.
This is a premium product that lives up to its reputation – luxe, well-designed, and with an excellent grip; it's a solid investment.
Yoga is a great workout for the body and mind – it's even been shown to help alleviate symptoms of chronic pain and depression.
In this Lululemon Reversible 5mm Yoga Mat review, we cover the mat's features, design, and performance so you can make the right choice and see if this is the yoga mat for you.
Lululemon Reversible 5mm Yoga Mat review: price & features
The Lululemon Reversible 5mm Yoga Mat is available for $88 / £68.
It comes in one size and as the name suggests, it is reversible with a polyurethane layer on one side and a rubber surface on the other. The sweat-wicking natural rubber base works really well to absorb moisture, while the antimicrobial additive in the mat helps stop bacteria from building up. It's not entirely eco-friendly because of the polyurethane layer. Although this is more sustainable than plastic, it can still take 20-30 years to naturally degrade.
Because of the rubber base, it has a strong odor when you first open the yoga mat, and it's not suitable for people who have latex allergies. The smell fades within a few days, and you can leave it rolled out for 24 hours before you use it to avoid the worst of the odor.
Sturdy and durable, the Lululemon Reversible 5mm Yoga Mat lives up to the hype. It frequently tops bestseller lists for good reason – it's got amazing grip and is resilient enough for daily practice. My only real complaint is that the polyurethane side tends to scratch and mark easily.
It weighs 5lbs / 2.4kg, so it's heavy to carry around. It's portable but you definitely wouldn't want to pack this in your suitcase for your vacation. For traveling, I'd recommend the Jade Yoga Travel Mat, which offers good grip and folds neatly into the size of a yoga block.
I'm a big fan of hot yoga and HIIT and found the Lululemon Reversible 5mm Mat offered excellent stability and support during both styles of workout. It's also great for balance poses like downward dog, but you might want to add a towel for more complex moves like the Crow pose.
Lululemon Reversible 5mm Yoga Mat review: design
The Lululemon Reversible 5mm Yoga Mat comes in a ton of colors and looks and feels luxe thanks to its 0.119 inches/ 5mm thickness. This really helps with cushioning and padding, and is especially good for anyone with knee or joint issues.
Even though it's thick, I still had a towel on hand for added padding when practicing our Crow pose and during more meditative flows like yin. The marble design is modern and calming, while the mat itself is springy enough for you to get into the most difficult and popular yoga poses.
A note to the wise: the Lululemon Reversible 5mm Yoga Mat is heavy (5.24lbs / 2.3kg) so you won't want to carry it for extended lengths of time, even in a carry bag. This yoga mat is probably most suited to home practice, or the yoga studio if you can take it in the car and don't need to carry it.
Lululemon Reversible 5mm Yoga Mat review: performance
The Lululemon Reversible 5mm Yoga Mat unrolls easily and stays really flat once it's laid out, so you don't have to worry about tripping over the corners during practice.
It is made from sweat-wicking material so it can handle a vigorous HIIT class as well as hot yoga and other types of workouts. The textured polyurethane side makes it nice and grippy so you can connect to the mat and feel grounded without slipping. The sticky nature of the mat means it's easy to move into Downward Dog and other balance poses without sliding around.
We love the antimicrobial rubber side, which is excellent for slower flows like yin as well as stretches and meditation. This surface is also more durable and it's harder to see marks and stains on it - the deep color choice of the base definitely helps! Both sides of the Lululemon Reversible Yoga Mat offer great support and cushioning.
Lululemon The Reversible 5mm Yoga Mat review: care
Because the Lululemon Reversible 5mm Yoga Mat is made from rubber, it has a strong odor when you first unwrap it. This is nothing a bit of airing out can't sort, so I recommend laying it in a spare room, unrolled, for at least 24 hours before use.
The Lululemon Reversible 5mm mat is very durable and the rubber side is scratch and stain-proof. Unfortunately, this isn't the case on the polyurethane side, which marks really easily. I recommend wiping your mat down with warm water and a smooth cloth to resolve this.
Bear in mind that the mat does absorb water (sweat as well as oil) so you will probably want to do a deep clean at least once a month to preserve and maintain it.
You can give it a gentle clean in the bath or shower – just don't scrub it, as rubber is biodegradable and this will cause irreparable damage. Also resist the urge to dry your mat in the sun, as this will ruin it and degrade the rubber. For more on cleaning your yoga mat, see our article on how to clean your workout gear at home.
Lululemon Reversible 5mm Yoga Mat Review: user reviews
The majority of user reviews for the Lululemon Reversible 5mm Yoga Mat are positive with one customer calling it "the best mat I've ever used". Another user, who bought the mat for a friend, said: "Apparently there were a few head turns for the mat at the yoga studio. She loves it and says it's the comfiest one she has ever tried."
However, negative reviews cited problems with the color of the mat compared with the website image, and others complained that it was quite heavy and smells "very rubbery". One said: "Hopefully the new smell dissipates quickly though as this isn't pleasant".
Lululemon Reversible 5mm Yoga Mat: verdict
The Lululemon Reversible 5mm Yoga Mat is a great yoga mats list thanks to its spring, supportive surface and grippy layer. I love how the anti-microbial layer means it's resistant to mold and mildew, and it comes in lovely colors and a stylish design that complements any Lululemon outfit.
My main complaints are that it's rather heavy at 5lbs / 2.4kg, and that the polyurethane side marks easily. Aside from that, I think this is an excellent value yoga mat that you won't want to be without.
Also consider
YogaMatters Eco Rise Yoga Mat
The YogaMatters Eco Rise Yoga Mat ($60 / £45) is a thin and lightweight mat made from sustainable resources. It has a superior grip and is suitable for all styles of yoga.
Sweaty Betty Super Grip Yoga Mat
If you're after something that has extra grip so you can take on those tricky poses with confidence, then the Sweaty Betty Super Grip Yoga Mat is for you. At $88/ £65, this mat certainly isn't a budget option though.
Get the Fit&Well Newsletter
Start your week with achievable workout ideas, health tips and wellbeing advice in your inbox.
Maddy Biddulph is a freelance journalist specializing in fitness, health and wellbeing content. With 25 years in consumer media, she has worked as a writer and editor for some of the bestselling newspapers, magazines and websites in the US and UK.
She is also a qualified L3 personal trainer and weight loss advisor, and helps women over 40 navigate menopause by improving their physical and mental strength. At Maddy Biddulph Personal Training, she runs one-to-one and small group training for menopausal women who want to get fit to ease symptoms and feel like themselves again.