Nike Metcon 5 review: Still some of the best workout shoes you can buy
Nike Metcon 5, the old faithfuls of cross-training, are still as popular as ever for gym goers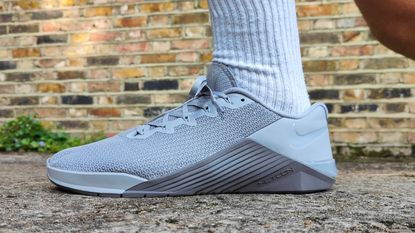 (Image credit: Lee Bell)
The Nike Metcon 5 is an excellent pair of trainers for those who lift weights and take on the occasional HIIT class. Our top value pick for CrossFit fanatics, even if they're now two gens old.
Reasons to buy
+

Heel stabilizer and 8mm drop secure feet for lifting

+

Built for explosive HIIT movements

+

Cheaper than Metcon 6 and Metcon 7

+
Reasons to avoid
-

Less breathable upper can seal in sweat during long/hot workouts
One of Nike's most popular workout shoes is, without a doubt, the Metcon series. In what is a portmanteau of 'metabolic conditioning' (an intense type of workout combining strength and cardio training) the shoes' name alone speaks volumes about how they should be used.
Offering everything a gym-goer would need from one of the best cross training shoes, the Nike Metcon range has traditionally always featured great heel stability, comfort and durability while ensuring there's plenty of room for maneuver in the forefoot. They are also still one of the most popular gym shoes out there despite being released in 2019.
The fifth version of Nike's popular training shoe builds on that legacy with some new additional features in a bid to elevate the Metcon 4 shoe that came before it. However, do these updates really make a difference, and if so, is it for the better? This review will tell you just how well the Metcon 5 shoes perform and if, two years after release, they are still worth your hard-earned cash.
Nike Metcon 5 review: Price
The Nike Metcon 5 were launched in July 2019 with an RRP of £114.95 / AU$190, however, they are still available to buy now and, better still, you should be able to pick them up at a discounted price, which makes them great value for money.
When they first hit the market, the Metcon 5 shoes were available in a choice of different colour-ways. However, since stock levels have reduced and Nike is phasing out the fifth generation, not all the colours are still available.
Nike Metcon 5 review: Design
The first thing you'll notice about the Metcon 5 is that they boast Nike's iconic Durable Traction' rubber tread on the outsole, which goes up into a point on the side of the shoe. While this makes for a unique design detail, they aren't just about looking good. They have been designed to come in handy in activities like rope climbing, as it not only provides grip but prevents friction burn.
Another unique design feature can be found around the back, where you have a hard TPU heel stabilizer, which works to provide extra stability and hold around the base of the heel - ideal for activities such as weight lifting. Then, there's a full-contact outsole, which gives you a smoother, more stable ride from heel strike to toe during quick movements, like short sprints.
However, what makes the Metcon 5 shoes' design unique isn't necessary to do with what you can see from the outside. Unlike the uniform cushioning density of its predecessor, the Metcon 5 shoes boast a dual-density removable insole. This basically means it is split into two halves - a soft and a firm.
These two separate components have been molded together to offer better support throughout the shoe. You'll find a firm and protective polyurethane material at the heel and then a soft PU foam cushioning at the forefoot. This works incredibly well in supporting your feet during a range of activities, from bodybuilding to high-intensity cardio training.
Overall, we love the design of the Metcon 5. It's minimal and streamlined, with a good range of colors on offer.
Nike Metcon 5 review: Features and Performance
The Metcon 5 shoes are unique to most gym shoes on the market as they don't offer the flexibility of more all-rounded gym trainers. Instead, they have a greater focus on stability and support for hard knocks and heavy lifting thanks to a low, flat and wide heel. This creates a stable base for weighted exercises and is why the Metcon 5 shoes have become known as a great pair of weightlifting shoes.
Adding to this, the Metcon 5 shoes come bundled with something called Hyperlift inserts. These are like mini insoles that are placed inside the shoes to adjust the height under your heel. They add a substantial 8mm to the drop and by doing this, give better ankle support in heavy weights sessions.
This focus on weight lifting means the Metcon 5 shoes aren't ideal for long runs. However, they are perfectly wearable for activities that require a mixture of short runs, jumps and fast-paced weighted exercises, such as HIIT and CrossFit workouts.
Despite the choice of firm materials used in this shoe, you'll find that cushioning is decent throughout, meaning you can sprint for short distances and still feel like you have plenty of support. For example we wore them for a 1 hour squash session and found them to be more than adequate. Still, it's not the same level you'd get from running shoes, of course, but it's fit for purpose during more intense functional training. The toughened heel helps in these occasions, too, as it means impact shock is transmitted up to your legs upon heel strike.
The only problem we found during use is that the mesh upper isn't as breathable as many other workout shoes on the market, which might be a problem if you're working out outside on a hot summer's day, or you simply get very sweaty feet. Thankfully, Nike addressed this on the new Metcon 6 shoes by adding in a mesh upper, so if it's an important feature for you (say, perhaps you live in a hotter climate - lucky you!) then it might be worth investing in the newer and more expensive generation.
Nike Metcon 5 review: Verdict
The Nike Metcon 5 gym shoes are an excellent pair of trainers for those who find themselves doing more weighted workouts and the occasional HIIT class and want a good level of support from heel to toe. This is why they suit cross training so well and are our top pick for CrossFit fanatics. However, if you're more of an all-rounder when it comes to fitness, and want a show that can support your needs in running, too, then the Metcon 5 probably won't suit your needs.
Also consider:
On Cloud X
Using the same tech found in the brand's race shoes, the Cloud X workout shoes by On are geared more towards general training and can handle everything from weightlifting and HIIT to CrossFit and short sprints. The other great thing is that they still have that super lightweight construction that On is known for, thanks to a knit-weave upper. Light and breathable, they maintain a good level of cushioning on the outsole, not only making them highly comfortable, but well placed to handle high impact training moves such as box jumps.
Nike Metcon 6
There's not much of a difference between the fifth and sixth generation Metcon shoes. To cut a long story short: you're paying an extra £35 / $50 or so for the Metcon 6 just for a more breathable upper material, which should help keep you cool if you're into long, intense and sweaty workouts. If this isn't something that you'll benefit from all that much, it's probably worth sticking with Nike's cheaper Metcon 5 kicks.
Get the Fit&Well Newsletter
Start your week with achievable workout ideas, health tips and wellbeing advice in your inbox.
Lee Bell is a London-based journalist, copywriter, specializing in all things tech and lifestyle. He is also a qualified personal trainer. He started his journalism career a decade ago as a reporter covering the latest gadgets and innovations at tech tabloid The Inquirer. Lee went freelance in 2016 to broaden his expertise, moving into news, reviews and feature writing for a host of national print and online lifestyle titles such as GQ, Forbes, Esquire, Men's Health, Wired, The Metro, and The Mirror. He has an insatiable appetite for travel, Dharma yoga, and the odd outdoor challenge.