NordicTrack RW900 Rower review: a superb indoor rowing machine
The NordicTrack RW900 Rower will satisfy both new and experienced rowers with its large screen and plethora of streamable workout options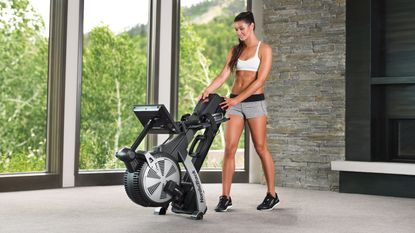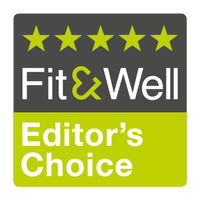 (Image credit: NordicTrack)
The NordicTrack RW900 brings studio-style classes to your home and makes the transition from beginner rower to advanced way easier. The large screen is as immersive as it is useful and thanks to the foldable design and quiet operation, this rower will complement any home gyms-slash-living rooms it gets placed into.
Reasons to buy
+

Good value for money

+

Large touch screen is immersive and user-friendly

+

Takes up little space when folded
Reasons to avoid
-

Will cost a pretty penny

-

Tipping it over might require more than just one person

-

On/off button would be a nice addition
Why you can trust Fit&Well Our expert reviewers spend hours testing and comparing products and services so you can choose the best for you. Find out more about how we test.
Indoor rowing has a bad reputation among fitness enthusiasts. Well, not necessarily a bad reputation, but it is definitely perceived as an activity that's hard to get into. The NordicTrack RW900 Rower tries its best to break down this barrier and to deliver a full body indoor workout experience in the most user-friendly way possible.
Not only does the RW900 Rower takes up a comparative small space when folded, it is also easy to operate thanks to the automatic resistance adjustment system, unique to NordicTrack. The large touch screen makes choosing and monitoring activities easier, but what really provides added value is the variety of indoor and outdoor workouts offered through the included iFit membership. All of which make it one of the best rowing machines we've tried, and gains it a five-star rating.
Ready to improve your overall fitness with rowing? Let's get right into it.
NordicTrack RW900 Rower: price and features
The recommended retail price of the NordicTrack RW900 Rower is $ 1,699 / £1,899 (plus delivery). The RW900 Smart Rower can be purchased through NordicTrack UK (opens in new tab) and NordicTrack US (opens in new tab) and selected third party retailers including Amazon (opens in new tab). Included in the price is a one-Year iFit Family Membership, worth $468 / £349.
The main features of the NordicTrack RW900 Rower include a 22" touch screen with integrated speakers and volume controls, a 26-level automatic dual-resistance level system that can be adjusted real-time using touch controls on the screen, the one-year iFit membership, quick adjust pedals and SpaceSaver design.
Product dimensions (in cm): 219L x 55W x 128H
Boxed weight: 59 kg
Max user weight: 180 kg
NordicTrack RW900 Rower: practicalities
Living in a small 1-bed apartment, at first I was slightly concerned about the size of the NordicTrack RW900 rower: how would I move the box inside and set the tower up myself? My concerns were put to rest when it turned out that ICON – the parent company of NordicTrack – delivers rowers and larger cardio equipment and assembles them on site (a.k.a. in your house). When the two engineers left, I was left with a fully functioning smart rower.
I was only temporarily relieved because my next thought was: how will I house this beast of a cardio machine in my flat without it being in the way 99% of the time? Again, my concerns disappeared almost immediately upon folding the rower up. When folded, the RW900 takes up very little space and balances perfectly on the front of the machine.
It is worth mentioning that although folding up the rower is not difficult, it does require some strength to hold it in the intermediate position, when it's being tipped over. Not only that, but the screen is also on the front of the device – naturally – and adds more bulk to hold as you fold the rower up.
If you are using the rower close to a wall, I'd recommend moving it away from the wall slightly before it's being tipped over in order to avoid accidentally damaging the screen. Also, and especially on hard floors, I would recommend getting another person to help you with folding the rower up it at all possible.
NordicTrack RW900 Rower: ease of use
The NordicTrack RW900 is super easy to use. The screen and the rower itself are mains powered. The only way to turn the machine on and off is to cut the power by unplugging it, but once it's on you can operate the device using the touchscreen. There is a manual air resistance control dial on the front of the device, but in my experience the 20-something magnetic resistance levels are more than enough to play with. This can be adjusted on the screen, which is more convenient as you row.
The quick adjust pedals do what they say on the box and can be adjusted quickly. The handle is a little bit in the way when trying to adjust the pedal or just clipping your feet in, but not to a level where it would make it overly frustrating to do so.
The SoftTouch Ergonomic Handle is nice and thick, which might improve grip strength and will probably help avoid blisters on the hand. The skin on my palms is quite hard thanks to kettlebell training but it was still a nice experience to hold the handle.
NordicTrack RW900 Rower: screen and navigation
As mentioned earlier, the 22-inch touch screen is easy to operate. The workouts are laid out nicely and can be searched, filtered and previewed before they are selected. The touch controls might take some time getting used to, but I would like to think that in 2020, a 22-inch screen is big enough for everyone to be operated comfortably.
The only physical button on the NordicTrack RW900 rower is the volume rocker at the bottom right hand side of the screen. Once pressed, you can also adjust the volume using the sliders on the touch screen. During workouts, you can also adjust magnetic resistance using the slider on the right hand side of the screen. The stats displayed on the top of the screen, which includes stroke rate, heart rate and time elapsed, can be changed by tapping on them.
NordicTrack RW900 Rower: iFit membership and workouts
Despite all the user-friendly hardware features, I think what makes the NordicTrack RW900 really accessible is the iFit workouts included in the price. It can be daunting to know how hard to pull the handle and with what frequency, especially at the beginning, but thanks to the structured workout plans found in iFit, the transition from non-rower to pro-rower will definitely be smoother.
And it's not just rowing workouts that you can find here. There are other types of workouts and even live sessions, so if you have some adjustable dumbbells or kettlebells lying around, you can make good use of them too through iFit.
I personally really enjoyed the outdoor rowing workouts, which allow you to get fit and discover the world at the same time - which, in the current climate, was a welcome escape. My favourites were the sessions on Lake Bled in Slovenia, but you can also follow along videos recorded in Spain and even sessions captured on the River Thames.
Thanks to the combination of POV-style videos and the immersive 22-inch screen, you can really get lost in your sessions which can make getting stronger a fun experience too.
NordicTrack RW900 Rower review: verdict
There is a lot to love in the NordicTrack RW900 rower. It is hugely user-friendly: the large screen makes navigation easy and the workout experience more immersive. As beginner-friendly as it is, the ample amount of resistance levels and the continuous stream of new workouts added to the iFit library might tempt even more experienced rowers to buy the RW900.
Despite being a capable machine to workout with, the NordicTrack RW900 is silent enough to be tolerated by others around you so you don't have to be completely secluded when it's being used. And you might as well get the whole family involved, as the iFit Family membership allows multiple users to be set up. Fun for the whole family!
NordicTrack RW900 Rower: also consider
WaterRower Natural Rowing Machine
I cannot not recommend the WaterRower Natural (opens in new tab) when it comes to indoor rowing. These high-quality rowers use water as resistance which is not only more environmentally friendly but also soothing to listen to. WaterRowers are generally cheaper than the NordicTrack RW900 but they don't come with a screen or any sort of membership either.
The Concept2 Model D (opens in new tab) rower is the gold standard other rowers are measured against. These are the machines you'll find in most commercial gyms and they are renowned for their sturdiness and reliability. Granted, the Model D is not the most quiet rowing machine and not the most feature-packed either, but in return it costs half as much as the RW900 and can also be folded up when not in use.
Matt has been writing about fitness for a number of years across various Future titles including Fit&Well and T3. PR reps describe him as 'nice guy' but his family members beg to differ. He's always looking for new ways to improve his overall fitness and wellbeing, and is particularly fond of home workout - mainly lifting weights. At any given point, his home is overrun with fitness equipment, running shoes and wearables. And he loves it.