Peloton Bike review: a gateway exercise bike for spinning from home
The Peloton Bike might be expensive, but it's hard to deny its sheer quality and power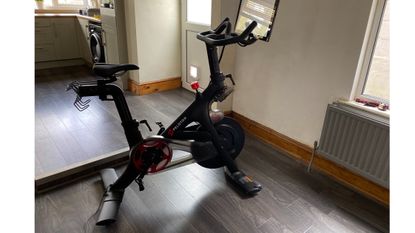 (Image credit: Louise Carey)
The Peloton Bike is not only an excellent piece of workout equipment, it also has the capability to be a game-changer for your exercise routine. Its large, bright screen is the perfect way to watch and cycle along to Peloton's fantastic spin classes, while the robust frame is able to handle even the most energetic workouts. The Peloton Bike's biggest disappointment is the expensive All-Access Membership monthly subscription cost, which could put some users off this otherwise great exercise bike.
Reasons to buy
+

Beautiful design

+

No user setup

+

Large screen
Reasons to avoid
-

Expensive

-

No fan

-

Needs monthly subscription
The Peloton Bike undeniably has a premium price tag, but it does deliver great value for money with its sturdy build, a large interactive touch screen, and stylish design. Users can also access a variety of spin classes, strength training, yoga, and more via the Peloton app to build a well-rounded exercise routine with both regular live workouts and hundreds of on-demand classes.
Plus, for those who enjoy the competitive nature of in-person spin classes on one of the best exercise bikes, you can track your progress against other users with the live leaderboards. You can also view performance stats such as your calories burned, miles pedaled and energy output throughout each ride.
The Peloton Bike sports an aesthetically pleasing design that's stylish enough to slot into place with even the most sophisticated decor. While it's on the heavier side at 135lb/61kg, it does feature two small wheels situated at the front of the bike that make it easy to move from room to room.
Using the bike is simple, with sturdy handlebars in front of the screen that give various different gripping options as you're using it. You will need to invest in a pair of cycling shoes with Delta-compatible clips (Peloton sells its own, but there are many alternatives available as well). While this is an extra expense, it's well worth the ability to clip into the pedals for more strenuous workouts. Adjusting the resistance is easy, as you simply turn the red dial in the center of the bike.
Simply put, this is one of the top options for home workouts, with plenty of features that will delight everyone - from seasoned spin enthusiasts to indoor cycling newcomers.
Peloton Bike review: price and features
The Peloton Bike is currently available for $1,495 / £1,350 / AU$2,295, making it one of the more expensive exercise bikes on the market. However, Peloton provides some fantastic features to justify this high price point. Not only does the bike feature a large and immersive built-in screen, but it also has a sturdy and robust frame that supports even the most vigorous of workouts.
Peloton Bike review: set-up and usability
Usefully, the price of the Peloton Bike includes both delivery and setup. Your delivery person will fit the screen for you, and talk you through the basic knowledge you need to use the exercise bike.
As the Peloton Bike weighs a fairly substantial 135lb/61kg, we would recommend making space for the bike near a power socket before it arrives. To begin your first workout, all you need to do is set up your membership and adjust the handlebars and saddle to suit you. The Peloton Bike dimensions are 60"(H) x24"(W) x 48"(L) and we found that its physical footprint didn't take up too much space.
The frame of the bike is made from carbon steel, which is designed for stability. This certainly seems to have paid off, as the bike feels secure with hardly any wobbling.
With minimal controls (just the red resistance dial, the screen's power button and the screen's volume controls), using the Peloton Bike is a blissfully simple experience. Usefully, the red resistance dial on the centre of the bike also doubles up as an emergency stop button – simply press it down to bring your legs to a quick stop.
Peloton Bike review: design and display
You can't talk about a Peloton exercise machine without mentioning the large HD touch screen that the brand is famous for. When paired with the All Access Membership, the Peloton Bike's tablet is simply fantastic. The bright, crisp graphics always make for a pleasant experience, while the well-designed app makes it easy to navigate around the screen.
We found the screen to be nicely responsive to touch – there's no frantic jabbing needed to try and quickly change a setting or move onto a different page. Plus, all the content loads quickly and is easy to navigate.
The design of the Peloton Bike itself is slick and stylish, featuring a black colorway with the signature flashes of red. The saddle could be more comfortable, but we got used to it after a week or so. (You could invest in a gel bike saddle cover if you're particularly struggling).
If we were being picky, we would wish for a small tray or pocket for placing a phone. However, there is a water bottle holder underneath the screen and a weights holder at the back of the seat. Plus, it can't be denied that the minimal design of the Peloton Bike helps the exercise machine feel incredibly luxe.
Peloton Bike review: performance
To unlock the Peloton's full capabilities and experience the infamous Peloton workouts, you'll need to have an All-Access Membership to the Peloton App. This is probably the most contentious aspect of the Peloton Bike experience, as this app requires a monthly subscription of $39 / £39 / AU$59, which is essentially the cost of a gym membership.
What makes this pill particularly hard to swallow is that non-Peloton product users can actually access the Peloton app - which is almost exactly the same - for just $12.99 / £12.99 / AU$16.99. Yes, the All-Access Membership does feature more tracking capabilities, but it's questionable whether this is enough to justify a monthly cost of over twice as much.
However, despite its high price, the app really is rather good. There are a variety of workouts available, from spin-style classes to boxing to HIIT. One of the biggest differences between the Peloton Bike and the Peloton Bike+ is that the latter has a screen that can rotate. This means that users are able to position the screen for floor-based workouts such as boxing or yoga.
However, this rotatable screen comes with a big price jump. You can easily work your way around this by simply downloading the Peloton app on your phone, laptop or smart TV to stream the non-bike workouts there instead.
When the bike is in use there's minimal noise from the flywheel, which is perfect for those who live in flats or like to exercise at unsociable hours. We also found that there was generally very little frame movement - although being out of the saddle at a high cadence does introduce a little bit of movement.
Peloton Bike review: user reviews
As the Peloton Bike is only sold through Peloton's official website, sourcing specific user reviews can be tricky. However, Peloton's general Trustpilot rating currently sits at 4.5, with 70 percent 'Excellent' reviews and 15 percent 'Bad' reviews. One review states: "Purchasing the bike was the best [thing] to happen to me. Using it on a regular basis has really changed my life." (It's unclear whether this refers to the Peloton Bike or Peloton Bike+.)
Meanwhile, another user references the Peloton App and a recent update: "Each coach brings something different to the table and provide[s] such positive energy to be your best every day… The update adding compatibility with the Apple Watch has also been amazing."
However, not all users are so happy with the app, with one stating: "The bike is pretty good, but there [is] room for improvement. There's not enough variety in the classes… I'm paying for a lot of content I don't use with the subscription."
Peloton Bike review: verdict
If money is no object and you're looking for an exercise bike with superior build quality, a sleek design and a fantastic accompanying app, then you simply can't go wrong with the Peloton Bike. There's a huge variety of fun and engaging workouts which provide a great way to keep yourself motivated on your fitness journey. In fact, some workouts are so enjoyable that we found ourselves spending the rest of the evening daydreaming about our next ride on the bike!
However, if you're on a budget there are plenty of other exercise bikes that will still provide an excellent workout without the high price tag. In fact, you could even try the Peloton App hack – using a less expensive exercise bike and streaming the basic $12.99 / £12.99 / AU$16.99 app onto your TV or tablet.
Ultimately, whether the Peloton Bike is worth it will come down to your individual circumstances. If you're a casual user and you're not entirely convinced that it won't be collecting dust in the corner in a few months' time, then perhaps the Peloton Bike isn't for you. However, if you love the endorphin rush of a good cardio workout and you're looking to treat yourself to a good quality exercise bike, then the Peloton Bike is an undeniably great option.
Also consider
Peloton Bike+
Not only does the Peloton Bike+ have a larger 24" display screen, it also has the ability to swivel around so that you can perform your workouts off the bike as well. This means that you can jump straight from a high intensity HIIT workout on the bike into a gentle stretching session on your yoga mat with ease. Check out our Peloton Bike+ review before you decide.
Apex bike
If you want the Peloton experience without paying the high end Peloton prices, the Apex Bike could be a good compromise. Featuring a modern and stylish design, the Apex Bike is designed to deliver a spin studio experience in your home. Just be aware that there's no built-in screen, so you'll need to use your tablet or smartphone instead. Read our Apex Bike Review to find out more.
With six years of editorial experience across print and digital brands, Louise has written for a variety of publications, including TechRadar and The Independent. As a keen advocate of functional fitness, she's passionate about helping others build a healthy lifestyle that leaves plenty of room for compromise. This particular interest comes from a longstanding knee problem, which has left her with a deep appreciation of the somewhat less glamorous aspects of fitness, such as building joint strength. In her spare time, you can either find Louise curled up on the sofa with a good book, ambling around the countryside with her camera or teaching her border collie some fun new tricks.