Polar Ignite 2 review: A top fitness watch with tons of sophisticated metrics
The Polar Ignite 2 is a slender, specialised watch stuffed with fitness features and health metrics, perfect for all-rounders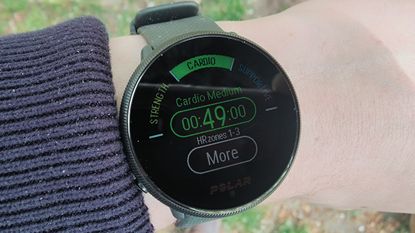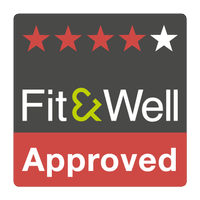 (Image credit: Future)
An excellent, almost overwhelming array of features and top-notch tracking inside a simple, almost too basic design. It's light on style but a real gem.
Reasons to buy
+

Tons of advanced health metrics

+

Recommended workouts from FitSpark technology

+

Big list of exercise programmes
Reasons to avoid
-

Basic screen

-

Not an overly-intuitive UI
Get the Fit&Well Newsletter
Start your week with achievable workout ideas, health tips and wellbeing advice in your inbox.
Thank you for signing up to Fit And Well. You will receive a verification email shortly.
There was a problem. Please refresh the page and try again.
Welcome to Fit&Well's Polar Ignite 2 review. The latest offering from Finnish wearable company Polar, the watch is an update on the original Ignite, and serves as the everyday activity watch to Polar's Vantage line, which is designed for more elite athletes.
We'll break down the review into Price, Features, Performance, Design and Battery Life to really dig into whether the Polar Ignite 2 cuts the mustard amongst fierce competition from the better-known brands such as Fitbit Sense and the Apple Watch Series 6.
However, we can give you a very brief verdict: It's one of the best fitness watch models for the price. A few design features does let it down somewhat, but if you're not particular concerned with aesthetics, the sheer amount of metrics this slender fitness watch can measure makes it a highly sophisticated piece of kit worthy for most wrists.
Polar Ignite 2: Price
The Polar Ignite 2 is priced around $229 in the US, and £200 in the UK. It sits nicely between the more basic Unite, which is around $149 in the US, and the top-flight Vantage M2, which comes in at $299. The three of them make up Polar's current-gen fitness tracker lineup.
With the introduction of Polar's latest models, it's dropped the price of the original Polar Ignite back down to $199.
Polar Ignite 2: Features
Where to start? The Polar Ignite 2 is absolutely stuffed with features. For one thing, the watch has a smorgasbord of advanced fitness tracking. It can track an enormous range of different activities, from running, strength training and yoga to more esoteric ones, from aqua fitness, aerobics and boxing to volleyball and wheelchair racing. It can also recommend and record breathing exercises.
Sleep tracking is also phenomenally detailed. Continuous heart rate monitoring via three different kinds of sensors is used to get a pinpoint-accurate reading 24/7, while sleep tracking functionalities go beyond standard "deep sleep" and "light sleep" readings to give you a "nightly recharge score", to illustrate how well your body has recovered. In the app, you can see your interruptions during sleep, your REM cycles and it's all presented in a detailed bar chart.
All your workout metrics go into similar detail. Workouts show calories burned, average heart rate and even energy expenditure: the amount of carbohydrates, proteins and fats used during a workout. It's all incredibly detailed - perhaps too detailed for someone who's just after a more simple heart rate, calorie counter and fitness tracker.
Built-in GPS is a really nice touch, especially since so many watches rely on your phone for this feature. You can also control music from your phone, too, so you don't have to get your phone out to change track on the fly.
Polar Ignite 2: Performance
The activity tracking was fast and accurate, and the tracking was really comprehensive. You're able to delve in much further detail, breaking down your week and month's training scores and heart rate zones all on the watch's little screen, which was every bit as good as Fitbit Premium's "active zone minutes" function with no paywall to speak of. I loved the sheer amount of metrics you could get from each workout, even if they seemed better-suited to cardio burns and running rather than strength sessions.
This extended to the sleep tracking. You can see the level of data from a single night's sleep below, tracking even the minutiae of my night's rest with fantastic detail:
It was neat to see all the metrics onscreen right then and there, but it all felt a little cramped in the 40mm screen, especially with the bottom cut-off bezel (haven't round smartwatches moved past this already?), so I preferred to access any historic data in the app.
As well as selecting your own workout, the watch's FitSpark function (which is also a part of the Vantage M2) recommends optimal workouts for you at any given time, split between strength, cardio and supportive functions. For example, the morning before I wrote this review, I recorded a light run on the watch. This afternoon, the Polar Ignite 2 recommends I do a 23-minute dynamic mobility workout to offset any tightness.
If it's been a few days since my last session, and my activity levels are looking low, the watch might recommend I do a 45-minute cardio circuit instead. It's a really clever bit of kit, even if you won't always be following the watch's recommendation, as I'm sure most people have their own routines they prefer.
Nevertheless, it's a good way to get you thinking about your training as a whole, and optimising your decisions. I was seriously impressed with the Ignite 2 from a performance perspective, and it equals, and often outdoes, competitors that sometimes reach double its price point.
Polar Ignite 2: Design
The watch's actual design functionality is fit for purpose, coming in three colorways: Black Pearl, Champagne and Blue. The slender watch weighs just 35g – very light, which is nice during workouts but takes a while to get used to. The 20mm silicone strap is very thin, and all this compounds to make the watch feel a bit like a toy when first strapping it on. In comparison, the Apple Watch incorporates more metal in the casing, giving it a premium feel.
However, the saving grace is the stainless steel bezel, giving it a bit more of a premium look when facing outwards, along with the metal clasp. It's a better-looking beast than the Oppo Watch, which really feels plasticky, and straddles the line between watch and tracker very well.
The outer shell houses a single button, with no secondary controls or scroll crown, which you can use to either wake the watch or summon your training options for a quick workout. Unfortunately, I found the watch's internal gyroscope left something to be desired: unless I brought the watch up in an exaggerated motion, it often wouldn't wake on its own, and I ended up pressing the button more often than I'd like.
The UI is generally good. You can call up all of your most recent metrics on the watch's LCD screen, such as your activity score for the day so far, last training session, weather, time trained this week, last night's sleep score, and all that good stuff on customisable watch faces, so you can choose your most pressing statistic to have as your "home screen" watch face, so to speak, and swap at any time with a simple swipe.
However, the screen's resolution isn't good, with the watch's hands looking jagged and blocky. It's bright and colourful, but the poor resolution means it's nowhere near as pretty as the OLED and AMOLED screens of the premium Fitbit, Samsung and Apple Watches, but something's got to go at this price point, I suppose.
Polar Ignite 2: Battery Life
The Polar Ignite 2 is said to last for up to 20 hours in training mode and 100 hours overall. It's certainly got great battery life: we never had the training mode on for more than 90 minutes at a time, but the watch easily lasted at least three nights at a time, and sometimes four, and never needed more than an hour to catch up.
Contrast that with last year's Oppo Watch, which operated at the same price point but could barely limp through 20 hours, or an Apple Watch on at full blast with notifications and third-party apps galore. By scaling its functionality down (along with the disappointing screen resolution) Polar has ensured the battery remains stellar.
Polar Ignite 2: Verdict
The Polar Ignite 2 is good. For its price point, and if fitness is your priority, it's really good. it's a no-frills fitness watch with tons of metrics, an intuitive UI, wonderful functionality and a premium look, if not feel.
It won't be able to do everything a Samsung Galaxy Watch Active or an Apple Watch Series 6 can do: it's a stripped-down fitness watch through and through. It can't take and receive calls, play games or take advantage of third-party apps. But if you're looking for a stylish fitness watch first and foremost, and you're an all-rounder exerciser like myself rather than a serious triathlete, the Polar Ignite 2 is very worthy of consideration.
Get the Fit&Well Newsletter
Start your week with achievable workout ideas, health tips and wellbeing advice in your inbox.
Matt Evans is an experienced health and fitness journalist and is currently Fitness and Wellbeing Editor at TechRadar, covering all things exercise and nutrition on Fit&Well's tech-focused sister site. Matt originally discovered exercise through martial arts: he holds a black belt in Karate and remains a keen runner, gym-goer, and infrequent yogi. His top fitness tip? Stretch.