Under Armour Hovr Rise 2 review: Style meets substance in these affordable training shoes
Under Armour Hovr Rise 2 are an affordable pair of shoes that will keep your feet stable whilst training (and look good too)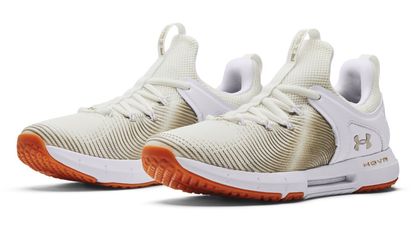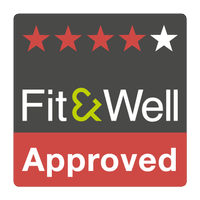 (Image credit: Under Armour)
The Under Armour Hovr Rise 2 offer a sleek, supportive training shoe at a price that is very competitive compared to rival brands. The UA HOVR technology makes these feel super lightweight; ideal for HIIT and Crossfit workouts where feet are moving in all different directions.
Reasons to buy
+

Super secure - there's no foot slippage in these!

+

More affordable than other similar training shoes

+

Look great and work well away from the gym floor too
Reasons to avoid
-

Can be challenging to get on
Get the Fit&Well Newsletter
Start your week with achievable workout ideas, health tips and wellbeing advice in your inbox.
Thank you for signing up to Fit And Well. You will receive a verification email shortly.
There was a problem. Please refresh the page and try again.
The Under Armour Hovr Rise 2 shoes are ideal for gym, HIIT and Crossfit workouts, making them one of my best cross training shoes. As a personal trainer, I'm constantly on the lookout for the holy grail of training shoes - ones that pair great style (you've gotta look the part for Instagram...) with substance, meaning they're suitable enough for all my training needs.
The Hovr Rise 2 training shoes deliver on both fronts. Looks-wise, they get my seal of approval - they actually look a little boot-style as the ankle area comes up higher than other shoes I've tried.
And in terms of performance, I found them to be sturdy and supportive, although I did have some issues with getting them on in the first place (more on that later).
Overall, this is a great pair of training shoes with plenty of strong points and I would wholeheartedly recommend them to anyone looking for gym-suitable footwear. Let's dive into why in more detail with my full Under Armour Hovr Rise 2 review...
UNDER ARMOUR HOVR RISE 2: PRICE AND FEATURES
The Under Armour Hovr Rise 2 shoes retail at £85/$100, making them more than competitive on price when compared to other training shoes from rival brands such as Reebok and Nike. They're available directly from the Under Armoursite, with shipping to over 200 countries (select your location in the menu). They're also available from stores including Amazon US, Amazon UK and other sport and fitness retailers. See below for the best live prices, updated every 15 minutes.
I tested the women's white/gold colorway, but there are six options to choose from, including a pale pink, an eye-catching blue and classic black with white soles. Sizes range from US size 5 to 12 (UK 2.5 to 9.5) with half sizes available.
For men meanwhile there are eight color options, including cool all-black, a space grey and a rather funky lichen blue with neon orange detail. Sizes run from US size 7 to 15 (UK 6 to 14), again with half size options.
There are various features that make these shoes stand out. They including UA's famous HOVR technology, which offers their 'zero gravity' feel. This contributes to the shoes feeling super cushioned whilst helping to protect joints and bones from the intense workouts many of us put our bodies through (think burpees, box jumps and sprints).
There's also an abrasion-resistant mesh upper, stretch-bootie construction which is apparently designed to aid getting the shoes on and off (although that wasn't my experience), an external strap for shoe security and a full rubber outsole.
Under Armour Hovr Rise 2: Design and technology
Under Armour always seems to impress with its innovative technology and the mod cons in these Hovr Rise 2 training shoes are no exception.
They claim that their UA HOVR technology provides a 'zero gravity feel'. This is to maintain energy return, which means less impact on the feet, and subsequently the legs and joints. This is something we should all be considering when we choose our training footwear.
The UA HOVR foam is also placed within a firmer midsole, which means comfort but also stability. These are training shoes after all. Plus, a full rubber outsole allows for easy multi-directional movement.
Added to this, the abrasion-resistant mesh upper has a very funky 3D print and is said to be breathable for any workout.
Under Armour Hovr Rise 2: Fit, feel and comfort
The main issue I had when testing the Under Armour HOVR Rise 2 training shoes was getting them on - this proved to be a massive struggle for me. I had to undo every single lace and do a bit of wriggling, which doesn't sound like much of a chore, but did take a fair amount of time.
However, once they were on they were super light. Even as I lifted them out of their box, I noticed how little they weigh (9oz/225g, in case you're interested).
As these are training shoes and not running shoes, the soles are flat with a slightly raised heel for weight lifting. They aren't super bouncy however, these are training shoes and I wouldn't be expecting bounce. Instead, they provide stability; essential when you're jumping around and lifting weights off the ground and needing your body to stay aligned without feet caving in.
These fit tightly around the ankle thanks to the almost-boot like shape and there is also plenty of cushioning at the back as well as a finger strap to help take them off.
Finally, the 3D print mesh upper is designed for durability and breathability, and it definitely delivered on the latter. How do I know? When I took them off, they weren't damp or smelly in the slightest, even after the toughest of workouts... gross but true.
I also found them comfortable for short runs too, which is really beneficial as so many of my Crossfit-style workouts involve short bursts of running.
Under Armour Hovr Rise 2: Support
When my feet are in these shoes, they feel incredibly secure. Like I said, getting them on is tough but when they're on, they are tight!
I tested the Under Armour Hovr Rise 2 training shoes a go during at-home workouts on carpeted floors involving kettlebells, single leg jumps, box jumps and skipping, and similar workouts in the local park (where the ground was significantly firmer). All movements were simple, my ankles were very supported (a total must during these kind of multi directional movements) and the shoes felt light.
The sole doesn't bend much - as to be expected in a training shoe - and when stood with a barbell in front of me, I didn't feel like either foot was caving in at any point. This is key to avoiding injuries in the legs and joints.
There is also an external strap at the back, which Under Armour says helps 'lock your foot in place'. Indeed it does - there really was no budging in these shoes and I felt safe darting around and making fast movements, as well as standing on a deadlift platform lifting heavy weights.
Although I will add, if you are planning on lifting the real heavy stuff, get your feet in some actual lifting shoes as these are made especially for such workouts.
Under Armour Hovr Rise 2: VERDICT
The support that the Under Armour Hovr Rise 2 offer is fantastic and my feet felt very secure. There was no budging even when I was jumping up onto benches (these high jumps can lead to some trainers slipping and sliding).
Naturally, as they are flat soled with little movement, after several hours of wearing them I did notice I needed to remove the shoes and give my feet a good flex. But, as noted previously, these are training shoes, not shoes made specifically for long walks or running. Getting them on was just the hardest part really. I was gasping for breath by the end of it!
Overall I really enjoyed wearing these during my workouts, and even garnered a few compliments from my pals when I wore them during an outdoor workout in the park. Style and substance - just the holy grail I was looking for.
ALSO CONSIDER
The Nike Metcon 5 training shoes come with an extra Hyperlift insert, which adds a little heel lift, making these ideal for lifting. Personally I struggle to wear these for HIIT workouts as the soles are very stiff, however for foot stability on the ground during those big compound lifts, these are perfect.
Reebok's Nano X1 training shoes are super chic, especially in the white/grey colour way, and the heel makes them ideal for weightlifting as there's a little lift. They are also very breathable; great for those sweaty workouts, whilst offering support around the entire foot.
Get the Fit&Well Newsletter
Start your week with achievable workout ideas, health tips and wellbeing advice in your inbox.
Lucy is a freelance journalist specializing in health, fitness and lifestyle. She was previously the Health and Fitness Editor across various women's magazines, including Woman&Home, Woman and Woman's Own as well as Editor of Feel Good You. She has also previously written for titles including Now, Look, Cosmopolitan, GQ, Red and The Sun.
She lives and breathes all things fitness; working out every morning with a mix of running, weights, boxing and long walks. Lucy is a Level 3 personal trainer and teaches classes at various London studios. Plus, she's pre- and post-natal trained and helps new mums get back into fitness after the birth of their baby. Lucy claims that good sleep, plenty of food and a healthy gut (seriously, it's an obsession) are the key to maintaining energy and exercising efficiently. Saying this, she's partial to many classes of champagne and tequila on the rocks whilst out with her friends.