The Carol Bike 2.0 claims to be the ultimate tool for time-saving workouts, so I put it to the test
I decided to find out if the Carol Bike 2.0 can really deliver the benefits of a long run in just five minutes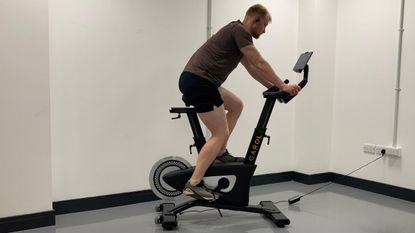 (Image credit: Future)
The Carol Bike's REHIT system allows you to get a cardio-boosting, calorie-burning workout in less than ten minutes, making it a great fit for those short on time. It's sleek, comfortable and smooth to use, but this premium performance doesn't come cheap.
Reasons to buy
+

Time-efficient workouts

+

Sleek aesthetic and comfortable design

+

Plenty of metrics
Reasons to avoid
-

Expensive

-

No follow-along video workouts

-

More studies needed to confirm effectiveness of REHIT
When something sounds too good to be true, it often is. So when the Carol Bike 2.0 claimed to provide "the shortest, most effective workouts — backed by science" I was understandably dubious.
I was able to get hold of one of these machines for testing and, while I didn't have a lab team at my disposal to verify the physiological effects of these time-efficient sessions, I can say the Carol Bike does serve up fast, fun workouts unlike anything I've ever tried before. It's for this reason I felt it was worthy of a spot on our roundup of the best exercise bikes.
The bike is designed to burn calories and boost aerobic capacity as quickly and efficiently as possible (we dive into the science of this in the platform and performance sections below). This makes it a great fit for those who are short on time, though its future-facing approach to fitness doesn't come cheap.
If you're a fan of traditional gym sessions or Peloton-esque follow-along studio classes, it's not for you. However, if you struggle to find time to exercise and are trying to find a more efficient workout option, I think the Carol Bike 2.0 could be an ideal solution.
Carol Bike 2.0: Price and availability
The Carol Bike 2.0 is the second generation of the brand's revolutionary exercise machine. It was released in late 2022, and has a more polished aesthetic than its predecessor as well as new handlebars that offer a choice of five grip positions. It has also replaced the in-built handlebar heart monitor with a wearable chest strap that comes with the machine.
The model is available in the UK, US and Canada, but its premium performance is matched by a premium price tag. It will set you back $2,595 in the US, or £2,595 in the UK. To access the app, you will also have to pay a $15/£15 per month membership fee.
Carol Bike 2.0: Design and features
In my opinion, the Carol Bike 2.0 looks better than the first iteration of the machine, and most other exercise bikes for that matter. The black and silver finish, twinned with the chrome flywheel, has a premium feel. The only thing that let it down slightly is the 11in display, which is clearly a tablet masquerading as an in-built touchscreen, but this doesn't affect performance at all.
The screen can be tilted and pivoted, which saves taller users like me from having to uncomfortably crane their necks, and you can also use it to download other apps through the Google Play store. Carol says the bike integrates with apps like Peloton, Zwift and YouTube, though for the purposes of this test I stuck to the company's own platform.
You can change the height and positioning of the seat and handlebars to find a comfortable, effective cycling position, as you'd expect from a bike of this caliber. I also liked the five grip positions offered by the handlebars as they allowed me to switch my body shape and lean into intense sprints.
Image 1 of 4
Carol Bike 2.0: Classes and platform
The Carol platform, accessed via the touchscreen, is minimalist but effective (again, well-catered to anyone who wants an efficient workout). There are just six options, with three intense REHIT (reduced exertion high-intensity interval training) classes, fat burn rides, free and custom rides, and fitness tests.
REHIT is Carol's ace in the hole, and the reason this bike can promise such quick yet effective workouts. It involves minimal sprint durations and repetitions (in Carol's case, two 20-second all-out sprints split by short, slow-paced recovery rides lasting between one and three minutes). As a result, these REHIT workouts only take between five and nine minutes.
A study published in the International Journal of Environmental Research and Public Health found that eight weeks of REHIT "elicited more potent, time-efficient improvements to cardiorespiratory fitness and cardiometabolic health when compared to traditional moderate-intensity continuous training". Or, in simple terms, it was able to boost people's heart and lung health in a fraction of the time of a longer run, row or cycle.
The fat burn rides are more traditional interval sessions, involving a two-minute warm-up, 30 eight-second sprints followed by 12 second rests, then a three-minute cool-down.
Free rides allow you to ride the bike and play with the resistance in any way you want. There's also a handful of fitness tests, accessible via the app, which can keep tabs on improvements to your performance while also providing a fun way to measure yourself against fellow Carol Bike owners.
Carol Bike 2.0: Performance
The Carol Bike 2.0 works excellently as an exercise bike, with a heavy flywheel that moves smoothly, a sturdy frame that didn't budge when I was sprinting at top speeds, and a near-silent magnetic brake system that never juddered. The resistance is tailored to you using an AI-based system to ensure you get the intended results, and I definitely found by the end of each sprint my legs felt well and truly sapped of strength.
But the bike's primary appeal lies in its promise to provide the health and fitness benefits of a 45-minute run in a five-minute workout with REHIT, and that's what comes under scrutiny here. In the Carol Bike's case, these workouts come in one of two forms; intense sessions and fat burn sessions.
Research published by the American Council on Exercise found this type of activity burned fewer calories than 30-minute moderate intensity sessions and 20-minute vigorous sessions on a treadmill.
That's disappointing news, but there's more to these results than meets the eye. You see, both intense rides and fat-burning rides on the Carol Bike elicited greater EPOC (post-exercise exercise consumption). Or, to put it another way, the bike workouts (particularly the fat burn ride) boosted people's post-exercise metabolism so they continued to burn more calories for several hours after exercise had finished.
On average, when combining the in-exercise calorie burn and EPOC figures, the 30-minute moderate-intensity treadmill session burned 227.7 calories, the 20-minute vigorous-intensity treadmill session burned 230.6, the 8.40-minute intense Carol Bike workout burned 131.1 calories, and the 15-minute fat-burn workout on the Carol Bike burned a winning total of 281.2 calories.
So, you get an impressive return on investment from both workouts, considering how short they are. I found I walked away from the intense rides feeling like I'd barely exercised at all, as the vast majority of the session has you pedaling at a snail's pace. The fat burn rides, on the other hand, were nothing short of brutal and left me in dire need of a shower.
Overall, I can't say for sure that the shorter intense sessions are an oven-ready substitute for other forms of cardio like running or HIIT workouts, and I'll definitely be keeping these traditional methods in my fitness routine for the foreseeable future.
Carol Bike 2.0: Data and metrics
As you might expect from a machine this forward-facing, there is no shortage of data and metrics on the Carol Bike 2.0.
While riding, you'll be shown your power in Watts, cadence and heart rate on three dials, as well as a progress bar telling you when your next sprint is and a real-time line graph showing your power-based performance.
The top of the screen also displays a running written narrative to talk you through the session (which you can opt to have read out if you prefer). This features useful facts about why you're doing what you're doing, as well as some left-field audiobook-style dramatizations about embodying your Neanderthal ancestors and fleeing sabertooth tigers when it comes to the sprint sections.
These took me by surprise somewhat, but they were certainly an...interesting approach to motivation.
After each session, you'll receive a ride summary containing everything from your peak power to your calorie burn to your peak heart rate (courtesy of the chest-worn heart rate strap included with the machine). You can also see data on historic rides, including the number of calories you have burned including EPOC.
Finally, you'll have the chance to compare your results and scores on the fitness tests with other Carol Bike-users, which (as a very competitive person) I really enjoyed.
Carol Bike 2.0: Verdict
When it comes to time-efficient training tools, the Carol Bike 2.0 has better credentials than most. The claim that you can get a great workout in just five minutes is incredible, and the (admittedly limited) research lends it a decent amount of weight. I found the REHIT workouts were like no other exercise method I've tried before, leaving me feeling fresh and sweat-free, whereas the fat burn sessions soon had me back to my sweaty best. Whichever one you choose, however, you won't need more than 15 minutes.
The lack of follow-along video workouts is a miss for the price, particularly if you enjoy the motivating instructors of Peloton and its competitors, but if you're after a time-efficient session then I don't think the Carol Bike 2.0 can be beaten.
Also consider...
Peloton Bike +
If you want a more traditional exercise bike workout, the Peloton Bike+ is still the undisputed master of its craft. The price may be eye-watering (though you can pick up the original Peloton at a cheaper price) but the performance is unquestionable. It's exceptionally well-made, looks great and has a seemingly infinite platform filled with fun follow-along workouts, each led by an enthusiastic instructor. The touchscreen is super simple to use, and it's got something for beginners and avid exercisers alike.
Yosuda Indoor Cycling Bike
If it's the high price that's putting you off the Carol Bike 2.0, or the Peloton Bike+ above, then the Yosuda Indoor Cycling Bike could be for you. It has an MSRP of $439.99 but is often discounted to under $300, and it has everything you need for a comprehensive cardio workout. The flywheel moves smoothly, a simple monitor displays metrics like speed, distance and estimated calorie burn, and the adjustable seat is comfortable for long rides. Don't expect fancy features like a touchscreen for the price, but you can follow video workouts from your phone or tablet.
Get the Fit&Well Newsletter
Start your week with achievable workout ideas, health tips and wellbeing advice in your inbox.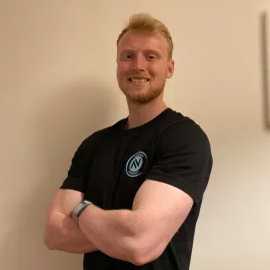 Harry Bullmore is a Fitness Writer for Fit&Well and its sister site Coach, covering accessible home workouts, strength training session, and yoga routines. He joined the team from Hearst, where he reviewed products for Men's Health, Women's Health, and Runner's World. He is passionate about the physical and mental benefits of exercise, and splits his time between weightlifting, CrossFit, and gymnastics, which he does to build strength, boost his wellbeing, and have fun.
Harry is a NCTJ-qualified journalist, and has written for Vice, Learning Disability Today, and The Argus, where he was a crime, politics, and sports reporter for several UK regional and national newspapers.