Adidas Ultraboost 22 review: the go-to running trainers for all distances
The Adidas Ultraboost 22 are a must-buy for every avid runner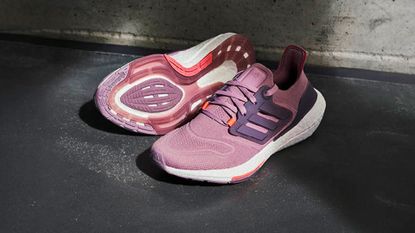 (Image credit: Adidas )
The Adidas Ultraboost 22 are an incredibly comfortable pair of trainers that never seem to deteriorate. The fact that these are light makes running even more enjoyable, however, the price point is pretty steep. But, if you tally up the cost per wear, thanks to the hefty lifespan, these shoes actually offer several other trainers a run for their money.
Reasons to buy
+

Durable

+

Comfortable

+

A range of colorways

+

Lightweight

+
Reasons to avoid
-

Very thick sole

-

Not as 'bouncy' as previous models

-

Expensive

-

When wet, not as practical

-
Get the Fit&Well Newsletter
Start your week with achievable workout ideas, health tips and wellbeing advice in your inbox.
Thank you for signing up to Fit And Well. You will receive a verification email shortly.
There was a problem. Please refresh the page and try again.
As an avid runner, writing up an Adidas Ultraboost 22 review is somewhat of a dream. Why?
Because the Adidas Ultraboost shoes have been my go-to running trainers for several years now and they never, ever disappoint. They are hands down one of the best running shoes for women thanks to their comfort, durability, and superior Boost. Yet again, Adidas has made its mark on the fitness scene.
In fact, the world and his dog need to know about these trainers. Adidas' latest Ultraboost drop; Adidas Ultraboost 22, come with a few minor adjustments to its predecessors, but ultimately they still make for an epic shoe and they also have serious sustainability credentials.
Although they aren't particularly cheap, they last a long time; I have worn my other Adidas Ultraboost consistently now for my 5ks, 10ks, and half marathons, as well as for general walking and flitting around between jobs and meetings. In fact, the sole of all my previous Ultraboost still seems to retain that 'bounce' we all crave from a pair of running shoes.
The infamous Boost midsole (as the Ultraboost is so aptly named after), offers greater energy return, so every run stride is, well… 'boosted', allowing for an even speedier run and the sock-like upper of this trainer offers great support.
But are the Adidas Ultraboost 22 trainers worth the price tag? And are they better than previous versions of the Adidas Ultraboost? I took them on a serious test drive…
Adidas Ultraboost 22: price & features
I gave the women's Adidas Ultraboost 22 a try; the latest version of Adidas Ultraboosts that have been released, and my word they've come a long way!
One of the downsides of these shoes, which I have already flagged, is the hefty price tag. Coming in at a spicy $180/£165, forking out for a pair of these does make your eyes water ever so slightly.
In saying that though, the features of the shoe arguably warrant the price.
And, these days, a really good running trainer doesn't come cheap.
The Adidas Ultraboost 22 trainers come with a Boost midsole, a recycled sock-like upper, and a nifty Adidas Linear Energy Push for an even greater energy boost when running.
Adidas Ultraboost 22: key features in-depth
There are several key features that give the Adidas Ultraboost 22 a seriously high status in the world of running trainers.
From the knitted upper to the Boost-ed midsole, and the fact that these are made from 50% recyclable materials, ensures that the Adidas Ultraboost 22 receive top marks.
Adidas Ultraboost 22: design and technology
Adidas comes into its own here, as the technology packed into these Adidas Ultraboost 22 trainers is pretty impressive.
The stand out is the Boost midsole; a classic Adidas Ultraboost element made from thermoplastic polyurethane particles. Adidas say that these are expanded to form 'closed cells around tiny pockets of air', with the resulting product known as expanded thermoplastic polyurethane—or eTPU. The Boost midsole hasn't just been made for more energy return on every stride, it's also been made to cope with all temperatures. This makes the Adidas Ultraboost 22 useful for all terrains and weather conditions.
In saying this though, the only time I did get a little uncomfortable was during a downpour of rain - the Adidas Ultraboost upper fabric isn't waterproof and my feet were soaked.
This Boost doesn't seem to be as 'bouncy' as the brand's previous trainers, however, it does supposedly offer 4% more energy return than the Ultraboost 21, and the heel is very chunky.
It does also still offer a lovely bit of cushioning, which doesn't wear down in a hurry, but it's not as 'light' as the trainers I have tried before. That isn't to say it isn't still a dream to run on though, and weighing around 0.6 lbs/290g (for a size 8 US/ 6 UK women's), they are technically lighter than the previous Ultraboosts.
Alongside the Boost is the Adidas Linear Energy Push (LEP) which is said to offer a more 'responsive ride'.
I wasn't really sure if I felt this, to be honest, however, every run I have done in these has been comfortable.
Another great point about the Ultraboost is the various colorways; there's a style to suit you! If you're a real match-your-kit-to-your-clothes person, then you'll definitely find the right color way for you. I'm an all black girl personally.
Adidas Ultraboost 22: fit, feel, and comfort
From experience, Adidas Ultraboost have always offered supreme comfort; I can go hours wearing these and my feet never feel tired.
The fit of the women's Adidas Ultraboost 22 has been based on 'female anatomical insights' says Adidas; with a narrower heel, a lower instep, and a unique s-curve heel.
I certainly found these to fit well. If anything, these were snug, fitting nicely to the contours of my feet. Plus the laces seem shorter than usual which is great as there's less lace hanging around.
The Primeknit upper of the Adidas Ultraboost has been 'refined' (in the words of Adidas), for its latest drop, this time being made from 50% Parley Ocean Plastic. So, that's Adidas' sustainability box ticked. The Parley Ocean Plastic is essentially 'reimagined plastic waste, intercepted on remote islands, beaches, coastal communities, and shorelines, preventing it from polluting our ocean', (in the words of Adidas).
The other half of the Primeknit upper is made from recycled polyester.
I did find this Primeknit upper to be quite tight, which makes the trainers less like slip-on trainers, and more like 'sit down and pull them on' trainers, but this isn't always a bad thing, as they do offer good support.
These trainers also have foam around the heel to stop blisters from forming; a joy for me as I am prone to blisters from new shoes. These Adidas Ultraboost 22 however were comfortable from the get-go and not once did I feel pain or develop a blister.
I actually wore these from the gym, then sprinted to a meeting, and then walked home. The entire time I felt comfortable. In fact, I'd go as far as to say you can forget you're actually even wearing these!
Adidas Ultraboost 22: support
The support given by a trainer can make or break a run. The Adidas Ultraboost 22, much like all of the Ultraboost shoes, come with a Continental™ Rubber outsole. This offers really good grip and I found that even during my wet runs, I didn't slip at all.
To give these a really good test, I wore them during a shorter, quick run, a longer, slower run, and a treadmill run.
Adidas claims that these are made for the everyday run and the long runs, and I am inclined to agree. During all three runs, I found that my feet were supported entirely and they remained comfortable.
I'm someone who has a slightly bent left ankle, which does mean I need really good support from my trainers to stop my left heel from slipping.
A key way for me to tell if a shoe is continually supportive, is by checking whether the heel has slipped down to the side slightly, matching the shape of my foot.
I've worn the Adidas Ultraboost 22 for a while now, and they are exactly as I bought them; sturdy and stable.
Plus, as mentioned above, the Primeknit upper is tight, so my foot felt well protected.
Adidas Ultraboost 22: user reviews
The Adidas Ultraboost 22 reviews are pretty impressive with most sites receiving a high count of 5 stars. There are some obvious pros and cons that seem to come up regularly. Comfort was a big positive, flagged by many wearers of the shoe. One user on the Adidas website said: "I will use these for outdoor workouts or for walking around when I travel."
Another said: "I bought this shoe for my wife and she says it is so comfortable and lightweight. She wears it all day for work and she loves it."
Another positive that seems to show up, again and again, is the support that the Adidas Ultraboost offers during running. One user on very.com said: "Great looking running shoes that actually support and protect your foot. Was recommended to purchase through my running PT and am so pleased I listened."
Some cons did come up and I found that several people who'd purchased the Adidas Ultraboost 22 said that the shoe was too tight for them. I have relatively slim feet so I found them comfortable, however, wider feet might not feel so great.
A user on JDsports.com said: "Far too tight in the front foot had to send 2 pairs back!" and another said: "Order half-size up and still feel very tight and uncomfortable, especially around my insteps."
Adidas Ultraboost 22: verdict
All in all, the Adidas Ultraboost 22 are a force to be reckoned with thanks to the run tech consisting primarily of Boost midsole and LEP.
I found them extremely comfortable as they took me from the gym to work and all around, without my feet feeling sore or tired.
Other wearers have flagged that the shoe might be a little too tight, however, for me, I felt supported and comfy.
Also consider
Asics Novablast 2
Naturally, the Adidas Ultraboost 22 isn't without its competitors. The Asics Novablast 2 are a highly rated running trainer, thanks to a sturdy heel and a new thermoplastic polyurethane (TPU) material in the heel counter, providing extra grip. They also have foam in the right places for extra comfort. These can come up large, unlike the Adidas Ultraboost 22, so may be preferred for wider feet.
Nike Zoom Fly 4 Premium
Another big competitor for the Adidas Ultraboost 22 are the Nike Zoom Fly 4 Premium which are the shoe giant's latest road runners, showcasing flexibility alongside support.
The Adidas Ultraboost is priced higher than these two competitor shoes, so this factor is certainly something to consider; however, if you're looking for run tech, merged with sustainability and support, these are the shoes for you.
Get the Fit&Well Newsletter
Start your week with achievable workout ideas, health tips and wellbeing advice in your inbox.
Lucy is a freelance journalist specializing in health, fitness and lifestyle. She was previously the Health and Fitness Editor across various women's magazines, including Woman&Home, Woman and Woman's Own as well as Editor of Feel Good You. She has also previously written for titles including Now, Look, Cosmopolitan, GQ, Red and The Sun.
She lives and breathes all things fitness; working out every morning with a mix of running, weights, boxing and long walks. Lucy is a Level 3 personal trainer and teaches classes at various London studios. Plus, she's pre- and post-natal trained and helps new mums get back into fitness after the birth of their baby. Lucy claims that good sleep, plenty of food and a healthy gut (seriously, it's an obsession) are the key to maintaining energy and exercising efficiently. Saying this, she's partial to many classes of champagne and tequila on the rocks whilst out with her friends.