Asics Gel Nimbus 24 review
This Asics Gel Nimbus 24 review explores why these running shoes are great for daily training, and everything else you'll want to know before buying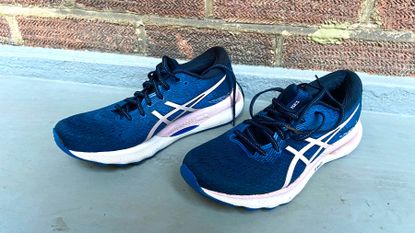 (Image credit: Future)
The Asics Gel Nimbus 24 are really enjoyable and versatile shoes to run in. Not only do they look good but they feel good as well. The light, bouncy and responsive running experience explains why it is a slightly more expensive running shoe. Other than the upper lacking thick padding, this is an awesome running shoe option for beginners and advanced runners.
Reasons to buy
+

Soft midsole

+

Good energy return

+

Breathable upper
Reasons to avoid
-

More expensive than others

-

Less plush upper
The Asics Gel Nimbus 24 offer an enjoyable and fairly bouncy running experience. If the time has come for you to replace your daily training shoe or you're buying your first pair of good quality running sneakers then these are a solid pair to consider. They are slightly lighter than previous Asics models and feature a new foam finish on the sole, offering a fun and responsive ride. Though I wouldn't use the Nimbus 24's for speed or for anything exceeding 10K, I'll happily pick these up for my rest day runs and middle distance training.
As a regular runner who enjoys running daily for fun and for training toward new distances, I am always looking for the best running shoes for women. After testing out the Asics Gel Nimbus 24 I am gutted these weren't out when I was training for a 10K. They would really suit any middle-distance kind of training since they are great for picking up speed when you need to, are conveniently lightweight, and feel nice on those longer training sessions.
Asics Gel Nimbus 24: price and features
The Asics Gel Nimbus 24 certainly aren't a budget pair of running shoes but the Japanese company is known for its running shoe technology. The Gel Nimbus 24s are available for $150/ £165, which makes them slightly more expensive than their predecessors, the Gel Nimbus 23.
Although the Gel Nimbus 24s aren't classed as a lightweight running shoe, they have been made slightly lighter (0.02lb/10g) than their predecessors making it a slightly more versatile running shoe.
The upper of this shoe is noticeably thinner making them a cooler option for runs in hotter temperatures, or just for longer runs. I do think this thinner upper lacks a level of stability but I'd say this is more of an issue if you want to cover hefty miles in this pair of sneakers.
It's a max cushioned shoe which Asics have added what they call an 'FF Blast+ foam' technology to its midsole. This is great if you like to feel bouncy and light as you take your strides. Do be wary of how what kind of routes you take these shoes on though, the foam can end up with some marks and indents from sharp bits of wood or stones.
Asics Gel Nimbus 24: design and technology
First things first, I found the soft midsole in this Asics running shoe makes for a really nice and responsive run. The midsole includes two layers of Asic's new Flytefoam Blast+ (FF Blast) foam. If you have ever run in a pair of Asics Novablast 2 you will find the Nimbus 24's are a much softer and springier version of this. That is what makes up the lower layer, and for the top layer, Asics have used a firmer material that also features a Trusstic plate in the midfoot. Trusstic is another technical feature created by Asics that is essentially included in the middle of the shoe to help keep the shoe from twisting when you are moving and exercising.
The outsole of this shoe features thicker sections of rubber in areas that are more likely to wear. But as I mentioned above, I'm not too sure just how durable and lasting these shoes are as during testing I did find the foam is susceptible to cuts and abrasions (especially from trail running).
There is generous padding in both the heel counter (a device in the heel of a shoe that holds your foot in place) and collar (foam padding running around the sides and rear of the shoe to help hold your foot in place). This really helps with foot lockdown when running. And if you like super duper heel lockdown when running Asics have also included double first row eyelets for when you come to lace up but I didn't find I needed these.
Asics Gel Nimbus 24: fit, feel, and comfort
I tried these Asics shoes in my usual shoe size which is US 8.5/UK 6.5 and found these to fit true to size.
As soon as I stepped out the door on my first test run, I immediately felt like the lightness of the shoe makes for a fun ride. It feels like the shoe wants to go fast which is great for when you want to pick up the speed a bit or need to do some interval runs. I wouldn't use these purely for speed as they are still a little on the heavy side but they definitely are versatile.
I also never felt like I was battling with the max cushioning to bounce back up on my strides so this added to the comfort of my runs in the Nimbus 24s.
I will say though, the thin tongue was a disappointment for me. Especially if you're exceeding the 10K mark in these shoes. I found it to be quite uncomfortable on the top of my foot where the laces tie.
Asics Gel Nimbus 24: support
I never had any issues with grip while running in the Gel Nimbus 24, even on rainy runs, which is always a green flag when testing out a running shoe (especially when living under the unpredictable weather of the UK). The shoe felt soft and agile to run in for me and I'd say anything between six-12K was my sweet spot when running in the Gel Nimbus 24. Comfort-wise, it feels like it suits faster-paced runs and is very well suited to longer, easy or recovery runs. I just wish the tongue was more padded for optimum comfort and support!
Asics Gel Nimbus 24: user reviews
The majority of reviews for the Asics Gel Nimbus 24 are very much in favor of this running shoe. Comments left on the Asics website agree that this is a really nice, cushioned sneaker. The words 'plush' and smooth appear in various user reviews. And it's the same over on Amazon, where you can also purchase this shoe. One user who explained they were looking for a more comfortable shoe for running longer distances said, "It seriously feels like running on pillows." Others said they liked how the Nimbus 24's didn't feel too hot from over padding and rubbing isn't an issue.
There are also some less positive reviews left for the shoe. One user didn't like the thinner tongue on this Asics running shoe, "On the 24's the shoe tongue cushioning has been replaced by a very thin piece of fabric that hurts the top of my foot. Disappointed that Asics didn't keep the cushioning in the Nimbus 24's tongue like the 23 has."
Others said they didn't find the shoe provided adequate stability.
Asics Gel Nimbus 24: verdict
Overall, I would definitely recommend the Gel Nimbus 24 to anyone looking for a daily running shoe. Sometimes I review shoes that offer something a bit different or don't look like your typical running shoe, like my Hoka Kawana review, and I can be reluctant to say they will suit all runners. Whereas with the Gel Nimbus 24's I think they are a comfortable option for beginner runners looking to increase their distance in their training and for seasoned runners who want a safe option for their easy runs and middle distance training. Other than the thin tongue, I really can't fault this running shoe.
Also consider
Hoka Kawana
Our Hoka Kawan review found this running shoe to be best suited to short, speedy runs, and features the signature HOKA 'meta-rocker' geometry, which is there to complement your natural stride and lowers the height difference between your heel and toes. It features a much firmer midsole than the Asics Gel Nimbus 24 but this is because it is a flexible shoe designed to perform well while running and in the gym when cross-training.
The Adidas Ultraboost 22
Our Adidas Ultraboost 22 review reveals how this shoe delivers on both comfort and stability, albeit they are expensive. But if you want, quality and durability, you can't go wrong. The nice layer of foam around the heel also helps avoid blistering which is every runner's dream, right?
Jessica is an experienced fitness writer with a passion for running. Her career in journalism began in local news and she holds a Masters in journalism. Jessica has previously written for Runners World, penning news and features on fitness, sportswear and nutrition.
When she isn't writing up news and features for Fit&Well covering topics ranging from muscle building, to yoga, to female health and so on, she will be outdoors somewhere, testing out the latest fitness equipment and accessories to help others find top products for their own fitness journeys. Her testing pairs up nicely with her love for running. She recently branched out to running 10Ks and is trying to improve her time before moving on to larger races. Jessica also enjoys building on her strength in the gym and is a believer in health and wellness beginning in the kitchen. She shares all of this on her running Instagram account @jessrunshere which she uses for accountability and for connecting with like-minded fitness lovers.