ProForm Pro 9000 review
The ProForm Pro 9000 is an affordable treadmill that comes with a range of workouts, perfect for any budding runner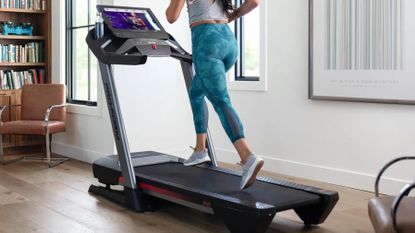 (Image credit: ProForm)
Sturdy and well built, the ProForm Pro 9000 treadmill is a compact mid-range running machine that is built to last. This machine has a huge library of on-demand and live iFit workouts, so prepare to become a running pro in no time.
Reasons to buy
+

Powerful motor

+

Foldable

+

Impressive incline/decline range
Reasons to avoid
-

iFit Live subscription needed

-

Belt could be bigger (not ideal for tall people)

-

No USB charging point

-

Small 7-inch screen
The ProForm Pro 9000 treadmill is an affordable mid-range running machine with a ton of features and workouts (via the iFit app) to suit all fitness levels.
The treadmill is compact and well-designed, with a responsive 22-inch color touchscreen, lots of space for water bottles and phones, and a two-speed fan. Like some of the best treadmills, it's kind of retro in design, a little bit 80s, but that's not a bad thing.
As with many smart treadmills, you will need the iFit app to access the best online content ($39 / £29 a month). However, the ProForm Pro 9000 treadmill still works without this, as it has the standard Manual setting.
We did feel it was lacking a USB charging point, and the handrails are a little short, but we don't have any other complaints about this sturdy little machine.
In this ProForm Pro 9000 treadmill review, we'll tell you more about its design, features, and performance as well as why it deserves its spot as one of the best exercise machines to lose weight.
ProForm Pro 9000 treadmill: price & features
The ProForm 9000 Treadmill is available now for around $1,999 / £1,999.
If you're the kind of person who loves variety and pushing yourself with different types of training, then you're going to love the huge amount of live and on-demand classes available via the iFit app on this treadmill (subscription needed, from $39 USD / £29).
Of course, you can hit Manual and start running without the app, but you'll miss out on all the high-tech tracking and awesome iFit virtual content. iFit classes are similar to Peloton ones: they feature knowledgeable, high-energy instructors who provide a home fitness studio experience.
You can download programs straight to the treadmill's console, go on actual 'real life' runs with Google Maps, share your data, and compete against other iFit members. The iFit profile handily keeps tabs on all your workouts so you can track your progress over time and see how well you're doing.
As expected, you can track all the main stats like time, distance, speed, incline, heart rate, and calories burned. The ProForm 9000 Treadmill also has a really impressive incline and decline range, from -3% to 12%, and you can run up to 22kmh/ 12mph if your legs can keep up!
ProForm Pro 9000: set up
This treadmill is one of the fastest to assemble among treadmills I've reviewed. It comes with clear set up instructions but because it's quite big (64 x 73.5 x 35 inches) and weighs 194lbs / 88kg, it's a two-person job.
Once assembled, it's a sturdy and well-made product with an ergonomic design that looks good in any room.
The ProForm Pro 9000 Treadmill comes with lots of safety features including a four-digit passcode (ideal if you have kids or pets). It also has a safety screen timeout, which will automatically reset the display if it isn't used for a certain amount of time. When we tested the emergency stop button, it slowed the belt speed quickly but not too suddenly. There's a safety key too, for added reassurance.
ProForm Pro 9000: design
The ProForm Pro 9000 treadmill is compact with a minimalist, slightly retro design. It reminds us a bit of the treadmills that were around in the 80s, but that's not a bad thing. It comes with a large 22-inch color screen, which is nice and bright – but we found it slow to respond on occasion.
The multi-speed fan offers a nice breeze, and we love how easy it is to navigate between workout stats and other core metrics like time, speed, distance, calories and heart rate. There's space for two big water bottles in the holders on either side of the display, and you can also use this area to put your smartphone.
The quick-speed and quick-incline controls make it super easy to adjust settings and mean that you're not distracted from your walk or run when you're trying to change modes. The handles have inbuilt electrocardiogram (EKG) touch sensors for heart rate monitoring which are also compatible with Bluetooth wireless chest straps (not included with the treadmill).
Love music while working out? You'll be pleased to know the ProForm Pro 9000 Treadmill comes with two 2-inch speakers and an MP3/iPod compatible music port. What is slightly baffling is that this won't actually charge your device, and the treadmill doesn't come with a separate USB charging port, which seems like an oversight – you have to use Bluetooth to access your music.
If you're short on space, you can fold the ProForm 9000 Treadmill away and it has a shock-assisted lift mechanism to help with the process. The cushioning system built into the 60 x 20-inch running deck helps reduce the impact on joints, and it's good and springy to run on. The anti-slip grip on the side of the deck is a nice safety feature.
ProForm Pro 9000: performance
The ProForm Pro 9000 treadmill offers a smooth running experience thanks to its 3.6 continuous horsepower (CHP) motor, which is strong enough to withstand light or intense training.
This is a quiet treadmill, a good choice for anyone who lives in an apartment block or shared accommodation. We measured 60 decibels (dB) during a one-mile walk, which equates to 'normal' conversation. We tried various speeds and inclines and declines on a 2.5-mile jog, and the noise levels increased to 75 dB, which is about the same sound level as a vacuum cleaner. Even while running full pelt, the decibel counter measured 80dB – similar to the noise a blender makes.
The tread belt is well-cushioned and feels similar to running on a road. The two-speed fan is efficient and very welcome during faster runs.
ProForm Pro 9000: user reviews
The Proform Pro 9000 currently has 4.1 out of five stars on BestBuy. Happy customers praise the machine's big screen, its powerful motor and the classes available on iFit. Some customers have commented that the in-built fans aren't powerful enough and that the speakers are poor quality. But reviews are overwhelmingly positive for the machine.
ProForm Pro 9000: verdict
Should you buy the ProForm Pro 9000 treadmill? If you are looking for a big range of virtual classes, and an impressive incline/decline range, this is a good choice.
The iFit app provides a massive selection of workouts to keep you motivated and challenged, and the treadmill's powerful motor makes for a smooth and quiet run even on a high incline.
It's a bit annoying that ProForm didn't include a USB charging point on the treadmill, and you have to buy a separate heart rate strap if you want to use the heart rate monitor, which comes at an extra cost. But for the price, this is still a good quality treadmill that offers an immersive running experience for all fitness levels.
Also consider
A budget-friendly option is the Urevo Foldi 1 Folding Treadmill ($369.99/ £329.99). It's really compact, so better suited for walking or light jogging, but it has a powerful motor that can reach speeds of up to 7.5mph so it is possible to run on it, too. It's also foldable so you can store it away when not in use - handy for those short of space.
Maddy Biddulph is a freelance journalist specializing in fitness, health and wellbeing content. With 25 years in consumer media, she has worked as a writer and editor for some of the bestselling newspapers, magazines and websites in the US and UK.
She is also a qualified L3 personal trainer and weight loss advisor, and helps women over 40 navigate menopause by improving their physical and mental strength. At Maddy Biddulph Personal Training, she runs one-to-one and small group training for menopausal women who want to get fit to ease symptoms and feel like themselves again.