NordicTrack X22i review: a smart, fully-featured treadmill
The NordicTrack Commercial X22i treadmill is one of the most sophisticated treadmills on the market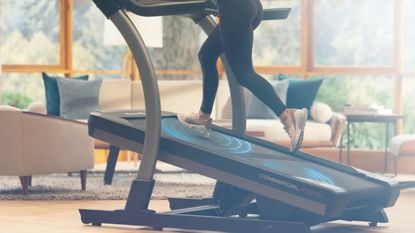 (Image credit: NordicTrack )
This powerful machine is a worthy investment for keen interval runners. With a powerful 4.0 CHP motor and an incline range of -5 to +40%, it will put your legs to the test. It's a gym-quality machine, so you can expect it to last as well – and if you subscribe to the iFit platform, you'll have thousands of workouts to try.
Reasons to buy
+

Powerful motor

+

Great incline and decline range

+

Crisp, user-friendly touchscreen

+

Springy belt
Reasons to avoid
-

Bulky

-

Expensive

-

Need an iFit subscription for content
In this NordicTrack X22i treadmill review, we will tell you whether this running machine is worth the money.
On paper, it makes a good case as one of the best treadmills, but If you're looking to buy a treadmill, things to consider include price, design, features, performance, and of course noise levels.
Firstly, what are the benefits of running? It's a great cardiovascular exercise and is as good for the mind as it is for the body. And if you want to know how to start running, then the this treadmill can help motivate you to train more regularly from the comfort of your home.
With its powerful but quiet 4.0 CHP motor, impressive incline/decline range, and excellent virtual content, we think the NordicTrack X22i is a solid investment for runners of all abilities. Just make sure you have space to house it, as it's a beast of a treadmill.
NordicTrack X22i treadmill review: price & features
The NordicTrack X22i treadmill is available now for around £3,299/ $2,999.
One of our favorite things about the NordicTrack X22i treadmill, apart from its awesome design and state-of-the-art tech, is the amazing virtual content that comes with it.
There are 40 pre-set workouts in the treadmill, and an iFit subscription will give you access to daily live classes and over 16,000 on-demand ones! There's a 30-day free iFit membership included with your purchase, after that it costs $39 / £28 a month.
The treadmill will still work in manual mode without an iFit subscription, but you'll miss out on all the fancy tracking tools, live workouts, and scenic runs. iFit turns a standard treadmill into your own personal fitness studio. Enjoy HIIT classes, strength training, yoga, and mindfulness as well as real-life runs with Google Maps; compete with friends and customize your training to meet your fitness goals.
The impressive 22-inch HD touchscreen is responsive with crisp, bright graphics and tracks all the usual core metrics: incline, time elapsed and remaining, calories, distance, vertical feet climbed, speed, pace (minutes/mile), lap number, and heart rate.
Another impressive feature is the 4.0 CHP motor, which has continuous power even at the highest incline of 40%. If you're a fan of interval training and hill climbs, the incline and decline range (-5 to +40%) is going to be a big pull for you and worth the price tag alone.
The 40% incline makes a walk or run feel like climbing a flight of stairs, so you can even use the treadmill in a similar way to a Stairmaster or an elliptical trainer.
NordicTrack X22i treadmill review: set up and usability
The NordicTrack X22i is pretty easy to set up - it will take around 45 minutes to do so. It's a big machine (81 x 39 x 76 inches) and heavy, too (505lbs / 230kg), so it's a two-person job to assemble it safely.
This premium, gym-standard running machine has a huge 22-inch touchscreen with two speakers and two fans. The treadmill has an impressive incline and decline range, (-5% to 40%), with smooth and quiet transitions. Safety features include an emergency stop button and a safety key.
To start a run or walk, simply hit START, or tap the touchscreen to choose a live or on-demand workout (via the iFit app). The NordicTrack X22i treadmill has a powerful 4.0 continuous horsepower (CHP) motor and 2.5-inch rear rollers so it's really quiet (more on that later). The one-touch controls make it really easy to adjust your speed from 0 to 12mph (22kph) as well as alter the incline/decline.
An added bonus is that you can customize the console height so that the display, heart rate sensors, and fan are in the perfect position for you.
NordicTrack X22i treadmill review: design
We'll be honest; the NordicTrack X22i is a big machine! It wouldn't be out of place in a gym, and it requires a large space to house it, so bear that in mind before you buy.
The tread deck itself is roomy with a 22 x 60-inch belt, which is thick and well-cushioned. It's got a great springiness thanks to the inbuilt FlexSelect Cushioning system. We'd say this makes it feel like running on a firm road, so less jarring on the joints.
One of our favorite features of the NordicTrack X22i treadmill is the massive 22-inch touchscreen, which is intuitive and simple to use. The one-touch controls make it really easy to customize your workout. There are also two big speakers and dual fans built into the front of the console, and space for two water bottles or a smartphone.
There are lots of handrails to choose from on the NordicTrack X22i treadmill – two either side of the console and two above the main deck. If you're a fan of heart rate monitoring, you can use the iFit Bluetooth chest strap (sold separately) to keep track of this.
NordicTrack X22i treadmill review: performance
The NordicTrack X22i is a highly sophisticated treadmill that is a joy to walk and run on. Interval training fans will enjoy the vast incline/decline range. This kind of workout is excellent for using muscles in different ways to help tone and define them. With this treadmill, you can enjoy scenic path runs, integrate strength training, and even do yoga and mindfulness classes, alongside the awesome live and on-demand studio classes (iFit subscription needed).
The powerful 4.0 CHP motor, which can support top speeds of 12mph, is surprisingly quiet thanks to its 'WhisperQuiet' technology. The NordicTrack X22i treadmill has 'quiet drive incline tech', according to the brand, which is designed to make quieter and more accurate incline and decline adjustments. It's definitely one of the quietest and smoothest treadmills we've ever used.
We tested noise levels with a decibel (dB) counter and we have to say, we were impressed. During a one-mile walk, we measured 60 dB (the same as a conversation), while a 2.5-mile jog at a leisurely pace with varying speeds and inclines was 75 dB – similar to the noise of a vacuum cleaner.
A max speed run as you'd expect cranked the noise levels up to 80 dB, the equivalent of a lawnmower. We also tried out a glorious guided hiking workout in Ecuador (with stunning views and a warm and encouraging instructor), which also clocked in at 80 dB.
NordicTrack X22i treadmill review: user reviews
We couldn't find any user reviews of this machine – NordicTrack actually hides most user reviews on its website, instead displaying the overwhelmingly-positive reviews for the iFit app.
Collated Google reviews give the machine 4.5 out of 5 stars, but a lot of these reviews are influenced by the speed of delivery and quality of the installation, so they're not a fair reflection of the machine itself.
NordicTrack X22i treadmill review: verdict
Should you buy the NordicTrack X22i? If you've got the budget, absolutely! This is one of the most sophisticated treadmills on the market, and you are spoilt for choice with features and workouts.
Well-designed, quiet, intuitive to use, it provides a satisfying running experience for all fitness abilities. If you don't need the incline/decline range you could save yourself some money by buying a cheaper machine like the ProForm Premier 9000, which is a good mid-range treadmill with the same access to iFit content.
But if you have the space and money, the NordicTrack X22i treadmill is a solid investment that you will enjoy for years to come.
Also consider
We were very impressed with this little starter machine, which only costs £329.99 / $369.99. It's small but has a powerful and quiet 2.5 CHP motor, which can reach speeds of up to 7.5mph, so you can do some speedy walking or light jogs on the machine. It's also foldable so a good option for people short on space.
Maddy Biddulph is a freelance journalist specializing in fitness, health and wellbeing content. With 25 years in consumer media, she has worked as a writer and editor for some of the bestselling newspapers, magazines and websites in the US and UK.
She is also a qualified L3 personal trainer and weight loss advisor, and helps women over 40 navigate menopause by improving their physical and mental strength. At Maddy Biddulph Personal Training, she runs one-to-one and small group training for menopausal women who want to get fit to ease symptoms and feel like themselves again.