Urevo Foldi 1 Folding Treadmill review: a brilliant value running machine
Urevo Foldi 1 Folding Treadmill review: a budget friendly running machine for all fitness levels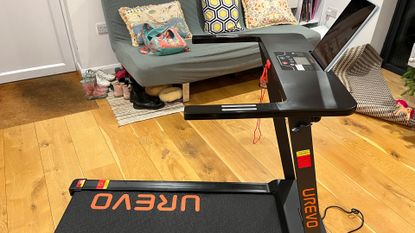 (Image credit: Maddy Bidulph)
This slimline running machine is affordable and offers a great home workout for all fitness levels. We love that it can rev up to 7.5mph/12kph despite it's small 2.5 HP motor, is relatively quiet and super easy to set up and use.
Reasons to buy
+

Good value

+

Compact

+

Foldable
Reasons to avoid
-

No incline

-

No touchscreen

-

Short running deck
Why you can trust Fit&Well Our expert reviewers spend hours testing and comparing products and services so you can choose the best for you. Find out more about how we test.
The Urevo Foldi 1 Folding Treadmill might just be the best value running machine we've ever tested. This small but mighty running machine packs a punch with a quiet 2.5 horsepower (HP) motor, speeds of up to 7.5mph/12kph and a compact design – all for just $369.99/ £329.99.
We love that you can walk or jog on the treadmill with ease, although if you're tall, bear in mind that you might prefer a longer belt to really find your stride. There's no incline, but you can still get a great sweaty workout on the Urevo Foldi 1 Folding Treadmill.
In this Urevo Foldi 1 Folding Treadmill review, we'll tell you our thoughts on the design and build quality, as well as features and performance and the all-important noise factor. That way, you can decide if it's the best treadmill for you. Here's our in-depth review with all the facts, so you can make an informed decision before you buy.
Urevo Foldi 1 Folding Treadmill review: price & design
The Urevo Foldi 1 Folding Treadmill is available to buy now from Urevo and Amazon for $369.99/ £329.99. It's foldable with a soft drop system and transport wheels, which makes it easy to store when not in use. You can even fit it under a couch or bed if you have 6 inches flush. The dimensions folded are 59" x 28" x 5.5". The Urevo Foldi 1 Folding Treadmill also comes with six blue mini mats that you can put under each corner to protect the floor from being scuffed.
To fold up the treadmill, you will need to undo the four screws attached to the main dashboard, so don't do them up too tight when you first assemble the Urevo Foldi 1 Folding Treadmill.
Despite being quite small, the treadmill has a max weight capacity of 260 pounds so it can hold its own. The running deck is shorter than average at 16.5" x 45" so it was fine for me (I'm 5ft 7) but I think anyone 6ft or taller might struggle to find their stride on a run without worrying about slipping off the back. There's no incline function but you can reach 7.5mph / 12kph so you can still get a challenging workout on this machine.
Safety features include the emergency stop safety key, and the treadmill will enter sleep mode after 10 minutes of inactivity. To start it again, just press any button.
It's a nice-looking running machine with a simple but solid design that will appeal to most people. It's really good value for the price, as long as you're not expecting loads of high-tech gadgetry. I actually love the simplicity of it and that you can just hit Start and go.
Urevo Foldi 1 Folding Treadmill review: set up
In this Urevo Foldi 1 Folding Treadmill review we reveal just how fast and easy it is to set up the machine. It literally took no more than five minutes and the box has all the tools and instruction manual you need to do this on your own. It might need two people to move the machine out of the box (it weighs 75 pounds / 34kg), and if you want to put it in a room upstairs you will definitely need help, but otherwise this is a one-person job.
All you need to do is secure the four screws to tighten the dashboard into position, then attach the red safety key to the magnet. The treadmill won't start until the safety key is in place, so don't forget to do this.
Top tip: don't be tempted to over-tighten the wing screws – you will need to un-do them in order to fold the machine up, so if they are too tight you won't be able to get them off.
One thing I really love about the Urevo Foldi 1 Folding Treadmill is that it's so compact (55.2" x 27.8" x 5.1"). It's nice and slimline and has a simple and smart black and orange design. It's lacking an inbuilt touchscreen, which is slightly annoying, but it has a basic LCD display that provides key metrics including time, distance, speed, and calories burned.
The dashboard has a device holder (no space for a water bottle, which is a shame) and two short handrails. It doesn't come with an app with virtual classes, but you can easily download something like iFit on your phone or tablet and follow online workouts that way.
There's a three-second delay when you hit the Start button so you can prepare yourself for the belt to move. There are also 12 presets with variations on speed and time to try.
Urevo Foldi 1 Folding Treadmill review: programs
The Urevo Foldi 1 Folding Treadmill has seven basic buttons on the dashboard: -speed, program, mode, +speed, start and stop. The Mode button changes between normal (manual), timed, distance, and calorie countdown. You can also try one of the 12 preset workouts – these vary in time and speed, with automatic changes to keep up with.
The speed button is responsive and efficient, and there is no incline function so this treadmill is not suited to hill or interval training. The Urevo Foldi 1 Folding Treadmill has a small 2.5 HP motor, which is enough to still reach speeds of 7.5mph / 12 kph. This is more than adequate for a proper sweaty cardiovascular workout!
Urevo Foldi 1 Folding Treadmill review: performance
The belt and platform on the Urevo Foldi 1 Folding Treadmill are fairly hard, and the treadmill has a stabilizing design to prevent the connecting rods from shaking during your session. There is good grip on either side of the deck so it's easy to step onto the belt without slipping. However the handrails are quite short and don't feel very stable, so I would only use these for support rather than putting your full weight on them.
The device holder isn't that sturdy either, so I wouldn't recommend putting your phone or tablet in it if you plan to run as it might fall out. It's stable enough to use the holder for a walk, however. The dashboard is wide enough to prop a laptop on but again, I certainly wouldn't attempt this during a run unless you want to risk it crashing to the floor!
There's no fan, speakers, or Bluetooth connectivity, and the treadmill doesn't have any fancy app or online classes to follow, but it's very easy to use, great value, and a solid entry-level treadmill for people short on space.
Urevo Foldi 1 Folding Treadmill review: noise
The Urevo Foldable Under Desk Treadmill is pretty quiet, especially during a walk or light jog. During a walk you can probably hear your feet louder than the belt itself.
To measure noise levels, I used a decibel (dB) counter on the Urevo Foldi 1 Folding Treadmill and on a one-mile walk at speed 2 it reached 60 decibels (same as a normal conversation).
Next, I tested noise levels on a 2.5-mile jog with various speeds – this went up to 70 dB (still similar to a normal conversation). A 2.5-mile run at max speed 12 was 85 dB, which is about as loud as city traffic. I also measured noise levels during Program 1, a 30 minute run with automatically changing speeds from 4-10, it measured 73 decibels (similar to a vacuum cleaner).
Urevo Foldi 1 Folding Treadmill: user reviews
The Urevo Foldi 1 Folding Treadmill gets 4.4 out of five stars on Amazon, with 68% giving it five out of five. Fans of the treadmill love how quick it is to set up – about 5-10 minutes – and that it is compact. One reviewer said: "I like how it folds flat, but it can be tedious unscrewing the four screws to let the handle down. It's very quiet. There's no pause function so instead of stopping the treadmill, I hop off to keep my stats. It's a great price and good quality treadmill." Negative reviews said the dashboard was very basic and there's no incline.
It also gets 4.8 out of 5 stars on Urevo with positive reviews praising it for being smooth and slimline. Other reviewers liked that it was easy to assemble, great value, and fits nicely under the couch or bed. Negative reviews cited issues with it being noisy and a little heavy for one person to lift out of the box to set up.
Urevo Foldi 1 Folding Treadmill: verdict
The Urevo Foldi 1 Folding Treadmill is a great value running machine for people on a budget. It's lacking an incline or app with virtual classes, but it operates very well as a basic treadmill with high speeds of 7.5mph/12kph.
It's super compact and does all the things you'd expect from a running machine at this friendly price point. We love that you can easily fold it away and move it out of sight, and it's fairly quiet thanks to its small 2.5 HP motor.
If you're ready to buy your first treadmill, and are short on space, this is a no-brainer (as long as you're not 6ft or taller because of the small running deck).
Also consider
ProForm 9000 Treadmill
Want a treadmill with a few more features than the Urevo Foldi 1 Folding Treadmill? The ProForm 9000 is a well-designed and high performing treadmill for under $2,000. It's also foldable and has a good belt size and wealth of workouts via the iFit app (subscription needed) to keep you from getting bored. It's fairly quiet and comes with a decline and incline option.
Peloton Tread
If you're looking for the ultimate treadmill that delivers on every aspect, then the Peloton Tread is the one. Compact and well designed with a ton of motivating and challenging live and on-demand classes (subscription to Peloton app needed), you are spoilt for choice. It's expensive, but it pushes you to train harder and smarter.
Maddy is a freelance journalist and Level 3 personal trainer specializing in fitness, health and wellbeing content. She has been a writer and editor for 22 years, and has worked for some of the UK's bestselling newspapers and women's magazines, including Marie Claire, The Sunday Times and Closer. She also manages Fit&Well's Instagram account.
Maddy loves HIIT training and can often be found running on her treadmill or working out while her two young daughters do matching burpees or star jumps. As a massive foodie, she loves cooking and trying out new healthy recipes (especially ones with hidden vegetables so the kids eat them). She makes a mean margarita and has twice won awards in previous staff jobs as the "office feeder".