Peloton Tread review
Our Peloton Tread review puts the treadmill through its paces to see if it is worth the hype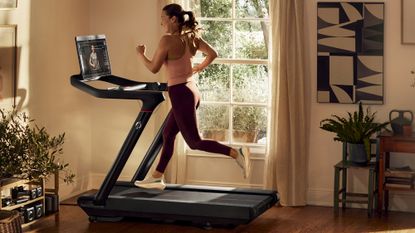 (Image credit: Peloton)
The Peloton Tread is a smart running machine that makes you want to train harder and run faster. With a huge library of live and on-demand classes, a quiet motor and a compact frame, it's a high performing treadmill that warrants its high price tag.
Reasons to buy
+

Motivating live and on-demand classes

+

Immersive touchscreen

+

Compact design

+

Easy to use
Reasons to avoid
-

Expensive

-

Doesn't fold

-

No fan
We were excited to start our Peloton Tread review; the company's exercise bike changed at-home workouts, and we wondered if this smart treadmill, with its sleek design and packed with features, would do the same.
While you can use any of the best treadmills to hit your weight loss goals or improve your cardio fitness, the Peloton Tread gives you access to the company's vast library of on-demand and live workout classes through its immersive 23.8-inch display.
Whether you want to learn how to start running or are a seasoned pro who wants to improve your speed or pace, the Peloton Tread is a motivational running machine it can inspire you to push yourself to train harder and reach those personal bests.
In this Peloton Tread review, we will tell you all about the design and build quality, as well as features and performance, to help you make an informed decision. If your budget is tight, check out our review of the Urevo Foldi 1 Folding Treadmill, too.
Peloton Tread review: price and features
The Peloton Tread retails for $2,495/ £2,545, plus you'll need to spend $44/£39 a month to to take out a Peloton Membership to access the Peloton app on the treadmill and your smartphone to stream live and on-demand classes.
Peloton's unique selling point, apart from its stylish design, is its world-class instructors and motivating, high-energy classes. There are no pre-programmed workouts on the Tread, but a Peloton subscription opens up access to all the virtual content, with new classes added daily.
We love that you can filter classes by music, distance, time, and instructor, or just choose the manual mode (Just Run). You can follow guided running classes as well as strength training, HIIT, stretching, and yoga. Don't like group-style classes? Opt for a walk, run or hike instead.
Without a doubt, it's the vast range of classes that makes the Peloton Tread so appealing. Of course, you can use it to improve your speed and pace, but subscribing to the online content means you will always have something new to try. The enthusiastic instructors are a great motivator, too.
As this is a high-tech treadmill, it comes equipped with Bluetooth 5.0 for you to connect best workout earbuds if you want to keep the noise down so you don't disturb others in your house. And the Peloton Tread can reach speeds of up to 12.5mph.
It has an incline range of 0-12.5% but no decline, which is disappointing considering the price of the machine. Core metrics tracked include speed, distance, pace, output, total elevation, and calories. The Tread is close to the floor and only has an eight-inch step-up height, making it a good choice for anyone with limited mobility.
Peloton Tread review: set up and usability
Weighing 290lbs/132kg, the Peloton Tread is quite heavy to move around so we recommend making room for it near a power point before it arrives. Peloton include expert assembly in the price so you won't need to do this yourself.
Once in position, you'll see the Peloton Tread is a compact and stylish running machine with a smart, ergonomic design. It has a carbon steel frame, which is sturdy and durable, and the controls are really easy to use and intuitive, meaning you won't get distracted from your run because you are trying to speed up or change the incline/decline.
Dials for speed and incline/decline are on the right and left handrail respectively; simply move them forward or back to increase or decrease them. This makes it much easier to ramp up your workout without getting distracted about where the right buttons are.
Safety features on the Tread are abundant; as well as the standard emergency stop and safety key, there is stop-sensor tech in the belt. The Tread has a lock, a four-digit passcode to unlock the machine, which also locks the machine after 10 seconds of inactivity - a reassuring feature to parents and pet owners alike.
We liked that before every class begins, the instructors also give a safety talk, prompting you to make sure your sneakers are double knotted and there are no hazards, children, or pets nearby.
Peloton Tread review: design
The Peloton Tread sticks with the company's signature black and red color scheme and premium design. The machine takes up a footprint of 5.67x2.75ft/68x33 inches. It's very well constructed and has a good spring to it.
Unlike many other treadmills, the Tread doesn't have a front base, which we found meant you can run the whole belt. The red centerline in the belt is a great alignment feature and helps you to keep your stride in a straight line.
The deck doesn't have shock absorbers or cushioning (for that, you'd need to invest in the upgraded model, the Peloton Tread+), so the running experience feels similar to pounding the sidewalk. There are two bottle holders and a tray to put your phone or other possessions in. Unfortunately, it's not big enough for a tablet, but I suppose Peloton thought that would be redundant with the integrated 23.8-inch touchscreen on the treadmill.
It's the responsive touchscreen and crisp graphics that are such a pull to the Peloton Tread. We love that most of the functionality is hidden within the display, so there are very few physical buttons on the dash apart from the Emergency Stop and the safety key. Even the speed and incline/decline dials are built into the handrails rather than the console, making for a simple and fuss-free design.
The smudge-resistant display has front-facing stereo speakers and an 8-megapixel camera with a privacy cover, so you can video chat with friends during your workouts. You can charge your phone with the USB-C port at the back, but sadly this treadmill doesn't have a fan, which feels like a huge oversight. It doesn't fold up either, but it's compact so doesn't take up too much space.
Peloton Tread review: performance
The Peloton Tread is slightly smaller than similarly priced treadmills, like the NordicTrack X22i, with a 4.92x1.67ft/59x20-inch belt. While it has an incline range, it's lacking a decline option, so if you're a fan of running downhill, this may be an issue.
It's super easy to start and stop the machine and the emergency stop gives you a few seconds of slowing down before stopping altogether. If you're a gym class enthusiast, you will really enjoy the live and on-demand workouts Peloton has on offer, while the leaderboard is appealing to those with a competitive streak.
How noisy is the Peloton Tread, you ask? In truth, it's pretty quiet when walking thanks to its 3-horsepower DC motor. Aside from the noise from the instructor talking or music playing, you can only really hear the sound of your own feet.
I tested the decibel (dB) levels on the Peloton Tread in the following workouts:
1-mile walk: 65 decibels (dB)—about the same as a conversation in an office
2.5-mile jog at a leisurely pace, with some inclines and different speeds: 78 dB—the same as running a washing machine.
2.5-mile run at max speed: 88 dB—akin to a food processor.
20-minute advanced HIIT run workout: 78 dB—the same as a vacuum cleaner.
Peloton Tread review: user reviews
The Peloton Tread gets 4.5 out of 5 stars on the Peloton website from 266 reviews. Many owners are enthusiastic about it, with one saying: "I can't put into words how much I love the Tread and Peloton. Even my husband is now hooked. It's the best investment we have ever made."
Another positive review on the Peloton website said that the classes were great and that "it motivated more than a normal treadmill and pushes me a little harder as I never used to do hills before."
Negative reviews cited issues with the machine not working properly, and one reviewer complained that the Peloton class instructors talked too much which made it difficult to focus on the music to guide their cadence.
Peloton Tread review: verdict
The Peloton Tread extends the company's range of connected exercise machines, with a premium design and motivating live and on-demand classes. The large touchscreen makes it easy to focus on your workout, and the Bluetooth connection means you connect headphones to exercise in relative silence, as the machine isn't overly loud either.
As with Peloton's other products, like the Peloton Bike and the Peloton Bike+, this treadmill isn't a budget-friendly option. The machine itself is a large investment, but you also have to factor in an ongoing monthly cost to access the classes and Pelton community.
However, we found that the Peloton Tread was an effective way to exercise at home and improve your cardiovascular fitness. The workouts are fun, the instructors are personable, and we liked that there's such a range of options on offer, so you can find something that matches your mood.
Also consider
Urevo Foldi 1 Folding Treadmill
If the Peloton Tread is out of your budget, the Urevo Foldi 1 Folding Treadmill is a great entry-level machine that will set you back a more modest $369.99/£329.99. This small but mighty treadmill has a quiet 2.5-horsepower motor, speeds of up to 7.5mph, and a compact, foldable design.
NordicTrack X22i
If you like the sound of live and on-demand classes bundled with a high-quality treadmill, but you don't want to go all-in on the Peloton ecosystem, consider the NordicTrack X22i. This powerful machine has a 4-horsepower motor, decline settings, and workouts through the iFit virtual platform.
Maddy Biddulph is a freelance journalist specializing in fitness, health and wellbeing content. With 25 years in consumer media, she has worked as a writer and editor for some of the bestselling newspapers, magazines and websites in the US and UK.
She is also a qualified L3 personal trainer and weight loss advisor, and helps women over 40 navigate menopause by improving their physical and mental strength. At Maddy Biddulph Personal Training, she runs one-to-one and small group training for menopausal women who want to get fit to ease symptoms and feel like themselves again.