Forget fitness equipment, it's these self-care Black Friday deals I'm buying this year
The pandemic made me change my opinion on wellness, so I'll be buying these self-care Black Friday gifts this year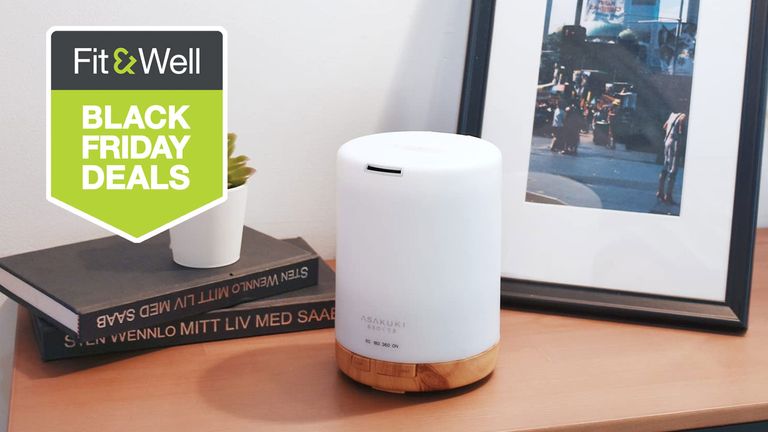 (Image credit: Asakuki)
Please note, these deals have now ended.

I write about fitness equipment all day, but it's these self-care Black Friday deals I actually want to buy this year. That's not to say there aren't some epic savings on Black Friday weights deals or Black Friday fitness deals, but after the year we've all had, I'm approaching my holiday present buying a little differently this year.
For many of us, the pandemic has had some positive outcomes—we won't take for granted seeing our families, how nice it is to hug someone, or simply the freedom to do what we want—but for me, the biggest take away is that self-care is something I always need to make time for.
During the many stay at home orders, I'd still pound the streets for a run to keep my physical health in check, but I didn't envisage how helpful using the best SAD lamps would be or what a massive pick-me-up it was when I simply made time to whip up some healthy meals in one of the best air fryers. When I saw the ASAKUKI Oil Diffuser was 29% off at Amazon, it really got me thinking about what I should be buying this year.

So while there's absolutely nothing wrong with starting the new year with a hardcore fitness regime, I'm buying my friends and family gifts that will give them the chance to slow it down a little, take some time for them, and invest in their overall wellbeing - even as life picks up and becomes busy again.

Here's what I'm buying this year...

Black Friday self-care deals
was $29.99, now $21.24 at Amazon
ASAKUKI Essential Oil Diffuser | was $29.99, now $21.24 at Amazon
Create a zen experience at home with this oil diffuser which is 29% off today. With multiple light settings, this diffuser makes a great gift and also acts as an air purifier too!
was $32.55, now $22.78 at Amazon
Happy Sunlight Therapy Light | was $32.55, now $22.78 at Amazon
Ideal for those dark winter months, this sunlight therapy lamp simulates the sun without the harmful damage. This model also has a stunning design and the dimmer is adjustable to suit your mood. Save 30% now!
was $37.99, now $29.99 at Amazon
Sinopeace Sunrise Alarm Clock | was $37.99, now $29.99 at Amazon
Wake up gradually with this sunrise alarm clock that has natural sounds so you can wake to the birds singing. You can also use this clock to dim slowly as you drift off to sleep for a true spa-like bedroom experience. Save 21% now. 
was $39.99, now $29.71 at Amazon
Beautyovo Yoga Mat | was $39.99, now $29.71 at Amazon
Give the gift of wellness with this luxuriously thick yoga mat. It's available in a few colors too! Ideal for yogis, fitness friends, or simply someone who likes a good stretch, this mat is built to last and it's 26% cheaper now. 
So, I guess what I want to gift my friends and family this year is a chance to take care of themselves, even when life gets really busy again. The new year is quite often a time where we prioritize making plans, getting fit, or setting goals and I'm all about that. I just won't be rushing to do it without making time for self-care this time around.
Even something as simple as one of the best sunrise alarm clocks can improve your evening wind-down routine and make getting out of bed that bit easier so for me, that's a present that really will make a difference.
Not quite what you're looking for? Be sure to check out Fit&Well's Black Friday treadmill deals.
Black Friday deals: US retailer quick links
All the best Black Friday health and fitness deals in one place
Sophie is Editor (Maternity Cover) at Fit&Well and has worked in digital publishing for five years after previously working in print journalism. Heading up the team at Fit&Well, Sophie has worked across some of Fit&Well's biggest sister sites including TechRadar, Live Science, and Top Ten Reviews where she was a Channel Editor. Sophie's love of all things fitness began when she took up running while at College but she's since switched to gym workouts and is trying her hand at yoga. Her top fitness tip? Find a form of exercise you enjoy and it won't feel like a chore.