I designed my dream home gym for a BARGAIN during Prime Day
Ever dreamed of having your very own home gym? Our editor has - here's what's on her Prime Day wish list...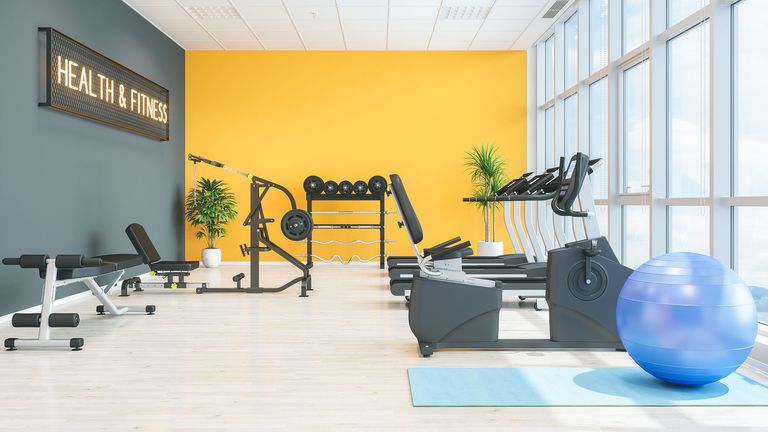 (Image credit: Getty Images)
As editor of Fit&Well, I spend my days elbow-deep in press releases about the latest fitness tech, samples of the latest home exercise equipment, and data showing how and why staying fit and well is so very important.
I also spend a lot of time feeling like I should really be doing more when it comes to maintaining my own health and fitness.
Don't get me wrong - I'm no couch potato. However over the last year or so, time and space restrictions (thanks, demanding job and London flat!) - not to mention the Covid-19 pandemic - have seriously challenged by ability to workout effectively and regularly.
Which is how I came to start planning my dream home gym this Amazon Prime Day.
It started simply enough: with a very tempting deal on resistance bands. Then one thing led to another, and before I knew it I had a fully-professional home gym set-up going on, complete with my very own elliptical machine, a full set of weights and a lovely new exercise mat on which to work up a sweat.
Or at least, I did in my Amazon basket.
But that's the beauty of Prime Day - it allows you to seriously consider finally taking the plunge on all those items you'd write off as too expensive or extravagant at any other time - but, thanks to all the discounts in the Prime Day fitness deals, building your very own home gym feels that little bit more achievable.
And so, I present to you my dream home gym set-ups (I had a bit of time, so I did one for both our US and UK readers - hey, you're welcome, guys!). Perhaps something on my list will tempt you?
Just remember, Prime Day ends TONIGHT (June 22) - so click quick if anything does catch your eye...
My dream home gym, Stateside
NordicTrack T Series Treadmill | Was $649 | Now $467.84 | Saving $181.16 (28%) (opens in new tab)
Every good home gym needs at least one piece of cardio equipment, and the humble treadmill is an obvious choice. NordicTrack make some of the best treadmills (opens in new tab) (and the best exercise machines period), and the T Series is a great choice. Not only is it foldable, it also comes with a one-year subscription to iFit, a workout platform that allows you to complete personalized training programs at home.
Bowflex 840 SelectTech Kettlebell | Was $199 | Now $149.11 | Saving $49.89 (25%) (opens in new tab)
This Bowflex weight could be considered the daddy of all kettlebells - definitely deserving of a spot in my dream home gym. With just a turn of a dial you can automatically change the weight resistance from 8 pounds all the way up to 40 pounds - giving you full control of your workouts in a single piece of kit. Plus you can save an extra 20% at checkout when you start a free Prime trail. Winning!
VEICK Resistance Bands Set | Was $29.99 | Now $23.97 | Saving $6.02 (20%) (opens in new tab)
A set of the best resistance bands is a home gym essential, but they needn't cost the earth - as this comprehensive set proves. What I like about this set is that it comes with a selection of straps, anchors and handles, which you clip the bands (which themselves come in five resistance strengths) onto. Traditional bands make my palms all sweaty, but this set has me covered!
Cryotex Massage Gun | Was $199.99 | Now $79.99 | Saving $120 (60%) (opens in new tab)
I'm ALL about recovery these days (the older I get, the more things hurt), so I'll definitely have a massage gun on hand in my home gym (sadly it doesn't come with anyone to use it on you...). This handheld unit lets you select any one of six different heads that let you tackle different muscle groups. Better yet, you can select one of 20 different speed options too, which means it's perfect for all sorts of health and fitness uses. It's quiet, lightweight and can work for up to 6 hours on one charge.
KinkKang Adjustable Weight Bench | Was $159.99 | Now $125.99 | Saving $39 (12%) (opens in new tab)
When lockdown kicked in last year, I started doing more strength training than cardio - and this weight bench would have been a dream. The design allows you to adjust the incline and decline, letting you get an all over workout, homing in on your chest, shoulders, back, abs and other challenging areas. Better still, the entire unit packs flat for easy storage when you're done with your workout session.
Ewedoos Yoga/Exercise Mat | Was $33.99 | Now $26.99 |Saving $7 (21%) (opens in new tab)
When I am getting down and sweaty on the floor - whether that's during a HIIT workout or a particularly challenging yoga session - a good exercise mat is vital. I like the fact that this one comes with alignment lines, to help perfect that Warrior II pose. There's also a choice of colors available, in case this purple shade isn't to your liking.
My dream home gym in the UK
NordicTrack C5.5 Elliptical Machine| Was £799 | Now £479 | Saving £320 (40%) (opens in new tab)
Who doesn't love an elliptical machine? I certainly do. They offer a low-impact (and, I find, rather fun) way to work-up a sweat, and NordicTrack make some of the ones around (you'll find them on our list of best elliptical machines (opens in new tab)). This model comes with 20 resistance levels, a 5-inch display and integrated tablet holder, plus a year's iFit membership, which gives you access to over professional 400 workout videos. Although I'll probably use it whilst I re-watch episodes of The West Wing...
Core Balance Exercise Ball (85cm) | Was £21.99 | Now £13.99 | Saving £8 (36%) (opens in new tab)
I'm pregnant at the moment, and as such I've been searching for the perfect exercise ball (or Swiss ball, as they're also known) to help me work my ab muscles without putting pressure on my pelvis or back. Not pregnant? An exercise ball is still a fun home gym addition - look for Pilates classes that incorporate balls. I've opted for the 85cm size as I'm tall, but smaller (and therefore cheaper) sizes are also available.
TRX GO Suspension Trainer System | Was £106.95 | Now £74.87 | Saving £32.08 (30%) (opens in new tab)
My personal trainer often has me using TRX's brilliant suspension training system when I workout at her studio, so they're an obvious addition to my dream home gym. These sturdy bands attach to a fixed point (think doorways, tree branches or any suitable attachment, thus allowing you to complete a range of bodyweight exercises: squats, lunges, even push-ups. A stand-out deal this Prime Day.
Adjustable Skipping Rope | Was £17.99 | Now £11.51 | Saving £6.48 (36%) (opens in new tab)
I bloody love skipping, and not just because it takes me back to the playground - it can also burn up between 500-1,000 calories an hour (depending on your bodyweight). This adjustable-length rope is ideal for my home gym as it has two modes, one of which allows you to jump rope-free - perfect in my London flat! There's also a handy display that tracks time, laps and calories burned.
TOPLUS Yoga/Exercise Mat | Was £25.99 | Now from £15.98 |Saving from £8.01 (33%) (opens in new tab)
How cheerful is this two-tone exercise mat? It's definitely the best yoga mat if you're looking for something to brighten up your workout sessions, although it also comes in more muted shades of black and grey, if that's more your cup of tea. Happily, it contains no latex, PVC or any harmful chemicals.
Stephanie is Editor of Fit&Well. With 15 years experience, she has previously worked for titles including Woman&Home, MSN and Stylist, covering all aspects of women's lifestyle including health and fitness. Her preferred way of staying fit and well is sport: she regularly plays tennis and has been a keen netballer since her school days. She currently plays with her London-based team, Cool Runnings, and is also a qualified Level 2 Netball Coach. Stephanie recently started strength training, and can now regularly be seen hobbling around her local area as DOMS kicks in. Happily, she's since discovered the joy of recovery days. As a result, her top fitness tip is: invest in a foam roller!