This Bowflex treadmill deal saves you 50% today!
Get this Bowflex treadmill deal from BestBuy right now and pay half of its original price!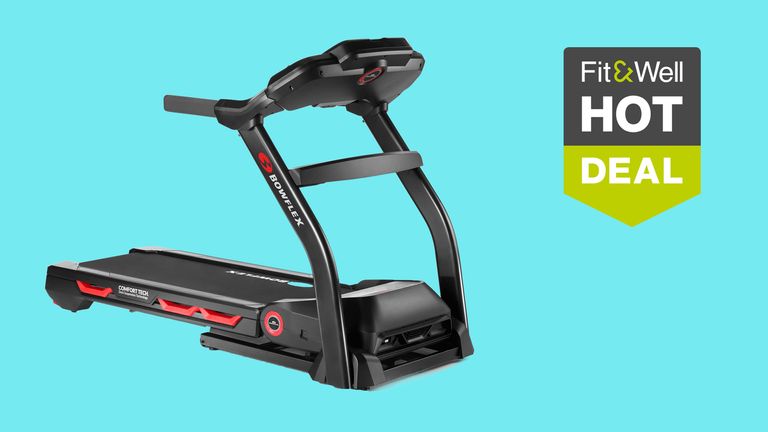 (Image credit: Bowflex)
By Jessica Downey published
When it comes to Bowflex treadmill deals, this is one of the biggest discounts we've ever seen. If you've been waiting on the perfect time to buy yourself a treadmill for home workouts then now is that time. Right now you can get the Bowflex BXT6 Treadmill for half-price at BestBuy. The top-rated treadmill is now $899.99 (originally $1,799.99), saving you a whopping $900!
Having a treadmill makes exercise so much more convenient when you finish a day of work and don't fancy wasting time on the commute to the gym or it's too cold and dark to head outside for a run.
This Bowflex deal is one of the best Black Friday treadmill deals we've seen so far and sets the bar high for any other discounts to appear on other best treadmill models out there. If you aren't in the US we have you covered. We've also included deals for your region below.
The Bowflex BXT6 treadmill is great for those looking to burn calories and tone up from home including a calorie-focused 'Burn Rate' display and the option to partake in interactive workouts. With half-price off this running machine you won't want to let this deal slip by. Check it out in full below for more information!
Bowflex treadmill deal
Bowflex BXT6 Treadmill | Was $1,799.99 | Now $899.99 | Saving $900 at Best Buy
Bowflex BXT6 Treadmill | Was $1,799.99 | Now $899.99 | Saving $900 at Best Buy
This treadmill is already deemed one of Bowflex's more affordable models even before BestBuy slashed 50% off this machine. Included in the deal is a one-year membership to the JRNY app, which connects to your treadmill offering daily workouts and regular feedback on your performance and progress. Grab this deal now and save yourself $900!
If you are prone to injury or just concerned about the impact running may have on your joints the Bowflex BXT6 Treadmill has been designed to keep you protected. Not only does the running machine feature a wide path (20" x 60") but it also includes an impact-absorbing material providing you with a softer landing for when you run.
After reaching a decision on the right treadmill for you, now might be a good time to check out other fitness savings happening now. Check out Fit&Well's Black Friday weights deals to fully kit out your home gym setup. Or if you are on the hunt for what to wear when working out there are also plenty of Black Friday workout clothes deals taking off right now.
Black Friday fitness deals: US retailer quick links
Black Friday fitness deals: UK retailer quick links
All the best Black Friday health and fitness deals in one place
Jessica is Staff Writer at Fit&Well. Her career in journalism began in local news and she holds a Masters in journalism. Jessica has previously written for Runners World, penning news and features on fitness, sportswear and nutrition. She is a keen runner and is currently sweating her way through a 10k training plan. Jessica also enjoys building on her strength in the gym and is a believer in health and wellness beginning in the kitchen - which she loves sharing with others on her healthy living-inspired Instagram account, @jessrunshere. Despite her love for nutritious cooking, she stands by the saying 'everything in moderation' and is eagerly conquering the London food and drink scene!