10k training plan: a six-week guide to help smash your goals
If you're ready for a new running challenge, this 10k training plan is the perfect place to start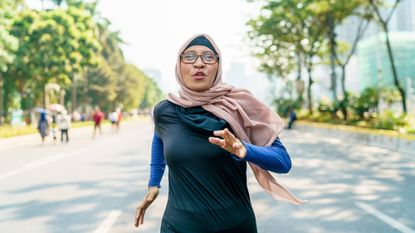 (Image credit: Getty Images)
Our 10k training plan is just the place to start if you're a keen runner looking to take on your next challenge.
A 10km race is a great distance to get your teeth into, but it's not as easy as lacing-up your best running shoes for men and just going for it. Taking on a 10k will require a new training plan in order to improve your fitness and endurance to complete that longer distance.
And who better to turn to for advice and guidance that Olympic champion Jessica Ennis-Hill? Since her retirement in 2016, Jessica may have stopped her gruelling seven-day-a-week training regime, but she has by no means taken her foot off the gas.
The former track-and-field athlete sought to increase her distance runs post-retirement. 'I've been a sprinter all my life, and the furthest I've run is 800 metres,' she told us. 'I'm now entering a new world of running for longer than 10 minutes.'
If your goal is a similar one, then Ennis-Hill's 10k training plan below is the perfect place to start.
The plan features three days of 'work', leaving plenty of rest days - the perfect opportunity to help your body recover with a spot of foam rolling. Check out our guide to the best foam rollers if you don't already own one - and find out why foam rolling and stretching is so important for runners.
What's more, she's also shared her expert tips for ensuring your smash your 10k goals. Ready? Set. Go!
10k training plan: week 1
Monday: 10-min gentle run, with a 2-min recovery walk in between. Repeat twice
Wednesday: Minimum 30-min sport or yoga, Pilates or cross-training session - this could be anything that isn't running, such as a HIIT workout, dance class or boxing session. Whatever you do, leave your runners at home in favor of a pair of cross-training shoes.
Friday: 15-min gentle run
10k training plan: week 2
Monday: 15-min gentle run, completed without stopping or reducing pace
Wednesday: Minimum 30-min sport or yoga, Pilates or cross-training session (check out our pick of the best yoga mats if that's your thing)
Friday: 20-min gentle run, followed by 10 mins at a slightly faster pace
10k training plan: week 3
Monday: Run at a decent pace for 5 mins, with a 1-min walk in between. Repeat 5 times.
Wednesday: Minimum 30-min sport or yoga, Pilates or cross-training session
Friday: 25-min steady run
10k training plan: week 4
Monday: 5-min faster run with 2-min walking intervals. Repeat 4-5 times
Wednesday: Minimum 30-min sport or yoga, Pilates or cross-training session
Friday: 15-min steady jog, followed by a 10-min harder run
10k training plan: week 5
Monday: 30-min decent-paced run, including 2 x 5-min hard pushes
Wednesday: Minimum 30-min sport or yoga, Pilates or cross-training session
Friday: 20-min steady jog, followed by a 15-min harder run
10k training plan: week 6
Monday: 2 x 10-min hard runs, with a 5-min recovery interval
Wednesday: An extra rest day!
Friday: 15-min gentle-paced jog
Jessica's top tips for running 10k
Music is a big part of Jessica's training, and for good reason.
Plugging in a pair of the best workout earbuds isn't just an excuse to belt out Beyoncé as you bounce along the pavement – listening to music can actually boost your performance. It distracts your mind from its bodily awareness (that's pain!), keeps you focused, makes your body want to move (however much you're dreading that workout!) and pushes you to up your game.
Sports scientists at Brunel University have shown it can reduce your rate of perceived effort by 12% – so you keep working harder, longer.
If you don't already have a go-to running playlist, check out our list of the best workout music.
Mix-up your runs (and don't JUST run!)
Integrate threshold runs (high intensity where you struggle to talk) into your training to help your body run faster for longer. And add in one long-distance run a week to help build up your endurance for race day.
However, although you need to clock up the miles, Jessica also advises adding some variety into your workout. 'Mix up your routine with cycling or circuits,' she says. 'You'll still ramp up your fitness, but you won't be bored by the repetition – you'll enjoy working out more and stick with your plan.'
Running with a friend will help you stick to your training plan, even when you don't feel like working out.
'I use my run time as a chance to catch up with a friend I don't see very often,' says Jessica. 'And I don't want to let her down by not showing up, even when it's pouring outside.'
Find someone who runs at a similar speed too, as this can help you correctly pace your 10K.
Don't expect to achieve too much too soon. Gradually increase the mileage each week to prevent injury and boost your confidence.
Follow-up your runs with the right food
Replenishing your body with food and water is key, especially when training for a 10K. Kick this off with a quick snack, such as a banana, within 10-15 mins post-workout.
Follow this up with a balance of protein and carbs within 60-90 mins. 'It will re-energise you and ensure your muscles repair properly so you can carry on training.' Grilled salmon (check out our pick of the best health grills to cook it on) and sweet potato followed by yoghurt and almonds is the perfect post-run meal.
New to running? Start with 5k
If you're a complete newbie, a 5K is a great place to start. 'Go for a gentle jog for five or 10 minutes. Then increase each session by five minutes each time,' says Jessica. 'You don't need to go out fast at first. The more you do it, the more your fitness will increase.'
Take a look at our how to run 5k guide, and also what happened to one writer when she ran 5k every day for a month.
Get the Fit&Well Newsletter
Start your week with achievable workout ideas, health tips and wellbeing advice in your inbox.
Launched in 2020, Fit&Well.com is all about helping you meet your health and fitness goals in ways that are fun and achievable. With news and features on fitness, weight loss, running, nutrition, yoga, wellness and more, we're committed to helping you wherever you are on your fitness journey. We break down the best fitness tech, with reviews, buying guides and the latest deals on fitness and wellness kit, from dumbbells to diffusers.
We cater for all difficulty levels here. It doesn't matter if you're a beginner in the world of fitness or you're gearing up for your tenth marathon: we're all moving towards the same goal – creating a healthier, happier you. From guides on getting started doing walks around the block, to creating the perfect work-from-home space, to eating to fuel your first triathlon. It's all here.