7 celebrity fitness secrets from over 50s: Barack Obama, Halle Berry & more
From Halle Berry to Barack Obama and Michelle Pfeiffer, steal the fitness secrets of celebrities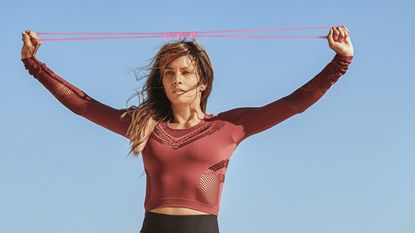 (Image credit: FitOn/Respin)
From dancing on a treadmill to boxing out stress, we've collected some of the top fitness tips from celebrities putting the fabulous into their 50s and beyond. From actors to chefs, filmmakers to politicians, some of the busiest over-50s on the planet still have time to stay fit. Steal their secrets here!
1. Michelle Pfeiffer
The secret to looking like Michelle Pfeiffer in your 60s? 'It's what nobody really wants to hear,' Pfeiffer recently told ITV. 'You have to eat right, you have to exercise, you have to get sleep.' In 2019, the actress told the Sunday Times she mixes up her routine to avoid boredom, dabbling in yoga, Pilates, running, walking and biking. And last year, Pfeiffer – who turns 63 this April – posted a video of herself on Instagram dancing on a home treadmill.
Avoiding the boredom trap is a smart move, with science suggesting enjoying your workout helps you stay motivated. While walking (on a treadmill or outdoors) can reduce belly fat associated with middle aged spread, boost your immune system and, if you keep up the pace, reduce your risk of heart disease – a leading cause of death in women, especially older women.
Get practising your dance moves on one of the best treadmills and find the best shoes for walking to stay trim like Michelle Pfeiffer.
2. Louis Theroux
Back in the first lockdown, Louis Theroux, surprised everyone by revealing his newly ripped physique live on television. All down, he said, to Joe Wick's daily YouTube HIIT workouts, PE with Joe.
'I've done it religiously,' the 50-year-old told BBC Radio 4. 'It's almost a safety blanket. When so much is weird in lockdown… just having something in the diary that was non-negotiable every morning [really helped]'. In the video above, Theroux also said: 'It's not about muscles it's about mental health…the muscles are a by-product.'
It's no surprise HIIT helped Theroux's mental health: studies show it can help both depression and anxiety. It may also be anti-ageing. One study showed HIIT can reverse age-related decline at a cellular level while another study found it increased the health and lifespan of the over 70s.
Want to get the benefits of HIIT? Try our 30 day HIIT challenge to really see the benefits of this intense form of home workout.
3. Halle Berry
You don't look like Halle Berry at 54 without putting some serious work in but the actress also understands the importance of balance, telling Women's Health magazine last year: 'After I found out I had diabetes…I began to focus on feeling fit more than looking fit and my workouts became acts of self-care.' Adding: 'These days, I do yoga and stretch, I sprint fast, I work with my own bodyweight, weights, and resistance bands, and I practice martial arts.'
Workouts based on martial arts tend to be great all-rounders, providing a cardio as well as strength training and flexibility. Studies have also shown hard martial arts training to be great for the mind.
Want to work out like Halle? Her health and wellness platform rē•spin have teamed up with FitOn to offer classes with her for free. Alternatively you can try our martial arts inspired workout and resistance band workout, for which, of course, you'll need one of the best resistance bands.
4. Barack Obama
In 2014 the then-President of the United States was known to lift free weights, do lunges, press-ups and use the best elliptical machine. Something of a fitness power couple, the Obamas are enthusiastic advocates for exercise. A personal trainer who has worked with both Barack (59) and Michelle Obama (57) told People in 2018 that both Obamas have enjoyed boxing. 'For people with high-stress jobs, boxing really works for them. To be able to punch some things!'
In addition to the stress busting benefits, both weightlifting and boxing can be great anti-aging choices, boosting metabolism by building muscle. They may even help us live longer. Take it easy on your joints though and build up slowly. The best adjustable dumbbells can help with this, as you can slowly increase the weight in line with your strength gains.
5. Rachel Weisz
It's hard to believe Rachel Weisz is 51. A known Pilates fan, she's taken regular sessions since the birth of her son and again after the birth of her daughter.
As well as using it to strengthen her core, Weisz favours Pilates for building strength without bulk telling Vogue: 'If I lifted weights I'd get huge. I'm naturally very muscly, so I'm kind of into general and moderate.'
Pilates combats the natural muscle loss we experience with age, while staying easy on the joints. It improve balance, flexibility and mental fitness and might even help with menopausal symptoms.
Want to get started? Our beginner pilates workout to help you slow down and cultivate positive energy and self-love is a great starting point. Bonus points if you're doing pilates in the best workout leggings.
6. Nigella Lawson
The food writer and cook turned 61 this year. Her exercise of choice? Yoga. 'None of that flustering flow business though,' she wrote in The Sunday Times last year. 'I prefer the slow, mechanical precision of Iyengar yoga, which I now augment with a lot of stretching (unglamorous but essential as one gets older) and working with weights.'
Yoga is famed for its stress-reducing mental health benefits with studies showing benefits for anxiety and depression. Certain yoga moves such as sun salutations can also build muscle strength – vital as we age. According to the UK's NHS there's also evidence yoga is beneficial for blood pressure, heart disease and aches and pains.
Try our yoga workout for the over 50s on the best yoga mats.
7. Kamala Harris
Jobs don't come much busier than Vice President of the United States, yet 56-year-old Kamala Harris still finds time for daily exercise.
'I work out every morning, regardless of how much sleep I've had,' she told Barack Obama in an interview on Twitter (admittedly, just before she took office). 'It's about your mind,' she said. 'It gets your blood flowing. It gets your adrenaline flowing.' Adding 'I fight for [time for myself].'
Spotted running up the steps of the Lincoln memorial earlier this year, Kamala has previously said her workout routine includes 30 minutes on the elliptical or treadmill, or swimming, 'if it's not going to create an issue with my hair'.
Working out in the morning has been associated with making better food choices and moving more throughout the day, while using an elliptical machine is a great way to burn calories while taking it easy on your joints.
See our pick of the best elliptical machines and best running shoes for women.
Claire is a freelance health, fitness and food journalist who has written for titles including Women's Health, Top Santé, Woman & Home, Feel Good You, the Telegraph and Independent. She has a passion for being outside in nature and you're more likely to find her walking in the woods or joining an exercise class in the park than pounding a treadmill in the gym. She also has a special interest in nutrition and healthy eating, having previously been Food Editor at Top Santé magazine. Her top fitness tip? Take your exercise outdoors wherever possible. It has been shown to boost the physical as well as mental health benefits of a workout and also to make you more likely to want to do it again!