Garmin Vivosport review: a classic fitness tracker - but still a top choice
The Garmin Vivosport fitness tracker may be an oldie but it's still a goodie, says our reviewer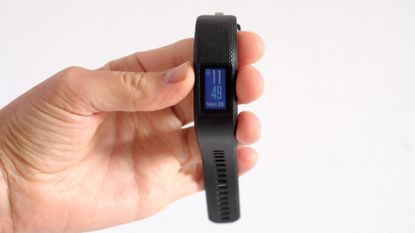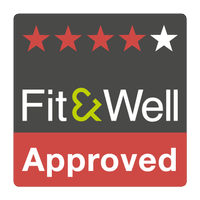 (Image credit: Andrew Williams)
Despite being several years old, the Garmin Vivosport still has rock-solid fitness features and sells at exactly the right price. Garmin's excellent Connect fitness platform and a screen that is both extremely clear in bright sunlight and on 24/7 offer an appeal you simply don't get from other fitness bands.
Reasons to buy
+

Screen is very clear outdoors

+

Long, consistent battery life

+

Has the fitness sensor dream team trio: GPS, HR and altimeter

+
Reasons to avoid
-

Screen looks dim and dull indoors

-

GPS can be slow to triangulate

-

No swim tracking
The Garmin Vivosport has been around for several years now - I first used it in late 2017. In almost any other case that would mean it's time to discontinue a wearable.
But in my opinion the Vivosport is still one of the very best fitness tracker buys, particularly if you want to track runs or long hikes rather than just steps.
It's not as glossy or as pretty as some of the competition, but Garmin packs a lot into this little band. It also lasts up to a week between charges.
The Garmin Vivosport distils the essentials of Garmin running watches - which the brand is famed for - into a much smaller band. It's very comfortable; you could wear it all day. And it's a great buy if you want to have a real stab at running as a hobby without announcing it to the world with a giant Fenix or Forerunner watch.
Garmin's Connect app is also made for real exercise tracking, more so than the casual companion apps of any other tracker at the price. It's not quite as friendly as Fitbit's, but is arguably the best around for keeping track of a real running or cycling habit.
The Vivosport screen is the most important benefit, though. No alternative is as clear on a bright day, because unlike an OLED or standard LCD, it feeds off ambient light. The brighter it is outside, the clearer that pace indicator on the screen will appear.
And unlike a bright OLED tracker such as the Honor Band 5, it doesn't have to expend more battery to make the screen visible outdoors.
If you're after a cute and glossy wearable with GPS, consider the Huawei Watch Fit or perhaps its cheaper sibling the Huawei Band 4 Pro. But Garmins, even oldies like this, still have an edge for fitness.
Let's look in more detail about why I rate the Garmin Vivosport fitness tracker...
Garmin Vivosport: price and key features
The Garmin Vivosport has a retail price of $169.99 / $149.99, although you can occasionally find it for less than this. Handily, our price comparison widget below will always show you day's best prices. And if cost is a concern, keep an eye on our fitness tracker deals page for offers on all the best bands.
For that price, you'll get a host of useful features. They include comprehensive activity tracking (as opposed to just seeing if you get to 10,000 steps each day). The Vivosport has also full GPS, so you don't need to carry a phone with you to see proper maps of where you went.
Most rivals have this too, but relatively few also have an altimeter - the Vivosport does. During the day this counts how many flight of stairs you go up. Garmin uses this metric because it's much more friendly than "meters of ascent". But you will see those ascent/elevation stats if you use the walking or running mode.
It also comes with an MIP LCD screen. MIP stands for memory-in-pixel, meaning the pixels retain their image without continuous power. A standard LCD or OLED screen's picture is refreshed 60 times a second, which is why other wearables' 'always on' screen modes drastically lower battery life. If you have the option for 'always on' at all, that is.
Garmin Vivosport: health and fitness features
The Garmin Vivosport has every primary sensor I want for exercise tracking, but none of the fancy modern extras currently being added to many wearables.
Those essentials are GPS, a heart rate sensor, standard accelerometer motion sensors and an altimeter. You get accurate reports on distance, where you went, your exertion level and the terrain elevation. These are the foundations of every great Garmin watch, right up to the Fenix 6 Pro.
The Vivosport's heart rate sensor is very good too. After tracking a run I found its max and average readings over the 8km were within 1bpm of those of my Wahoo Tickr chest strap heart rate monitor. Readings aren't bang on for the first few minutes of tracking, but this is a very common issue of wrist-worn HR monitors.
All the trendy, flashy sensors are what the Vivosport lacks. There's no ECG, no blood oxygen saturation monitor. It does have a stress feature, but this must be calculated solely by heart rate variability.
I don't miss either of these features. They are about health rather than fitness. There's a thin line between the two, but fitness metrics are really much more useful, and interesting, for the average person to look at day-to-day. And an elevated resting heart rate is actually one of the better indicators something's up, which the Vivosport can relay.
VO2 Max is the one extra it does have. This is a great measure of your general fitness level. You can think of it as a BMI for fitness.
The most accurate readings require a trip to a fitness lab with an oxygen mask on, and a lot of sweating. But an increase in Garmin's estimated readings still feels like a huge achievement. This is no Fitbit pat on the back, though. It takes real effort and determination.
Garmin Vivosport: exercise modes
Some recent fitness trackers, like the Huawei Watch Fit, stack up exercise mode as if they are collectibles items in a video game. The Garmin Vivosport keeps it simple.
There are modes for walking, running, cycling, general aerobics, weightlifting and a "free" mode. All but the weightlifting ask if you're inside or outside. Choose "outside" and the band will record your location using GPS.
You can wear the Vivosport in the swimming pool too, as it has 5ATM water resistance. However, there's no swim tracking mode, which should put off a few of you.
Reviewer's admission: I haven't done much swimming in the last year, so this hasn't factored into this review much. However, most trackers are not particularly good at swim tracking anyway.
Still, rivals like the Fitbit Inspire HR and Huawei Band 4 Pro can handle swimming. Don't buy a Vivosport if you are forever in the pool.
Garmin Vivosport: smart features
The Garmin Vivosport is not a smartwatch, but it does have some of the basics. Flick up from the watch face and you'll see a local weather report for the day. You can control music playing through a connected phone. There's a stress indicator.
And, most important of all, the Vivosport can relay notifications. You choose the apps included. I add WhatsApp and Gmail, and leave out the rest.
Only a few words fit on the screen, of course, and you can't reply to messages. But this is standard stuff for a simple lost-lasting trackers band.
Garmin Vivosport: GPS
The Vivosport's GPS chip also offers very good location-tracking accuracy. But there is an issue.
It can take quite a long time to hook onto a signal when you first use the tracker, or haven't been on a run in a while. This is because it has to triangulate position from GPS satellites.
At its worst, we were left waiting several minutes on a pre-run walk warm-up outdoors. It always takes longer than the very latest fitness trackers, but this multi-minute delay is thankfully a rarity.
Why so slow? The Vivosport is an older tracker band with an older GPS chip and antenna array. This is the one area where the band can seem a bit dated.
Garmin Vivosport: display
The Garmin Vivosport's light-loving screen is not particularly trendy. It doesn't have the bold color of OLED, and to be visible in dim rooms it has to use a front light like that of a classic Casio digital watch.
At least it's a color display, unlike that of the Fitbit Inspire. But if you're aiming for a hit of Apple Watch-style tech gloss, with bold color and high-contrast pop, you don't get it here.
However, it remains my favorite kind of wearable screen, from a runner's point of view. The screen is on 24/7, because just displaying content barely uses any power. You don't need to "wake" it while out on a run to see how close you are to your 5K goal either.
The Garmin Vivosport has a small screen but it does a better job of relaying mid-run stats than the Fitbit Inspire HR. It fits two stats on-screen at once, rather than the one.
When you go for a run, you can see time/distance, pace/distance, steps/distance or your heart rate and heart rate zone. Why the repetition of distance? It's smart, meaning most people will be able to stick with one screen for the whole workout.
If there's one stat you want to see while running, it's probably distance. These pages are only a screen flick away from each other and the Vivosport's interface feels responsive whether you're in a workout or not.
Garmin Vivosport: battery life
Garmin says the Vivosport lasts for up to seven days between charges, and that's dead on as long as you don't go for any GPS tracked runs. This will vary much less than most other fitness trackers, as the battery consumption is not affected by spending a lot more time in bright environments.
You'll have to ramp up screen brightness for good visibility outdoors with other trackers, but not here.
Garmin also says the Vivosport lasts for eight hours of GPS tracking. But that is not quite the case for the run mode. A little under a hour's worth of running took 20% off the battery, suggesting it will lasts for around five hours of full tracking.
Where does the 8-hour claim come from? This is likely the battery life when you use the walking mode instead of the running one. A slower pace means the Vivosport needs fewer GPS location calls, reducing strain on the battery.
You can still get up to five days' use after tracking a couple of shorter runs. It's a fairly low maintenance band.
Garmin Vivosport: verdict
The Garmin Vivosport is a classic fitness band, a status cemented by its unusually long shelf life.
It's the right choice for someone who cares more about high-quality tracking of runs, cycling trips and hikes than cute watch faces and gadget-y gloss.
The Vivosport has the right sensors for the job and its screen is more clear when you go out for a run on a sunny day than it is indoors. That's a 180-degree flip of the normal situation for wearables.
Four years on from the first time I used the Vivosport it would still probably be my first pick at the price for pure run tracking, particularly if you find it on sale.
Also consider
Huawei Band 4 Pro
The Huawei Band 4 Pro one of the best alternatives for the budget-conscious. It is around £40/$40 cheaper than the Vivosport but still has GPS, an HR sensor and an OLED screen, which is much bolder and more colorful. There's no altimeter though, so it won't count the stairs you climb up each day, we prefer Garmin's Connect software as a platform for keen runners and walkers.
Fitbit Inspire HR
Fitbit's cheapest fully featured fitness band, the Fitbit Inspire HR, looks cuter than the Vivosport. It also has the swim mode missing from the Garmin. However, the Vivosport screen is much clearer when you go out for a run and its tracking cred it significantly better, too. The Inspire HR only has Connected GPS, not Full GPS, and it does not have an altimeter.
Honor Smart Band 5
Strapped for cash? You spend a lot less on an Honor Smart Band 5. It's not quite as good as the Vivosport, but I'd be perfectly happy using it for a couple of 5K runs a week. It uses Connected GPS, so take your phone out when you exercise, but the OLED screen holds up well enough on sunny days. This tracker is a real pocket money bargain.
Andrew is a freelance contributor to Fit&Well. He has written about health and fitness for more than a decade, specializing in consumer tech. When not testing fitness tech for Fit&Well he writes about fitness for Forbes and contributes to publications including WIRED, TechRadar, Stuff, Trusted Reviews and others. Andrew runs to keep fit, and can often be round jogging around the parks of South London with several wearables and a heart rate strap attached. He also enjoys indoor cycling, using a turbo trainer and platforms like Zwift to get some kilometers in while avoiding London's busy streets.