Fitbit vs Samsung Watch: which fitness watch is right for you?
There are a huge range of Fitbit and Samsung Watches available – here are the main differences in terms of features and performance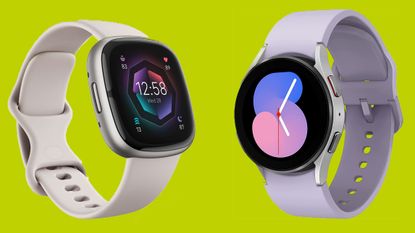 (Image credit: Fitbit/ Samsung)
If you're looking to invest in a new fitness watch you'll want to know the key differences between these mega brands. Whether it's the best Fitbit (opens in new tab) you've got your eye on, or the latest Samsung Galaxy smartwatch, we're here to tell you more about the pros and cons of each.
Clearly both brands are responsible for some of the best fitness trackers (opens in new tab) in the world, but choosing one over the other is a complex decision and will depend on a ton of variables, including your budget, design needs and health and fitness goals.
In this guide we take a deep dive into Fitbit vs Samsung Watch, looking at what you can expect from the different models in terms of features, design, price and performance, so you can make an informed buying decision.
Fitbit vs Samsung Watch: models / price / availability
There's a huge range of Fitbits available, from the elegant Fitbit Luxe and the sports-focused Fitbit Charge 5 to the Fitbit Ace range, designed for children. The cheapest basic Fitbit (the older Inspire 2 model) starts at around $79.95 while the more expensive models (like the new Fitbit Sense 2) can cost around $300.
The main offering from Samsung is the new Galaxy Watch5, which starts at $279. You can find some variations of that model including the pricier Pro and the Golf versions – and you can also still buy the older Watch4 model too (from $249).
In terms of price, Fitbit definitely has more budget friendly devices, like the Luxe and the Inspire 2. But it does offer high-end devices too, that match up with the offerings from Samsung.
It's worth noting that Fitbits are easier to use if you're on an iphone – the devices are compatible with both iOS and Android. Samsung works best with Android phones and only some of its devices are iPhone 5 or higher compatible.
Fitbit vs Samsung Watch: design / aesthetics
Fitbit designs range from simple tracker style bands (like the Inspire 2, below) to sporty smartwatches, which look similar to an Apple Watch. It's easy to personalize your Fitbit by changing the face and the bands, and these range from sports-style ones to luxe metal chain straps. There's less variation in the Samsung range – the Watch5 looks like a regular watch, with variations of color and band design.
If we were to make a judgement call, we'd argue that the Watch5 looks slightly nicer than anything in the Fitbit range. But the slim profile of cheap models like the Fitbit Luxe and Charge 5 might suit some people better – because they're less bulky, they feel less intrusive during high intensity workouts or when you're sleeping.
When trying to draw direct comparisons between Fitbit and Samsung, it's helpful to line-up the Sense 2 and Watch5, as these models are fairly similar. The Fitbit Sense 2 ($300) works with both iOS and Android and has some awesome health tracking sensors and a much longer battery life than the Watch5.
You need to sign up for a Fitbit Premium subscription to unlock some of the better features, but you get a free trial with your purchase. The Watch5 is usually slightly cheaper, at $279, and you don't need a subscription to access the health features (which includes body temperature tracking).
Annoyingly, some health tracking metrics are region-locked and the battery life is inferior to the Fitbit. It's also worth noting that the Watch5 isn't really compatible with iOs, so it's not ideal for iPhone users.
Fitbit vs Samsung Watch: features
If you buy one of the high-end Fitbits, you will be able to track physical activity, sleep, heart rate, blood oxygen levels, use GPS, store and listen to music, receive call and text alerts and pay for items.
On a Samsung Watch, model dependent, you will be able to enjoy GPS, notifications, advanced workout tracking and monitor your wellness by measuring heart rate, sleep and breathing.
In terms of real standout features, several Fitbit models (the Sense 2, Charge 5 and Inspire 3) offer something unique in the form of EDA sensors. This can monitor your stress levels by tracking changes in heart rate and electrodermal responses (how much sweat is on your skin).
But Samsung also offers something unique in the form of temperature sensors and body composition tracking. The body composition tool works via a process called 'bioelectrical impedance analysis,' which essentially shoots a small electrical current through your body.
By analyzing how quickly this current shoots through you, the device can estimate your body fat percentage. This is clearly a useful tool if you're trying to change your body composition – and the temperature sensor could be a handy feature too, as it can improve the accuracy of ovulation tracking.
Fitbit vs Samsung Watch: performance
Fitbit is known for its, quite frankly, epic battery life – usually about six days or more – whereas the Samsung Watch can last around 40 hours with regular use. But throw into the mix features like GPS, wifi, Bluetooth, auto-health tracking and always on display and the Galaxy Watch5 realistically needs a daily charge.
Both brands have a strong reputation for creating well designed, high performance wearables that offer a wealth of advanced insights into health, fitness and wellbeing.
Fitbit vs Samsung Watch: verdict
The question of which device is better: Fitbit vs Samsung Watch really comes down to what you want from your wearable, and both are well placed to support you on your health and fitness journey.
If it's battery life you're after, Fitbit wins hands down. The devices also work with both iOS and Android, so depending on which smartphone you own, this could be a deal breaker as Samsung is really only Android-compatible.
Saying that, Samsung smartwatches are one of the best options for Android users right now, thanks to their unique features like body composition monitoring and temperature tracking. The Watch5 is also usually slightly cheaper than Fitbit's similar Sense 2 model.
Finally, if you want a truly budget wearable, then go for a Fitbit. The Inspire 2, for example, is currently less than $50 and can track steps, sleep and heart rate.
Maddy is a freelance journalist and Level 3 personal trainer specializing in fitness, health and wellbeing content. She has been a writer and editor for 22 years, and has worked for some of the UK's bestselling newspapers and women's magazines, including Marie Claire, The Sunday Times and Closer. She also manages Fit&Well's Instagram account.
Maddy loves HIIT training and can often be found running on her treadmill or working out while her two young daughters do matching burpees or star jumps. As a massive foodie, she loves cooking and trying out new healthy recipes (especially ones with hidden vegetables so the kids eat them). She makes a mean margarita and has twice won awards in previous staff jobs as the "office feeder".