I tried the new Peloton Guide: Here's what I loved—and what I didn't
We try the new Peloton Guide home workout kit to see if it lives up to the hype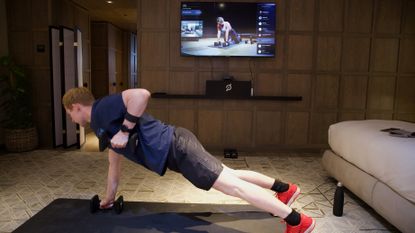 (Image credit: Peloton/Matt Evans)
The Peloton Guide isn't quite like anything else Peloton has released so far. A set-top box with a motion-tracking camera, it's designed to help you work through strength training, HIIT sessions, and other home workouts, comparing your movements to the on-screen instructor. If thanks to COVID, you're now used to working out in front of your TV, it's going to be an absolute game-changer.
Peloton has already become incredibly popular, with its premium-priced machines frequently mentioned in the same breath as the best exercise bikes and best treadmills. Although Peloton has been offering additional strength and HIIT workouts for years—in addition to yoga, Pilates, and a whole host of other disciplines—this is the first of Peloton's major products geared towards really helping your strength training at home.
Peloton Guide: what is it and how does it work?
Unlike the Peloton Bike and Peloton Tread, the Peloton Guide is mostly software-based. The hardware you get is a set-top box with its own remote and a camera, which can be placed below or clipped above your TV. The unit looks slick, with a fabric covering and silvery Peloton font, and the camera has a sliding privacy function, along with the ability to manually turn voice detection on and off.
The set-top box allows you access to Peloton's vast library of content, including strength training, HIIT, yoga, Pilates, meditation, and even running and cycling, if you have the hardware to support them. It looks and feels like a workout version of Netflix. It's worth noting the hefty price tag here: the Peloton Guide unit retails for $295 in the US and £275 in the UK, but you need a monthly subscription ($24/£24 until January 2023, rising to $39/£39) to access any of the content on the device—nothing lives on the Peloton Guide natively. If you're on a budget, you'd best look elsewhere!
However, it's not just a Peloton media player. Many of the workouts have a small icon and message listed in the description: "made for movement tracker". This is the content designed purely for the Peloton Guide, and can interface with the camera's unique movement sensors.
Starting the video workout will bring it up on-screen, and you have the option to display a side-by-side or window insert displaying what the camera sees: you, so you can check your form against the instructor. What's more, a small green teardrop icon represents the movement tracker, which fills bright green as you copy the instructor's motions. This directly responds to your movements, and if you fill the progress bar all the way every time, you get a little "100%" stat once you complete the workout.
The Peloton Guide can also use this technology to tell you what muscles you've worked and how well, with a handy intensity diagram of a human body, which moves can be improved, and other stats if you've connected a heart rate monitor or similar kit. It can also look at the workouts you've done before and recommend further content. Done too many upper-body sessions, but neglected your legs? The Guide might recommend you a few short leg-day sets. Forget YouTube: home workouts have never been more interactive.
Peloton Guide: what we thought
When I tried the Guide, the fabric-covered pill was already set up, as my own Peloton guide (the person talking me through the machine, that is) showed me how to set the Guide up and select my preferred workout. You can scroll through individual workouts and even call up demonstrations of specific moves. You can also embark on goal-specific programs, like a 12-session series of strength, core, or fat-burning workouts. There's no way to tailor the Guide's recommendations to focus on your own fitness goals, but you can begin one of these pre-approved workout plans.
The user experience was excellent (as mentioned above, it reminded me of Netflix) and for the ultra-premium price of $295 plus $39 per month, it would have to be. Each workout is smartly presented and comes with a range of options, but it was the movement tracking features of the camera I was particularly interested in.
Strapping on my Peloton Heart Rate Band (sold separately at $90 in the US and £80 in the UK) and grabbing my Peloton dumbbells (sold separately starting at $50/£45 for a set of light 5lbs or 2.3kgs non-adjustables), I embarked on a workout. It was a warm-up, a 10-minute AMRAP set, or "as many reps as possible", and a cool-down.
I'm not someone who normally enjoys HIIT workouts, either at home or in the gym: I find any kind of loud encouragement to "take it to the max" more distracting than encouraging, and I would rather lace up a pair of the best running shoes for men and hit the road for an hour. However, the Peloton workouts are really engaging, and the presenters do a great job. Initially distracted while watching myself muddle through the movements onscreen compared to the practiced movements of the athletic on-screen trainer, I began to find it helpful, and paused to tweak my form once or twice.
The movement tracker is exactly what home workouts need. I had my eye on it throughout my entire session, and if it looked as though I wouldn't meet the target before the trainer moved on to another exercise, I redoubled my pace. The minute I hit the white-green center of the teardrop I thought "Hah! Got you!" before realizing the opposite is true: Peloton had me. I was actually enjoying myself. As a nice touch, Peloton has even given a thought to the isolation of exercising from home, with a scrollbar showing all the Peloton members around the world doing this workout with me. It really brings a sense of community to the platform.
Peloton Guide: Early verdict
The Guide is very good at what it does. I found that "game-ifying" home workouts with the interactive elements of the movement tracker, rather than just passively watching a video workout and following along with no other interaction, has been the missing piece for me. By the end of my AMRAP workout, I was doing renegade rows as if my life depended on it. If you like exercising at home, you are going to love it.
However, if you already have a Peloton subscription and use the app on your phone, tablet, or smart TV, you get all the actual content already. If you don't, you're paying a hefty $40 or £40 per month, plus the almost $300/£275 price of the unit, plus a set of the best adjustable dumbbells if you don't already have them, plus a Peloton Heart Rate Band if you want to see your heart rate on-screen. There's a significant barrier to entry here.
It's never going to replace strength training with heavy barbells and dumbbells in the gym for me, but this is the best way to do general fitness classes and strength training in your front room, there's no doubt about that. Peloton also reportedly has plans to release more genres of workouts for the Guide's movement tracker, such as yoga. If you would spend something like $40 or £30 on a ClassPass subscription anyway, and want a way to access Peloton's HIIT workout content at home, this is a terrific option.
Matt Evans is an experienced health and fitness journalist and is currently Fitness and Wellbeing Editor at TechRadar, covering all things exercise and nutrition on Fit&Well's tech-focused sister site. Matt originally discovered exercise through martial arts: he holds a black belt in Karate and remains a keen runner, gym-goer, and infrequent yogi. His top fitness tip? Stretch.