What is active aging?
Fit&Well's Active Aging Week is celebrating ways to make you feel great as you age, here's how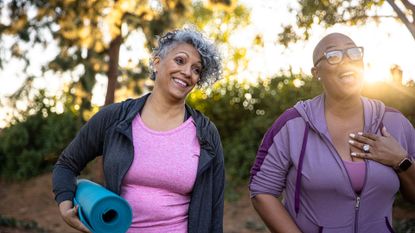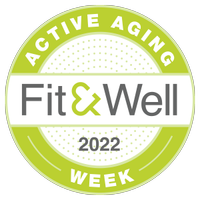 (Image credit: Getty)
Get the Fit&Well Newsletter
Start your week with achievable workout ideas, health tips and wellbeing advice in your inbox.
Thank you for signing up to Fit And Well. You will receive a verification email shortly.
There was a problem. Please refresh the page and try again.
Fit&Well's Active Aging Week is here! From May 23rd through May 27th, 2022, we will be exploring active aging and what that means for our readers. Each day we will be bringing you new advice and inspiration for living well as you age, from taking care of your mental health to workout ideas.
At Fit&Well we believe you live well at any age, and that's why we're rounded up expert-led workout ideas, helpful features, and put together guides to help make your active aging years the best ones yet.
Whether you're getting started with fitness and want some fantastic workouts to keep your body feeling its best, or you'd like advice on which supplements your body may need, we've got you covered.
Active Aging Week: Advice and tips
What is active aging?
Active aging is the idea that by maintaining health, activity levels, and taking part in a variety of social activities, a person can feel their best as they age. The idea behind active aging is that quality of life is improved and signs of aging are reduced in older adults who remain active. This concept contradicts the 'disengagement theory', which insists that aging leads to an inevitable withdrawal from society and activity. Thankfully, by taking aging into your own hands, it is possible to achieve a fulfilling and active life past 50 and beyond.
A pioneering study in the Physical Medicine and Rehabilitation Clinics of North America journal indicates that aerobic, resistance, flexibility, and balance training can all aid in helping keep older adults active for longer and improve their quality of life as a result.
Another study in the Annals of Agricultural and Environmental Medicine journal indicated that aging is not only a physical process, but impacts mood and levels of social activity, as well as physical condition, all of which we will cover in this Active Aging Week.
What changes as we age?
As we age, our metabolism and the physicochemical properties of our cells change, making them regenerate at a slower rate and degrade over time. This process can be troubling to experience, and there are several age-related mental health conditions, as well as conditions related to cognitive decline, such as Alzheimer's and Parkinson's. An article in the journal of Psychological Science in the Public Interest found that increased activity and enrichment can help slow cognitive decline in older adults. It also indicated that midlife intervention may be a good way to improve overall cognitive health, so beginning the process of active aging early may help with overall health.
Additionally, with the degradation of our cells, our bodies become less effective at destroying potentially dangerous mutations, making us more susceptible to disease. There is extensive evidence supporting our ability to control this degradation through diet, exercise, and mental stimulation, to make the aging process a gentler one.
We spoke to Dr. Marion Sloan, a GP from the UK and Chair of the Primary Care Society for Gastroenterology, who told Fit&Well 'if you don't use it, you lose it! "Keeping active socially and physically is vital to remaining 'alive'," she says. "At the menopause both estrogen and testosterone drop in women. Lower levels mean we can lose our 'get up and go', but this is not inevitable and can be well managed with careful prescribing of HRT."
A study in Aging and Mental Health journal found that high-stress days are associated with feelings of poor health in older men, indicating we should do what we can to keep our stress levels low and protect our mental health, as well as our physical health.
Dr. Sloan added that the gut microbiome can impact how we age. "There is evidence to show that the more diverse the bacteria in the bowel, the healthier metabolic profile is," she says. "This reduces inflammation in the body and in turn, this reduces the risks of vascular dementia. Development of vascular dementia can be slowed by a healthy lifestyle."
Active aging exercises
As we age, it can be harder to stay physically active for a number of reasons. The development of mobility-impacting conditions such as osteoporosis and osteoarthritis can make movement painful, and the mental health impact of aging can make people less interested in getting out and about.
Dr. Sloan tells us that weight-bearing exercise is important to maintain your best physical condition "Weight-bearing exercise maintains bone density and maintains muscle mass and strength. This reduces the risk of falls and falls mean fractures," she says. "Furthermore, the more we exercise the more we boost our metabolism. After swimming, for example, the metabolic rate is raised for six hours after that exercise.
Gentle exercise can help with mobility-related diseases, such as arthritis, according to a study in the American College of Rheumatology journal. Exercise has the benefit of reducing joint stiffness, particularly in those with osteoarthritis, and can also help to stave off mobility decline by keeping muscles healthy and preventing wastage, which tends to happen when you stop moving. The more you use your muscles, the healthier they are and the more mobile you are likely to be.
Active aging diet and nutrition
Diet has an important role to play in active aging. Studies have shown that diet has a huge impact on our quality of life, and some diets or styles of eating can have health-promoting properties, while others can contribute to health decline.
A 2020 study in Cells journal found that diet may be a factor that influences symptoms in patients with rheumatoid arthritis. Additionally, those with conditions such as osteoarthritis may find that keeping their weight down can help to control their symptoms, as their joints are not put under as much pressure, and they may be able to preserve their mobility for longer.
Inflammatory markers in the body can give us an idea of how healthy an individual is, and can be indicative of whether someone is likely to develop a disease, according to research in the British Journal of Nutrition. Some foods, such as alcohol, heavily processed foods, and foods high in refined sugar can increase inflammation in the body. Following an anti-inflammatory diet, such as the Mediterranean Diet, may help reduce inflammation in the body and help you to stay healthier for longer.
Consumption of fruits, vegetables, legumes, and nuts positively impacts cardiometabolic risk, according to one 2015 study. There is evidence a diet heavy in these foods may not only reduce your potential risk of developing cardiovascular disease in the first place but might even reduce its burden and improve health in those who already have it.
Dr. Sloan's parting advice is: "Exercise for thirty minutes, five times a week, maintain a normal BMI and feed your microbiome by eating thirty different plants a week."
We'll be adding all the latest advice, features, and workout ideas right here during our Active Aging Week.
Get the Fit&Well Newsletter
Start your week with achievable workout ideas, health tips and wellbeing advice in your inbox.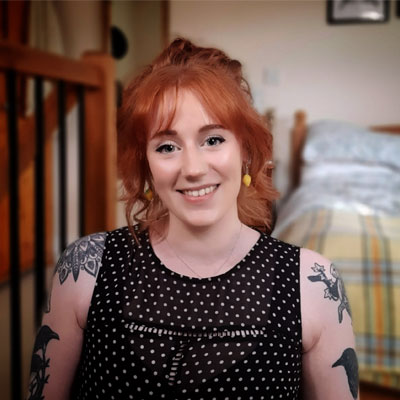 Lou Mudge is a Health Writer at Future Plc, working across Fit&Well, Coach, LiveScience, T3, TechRadar and Tom's Guide. Based in Bath, UK, she has a passion for food, nutrition and health and is eager to demystify diet culture in order to make health and fitness accessible to everybody.
Multiple diagnoses in her early twenties sparked an interest in the gut-brain axis and the impact that diet and exercise can have on both physical and mental health. She was put on the FODMAP elimination diet during this time and learned to adapt recipes to fit these parameters, while retaining core flavors and textures, and now enjoys cooking for gut health.