What's the difference between fitness trackers and smartwatches?
A guide to the features you will find on fitness trackers and fitness watches to help you work out which is best for you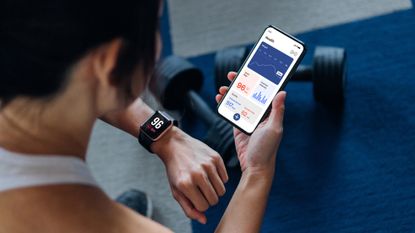 (Image credit: Getty Images)
The world of fitness-tracking technology can be confusing, and the choice of wearable technology overwhelming. Where do you start? With brands like Apple, Fitbit, Garmin and more all clamouring for space, first you need to decide what kind of wearable you're after.
Do you opt for a full fitness watch like the Apple Watch Series 6, the Fitbit Sense or one of Garmin's many offerings (check out our best fitness watch list for more), or opt for something sleeker, like a Fitbit Inspire 2 or another one of the best fitness trackers?
The first thing to say is that whatever you go for, they will all help your fitness journey. Tracking your health and fitness is a great way to stay on target, motivate yourself and see your gains via actual data.
Your fitness aims will help you gauge what type of wearable fitness tech you should go for. For example, if you are planning to count the number of steps you do in a day, a more basic fitness tracker will do the job, but if you are looking to train to heart-rate zones of even monitor metrics such as your oxygen saturation levels, you will need a fitness watch.
Fitness-tracking devices were in the news recently as it was shown that they can monitor your health following Covid and help provide information into recovery and long-term effects. And as 80% of US adults remain inactive according to studies, a fitness watch or tracker could help motivate people to get off the sofa and start increasing their daily step count.
Fitness trackers and fitness watches come with different pros and cons. Fitness trackers are often wrist bands or basic watches that record basic statistics such as how many steps you do in a day and your heart rate.
Fitness watches, meanwhile, are also worn on your wrist but feature more advanced levels of fitness monitoring. They can track your heart rate and other health data, fitness activities via GPS, sync with your phone and other Bluetooth devices. However, these advanced features can often come at the expense of battery life.
Below, we run through the main differences to help you work out which is best suited to your fitness needs.
Price
Generally, fitness trackers come in at the lower end of the price scale, and fitness watches the higher end. Fitness trackers can be as affordable as $40/£30, for example deals on the Xiaomi Mi Smart Band 5 can be found for around £25. You can invest in a fitness watch, meanwhile for around £80, but they can go up in price to well above £300.
Design
Fitness trackers' design is usually a basic band shape. Designed to be minimal and discreet, they are lightweight (usually between 10g and 30g) with narrow faces. The screen is often a basic black and white digital display, but some fitness trackers feature colour which can add life to the device, like the Garmin Vivosport.
Fitness watches have a more traditional watch shape, and many are often customisable, so you can change the face digitally and swap the strap for different colours and materials. They can even look more like a traditional watch with leather straps – these are often known as 'hybrid watches' – they offer a mix of traditional watch aesthetics with some fitness-tracking capabilities.
Battery life
Fitness trackers are renowned for their extra-long battery life, which make them ideal if you like to charge something and then not have to worry about recharging it again for a week or two. This means you can strap it on your wrist and monitor your stats without having to worry about running out of juice.
Fitness watches, on the other hand, can be woefully poor when it comes to battery life, some just lasting a day or two before requiring a charge, which means running out of battery mid-activity is a risk. However, some manufacturers are making big advancements in their watches' battery lives, and it won't be long before many rival fitness trackers' battery life.
Metrics
The metrics and data you can record and monitor on most fitness trackers is basic. They usually track steps, calories burned, time and distance via GPS. Most now also track your heart rate, which can help provide a more accurate calorie metric, and let you monitor your resting heart rate as well as during exertion.
Fitness watches are for those who can't get enough data. Expect them to record data such as heart rate all day and night, altitude, distance, time, calories, cadence, training effect, recovery time and VO2 Max.
Most also track your sleep, stress levels (and link to meditation apps) and, at the higher end of the price range, smartwatches such as the Apple Watch Series 6 also measure oxygen saturation levels, breathing rates, skin temperature, irregular heart rhythm notifications and ECG apps, meaning you can have a wealth of health data at your fingertips.
If you are a runner wanting even more data, it is worth checking out our best running watches buying guide.
Notifications
Almost all fitness watches sync with your smartphone, so you'll receive your phone's notifications on the watch, too. Watches that do this also provide the ability to take calls via your watch. Some also have music-playing functions via Spotify or iTunes.
Due to the lower price of fitness trackers, most do not have the ability to pair with your smartphone in order to receive notifications. However, this is ideal for those who want to get away from everything while exercising.
Other features
Fitness trackers do not offer much more than basic functions, whereas some fitness watches offer a wide range of features in addition to the ones mentioned above. Some are operated via touchscreen, which is a stylish addition making it less fiddly if you are wanting to operate it during a workout.
Other features to look out for on both trackers and watches is the unit's waterproof abilities – if you plan to swim in it, it must be waterproof.
Get the Fit&Well Newsletter
Start your week with achievable workout ideas, health tips and wellbeing advice in your inbox.
Howard is a freelance health and fitness journalist and copywriter. He has written for publications including ShortList, Runner's World, Trail Running, Women's Running, Red Bulletin, Wareable and Cycling Weekly. He enjoys nothing more than lacing up his trail shoes and heading out to explore new trails. He's run ultramarathons everywhere from the French Alps and Canadian mountains to the Welsh coast and Peak District. When not running, he's usually found hitting his local MTB singletrack trails or on a quest to find the country's best cinnamon bun.