Apple Watch Series 6 vs Fitbit Sense: what's best for health and fitness goals?
Weighing up the Apple Watch Series 6 vs Fitbit Sense? We compare how the two smartwatch titans fare for health tracking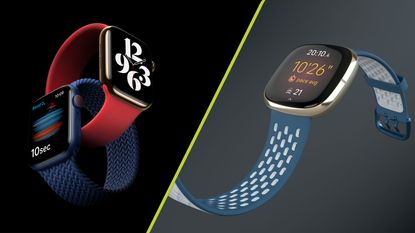 (Image credit: Apple / Fitbit)
Smartwatches are advancing and improving at such a rate it's difficult to keep up. Many are now offering increasingly in-depth ways to monitor your health, with all kinds of new and innovative sensors and data-tracking.
Here, we look at two of the biggest hitters in the smartwatch market and often rated as some of the best running watches. We'll consider what they offer specifically in terms of helping you achieve your health and fitness goals, a sector that is particularly popular.
The Apple Watch Series 6 is the latest and most up-to-date version of the watch that sold 31 million units in 2019, with a focus on a range of new, cutting-edge features that track various health variables. It's designed to sync with Apple iPhones only, and will not work with Android. Prices start at $399 / £379.
Apple Fitness+: a five-star home workout platform that's worth the hype
Meanwhile, the Sense smartwatch - billed by many as the best Fitbit on the market - is built with similar functions and aimed at the same market, and is compatible with Android and iPhones. It comes in slightly cheaper than the Series 6 at $330 / £299 (FYI, we monitor prices daily to find the best Fitbit Sense deals).
They are both smartwatches rather than sports watches, and feature touchscreens, downloadable apps and customisable watch faces.
Both are at the forefront of health tracking, with plenty of similar features on each. But which is best for those looking to take a deep dive into their health and fitness data?
Apple Watch Series 6 vs Fitbit Sense: health tracking
Both the Apple Watch Series 6 and the Fitbit Sense offer a wide range of health-based tracking features that provide insights and data on everything from sleep to mindfulness.
If you're looking for more data regarding your general health, both will do a superb job of providing all kinds of statistics and analysis, from examining your heart rate and rhythms to monitoring your blood oxygen levels.
Apple Watch Series 6 vs Fitbit Sense: sleep tracking
Sleep is becoming an increasingly popular activity to track, and smartwatches are offering more advanced ways to record data while you rest.
Apple's watch offers basic sleep tracking functions by simply recording how long you slept for, and any periods you woke during the night. There's no in-depth analysis of sleep patterns. Unlike with Fitbit, sleep tracking is not something Apple is actively pushing.
Fitbit, meanwhile, is more focused on providing users with sleep-tracking data. The Sense will monitor your sleep stages, heart rate, duration and Estimated Oxygen Variation (explained below) throughout the night to provide you with an overall sleep score.
Both the Apple Watch series 6 and the Fitbit Sense are equipped with SpO2 sensors. This tracks the amount of oxygen in your blood throughout the day and night by shining LEDs on your wrist to analyse the colour of your blood, doing a similar job to the finger sensor you see health professionals use. The healthy range is usually 95%-100%.
The Sense uses the data in its Estimate Oxygen Variation feature to alert you to any risk factors of possible underlying health risks.
Apple Watch Series 6 vs Fitbit Sense: heart-rate tracking & ECG
Both smartwatches feature in-built heart-rate tracking via wrist sensors that record your heartbeat 24/7 and during sports activities. However, both now include technologically advanced ECG monitors.
This is a big plus for those who are worried about their heart rate or suffer atrial fibrillation (irregular heartbeats), a condition that effects 33.5 million people across the world.
Both watches will alert you if your heart rate goes too high or low while resting by detecting if it goes outside of certain thresholds. This is especially useful for those who suffer from heart conditions such as bradycardia (heart rate is too slow) or tachycardia (heart rate is too fast).
Apple Watch Series 6 vs Fitbit Sense: fitness tracking
Both watches offer adequate fitness tracking of activities such as running or cycling. However, neither can compete with running-specific watches that offer deeper activity analysis and expansive metrics.
The Apple Watch Series 6 will satisfy most casual runners in terms of tracking and data. It moved away from steps in favour of its Move rings, which are calculated based on calories burned. Data such as step count, VO2 Max, exercise, stand time, etc is found in the Apple Fitness app, whereas health data is found in Apple Health. It also now includes an altimeter for more accurate elevation readings during activities. Battery life is not great when tracking activities, either – it should just about manage to record a marathon, but that's about it, which is nowhere near as long as dedicated running watches.
The Fitbit Sense, like Fitbit's other smartwatches, features in-built GPS to track all activities. It records runs, bike rides, swimming and workouts, and provide a Cardio Fitness Level and Score so you can compare how you are faring in your fitness training.
Apple Watch Series 6 vs Fitbit Sense: stress management
This is where the Fitbit edges ahead of the Apple Watch.
Many people are experiencing higher than normal stress levels, and to help track that, Fitbit has built in a new EDA sensor in the Sense. Place your hand over the device and it will measure small variations in your skin's sweat levels. This is then combined with your heart rate, sleep and activity data to provide a Stress Management Score. If this score gets too high, the watch will recommend breathing exercises or mindfulness programs via the Fitbit Premium membership.
The Series 6 does not offer any sort of similar stress management features, aside from a breathing app.
Apple Watch Series 6 vs Fitbit Sense: verdict
Both are advanced watches in terms of how deeply they track your health data and what they offer to help manage any anomalies. Anyone looking to gain extra insight into their health status will be satisfied with either watch.
But the Fitbit Sense edges ahead of the Apple Series 6 due largely to the advanced sleep tracking features, the more thorough SpO2 monitoring and impressive stress-level tracking feature.
Get the Fit&Well Newsletter
Start your week with achievable workout ideas, health tips and wellbeing advice in your inbox.
Howard is a freelance health and fitness journalist and copywriter. He has written for publications including ShortList, Runner's World, Trail Running, Women's Running, Red Bulletin, Wareable and Cycling Weekly. He enjoys nothing more than lacing up his trail shoes and heading out to explore new trails. He's run ultramarathons everywhere from the French Alps and Canadian mountains to the Welsh coast and Peak District. When not running, he's usually found hitting his local MTB singletrack trails or on a quest to find the country's best cinnamon bun.