Adidas Terrex AX4 GORE-TEX review: A sturdy hiking shoe for the trails
We took the sustainably-minded, striking-looking Adidas Terrex AX4 GORE-TEX hiking shoes out into nature for our test walks and bounced along all the way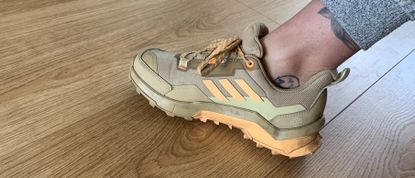 (Image credit: Sam Hopes)
The Adidas Terrex AX4 GORE-TEX hiking shoes are robust and provide sturdy support while hiking hilly terrain. There's a lack of breathability for long treks, but the snug and plushly padded midsole will have you bouncing along the trails regardless.
Reasons to buy
+

Hardy and durable

+

Superior grip

+

Spongy, cushioned midsole
Reasons to avoid
-

Lack of breathability

-

Toe box tip quite stiff

-

Unlikely to suit everyday use
Get the Fit&Well Newsletter
Start your week with achievable workout ideas, health tips and wellbeing advice in your inbox.
Thank you for signing up to Fit And Well. You will receive a verification email shortly.
There was a problem. Please refresh the page and try again.
The Adidas Terrex AX4 GORE-TEX hiking shoes are the brand's sustainable walking-shoe solution and are intended to be as well-matched for hardy hikes as for navigating the trails.
We headed into nature, taking the flash orange, beige, and amber AX4s with us for several testing rambles to see how they fared and whether their performance could match their striking looks. We weren't let down, although our feet were left sweatier than anticipated. That aside, this walking shoe stepped straight into our line-up for the best shoes for walking.
If you're unsure how to choose walking shoes, our guide is worth a look. Ideally, you're aiming to strike a balance between comfort, support, and grip – minus the heavy-duty feel typical of hard-wearing hiking boots. The AX4s are cut neatly below the ankle and could pass as an everyday sneaker, although the chunky aesthetic lends itself better to tackling mountain treks rather than visiting the mall.
The Terrex AX4s can be scooped up for $100/£120, though we have also put together the best walking shoes on sale, for you to pick up more great deals on shoes for all walking styles. Read on to get the lowdown on the Adidas Terrex AX4 GORE-TEX hiking shoe.
Design and technology
Adidas certainly hasn't taken the subtle route when designing the AX4s. If you prefer to fly under the radar, the all-black designs are sleek and stylish, but those seeking flair can pick from color combos such as acid red, impact orange, and pulse olive. The shoes also have sustainability in mind: 50% of the upper is recycled content and the shoe itself is made from Adidas's Primegreen fabric (recycled materials).
Bulkier than your average running sneaker, the shoe comprises a combination of a waterproof GORE-TEX membrane and a continental rubber outsole, which gives it the durable traction required for hiking.
The mesh and synthetic upper feels impenetrable and houses a thick-lace closure system and padded tongue so you can draw the shoes tight without chafing on the top of your foot. The EVA midsole (foam, for shock absorption and extra comfort) feels spongy and bouncy underfoot and provides ample cushioning for tired, aching arches.
The thick outsole finishes the look, flecked with ragged grooved ridges on its underside to grab even the slippiest surfaces. It's not dissimilar to a tire or mountain bike tread, offering hikers some seriously sticky grip factor in wetter weather.
Fit, feel, and comfort
We wear a size US 5/ UK 3.5 and felt the shoe fit perfectly at first, though after a long walk we wished we'd ordered a half size up as our feet generated a lot of heat. You also need to accommodate for walking socks and toes pressing forward as you walk or descend hills, and after sifting through reviews, it seems this opinion is echoed by many. We recommend opting for a roomier model than you'd usually pick.
Adidas has nailed comfort, stability, and cushioning with the Terrex AX4s and we could have kept walking for longer without our feet tiring. We're not kidding when we say the midsole is bouncy: the super-soft and cushioned midsole is plush underfoot and feels like you're walking across a trampoline. However, anyone with high arches may find this shoe uncomfortable and could require an insole for better support.
Adidas markets these shoes as offering a "lightweight trail running feel with the stability of a hiking shoe". We wanted them to feel as light as a feather, but unfortunately, they're a touch heavier duty than anticipated.
The shoes cut under the ankle and provide flexibility and range of motion through your foot and ankle – and increase the comfort stakes considerably – but we wouldn't describe them as lightweight. They sit somewhere between a traditional hiking shoe and trail running shoe; as a 5ft 2in wearer, we found the rigid hardwearing upper and thick outsole heavier than anything we'd choose to run trails in.
The shoes also lacked breathability, and we found our feet were sweaty after a hot 8km walk. Considering their GORE-TEX credentials, we were hoping for more ventilation than we got. However, we admire the versatility of this shoe and there's no doubt you could take the dog for countryside walks, commute to work, scale some mountain peaks and trudge through mud – all while wearing the Adidas Terrex AX4s.
Considering how durable the Terrex AX4s feel, the shoe still retains ample bend and pliability underfoot. This means you don't feel restricted as you climb and get more freedom through your midfoot without sacrificing stability. The toe box tip is stiff, but this shouldn't be a problem if you opt for a half size up and wear walking socks, and we think the walking shoe needs this rigidity to handle tough terrain.
A big talking point is the padded non-slip heels that measure just under 2in thick. This is where most of the cushioning is, and we felt the shoe scooping our heels to put a big spring in our step.
Support and grip
You need only glance at particular models of hiking shoes to know it's going to be a painful few months breaking them in, but that's not the case with the Adidas Terrex AX4 GORE-TEX hiking shoes; they're comfortable from the get-go.
The standard for pliability meets rigidity has been set. The AVA midsole adds support and stability through your foot so your foot still feels adequately encased without the fear of dodgy rolled ankles.
The low arch may divide its buyers, so we recommend checking if you need specialist support shoes or insoles before you buy. We have fairly low arches and found the Adidas Terrex AX4s snugly hugged them without locking or pressing our feet flat.
The traction outsoles of the Terrain AX4s are visible even without turning the shoe upside down; jagged curved ridges cover the bottom of the shoe and lift the outsole just shy of the ground, creating ample grip for you to confidently explore your surroundings. Unfortunately, this means the shoe could gather grit and mud in wet conditions, but it's a fair trade-off for the amount of security.
Everything required to improve grip factor can be ticked off here – a low arch provides better foot-floor connection, a protective tread pattern deflects water and a flexible sole improves your range of motion.
User reviews
The Adidas Terrex AX4 GORE-TEX hiking shoe pulls in a respectable 4.3 stars on the Adidas website. Buyers rated quality at 4.4 and comfort 4.2 stars.
Many commented on the size, recommending fellow buyers consider a half or full-size up. One user commented, "these shoes would be suitable for climbing a mountain," and praised their "rugged toughness", while another loved the sturdy base.
However, some said the sizes came up too tight and felt the upper wasn't waterproof enough. One user also said, "There is excessive padding where my heel meets the back of the shoe, which makes it impossible to get a secure fit."
Verdict
The Adidas Terrex AX4 GORE-TEX hiking shoe could well be the love child of a trail-running sneaker and hiking boot – if you like a chunkier trainer. The durable upper, soft padding, and thickly set heel and outsole combine into a grippy and sturdy walking shoe destined for hitting the road for miles, but their lack of breathability lends them to cooler climates if you want to avoid overheated feet.
They're more supple than your average hiking boot and you can slip them on like a sneaker without the endless corset-like lacing of traditional hiking boots. However, we highly recommend a size up if you want to maximize this walking shoe's potential.
Also consider
Skechers Go Walk Arch Fit Motion Breeze
The Skechers Go Walk Arch Fit Motion Breeze shoes are the perfect all-rounder for city sightseers or casual dog-walkers who like the outdoors without the commitment to hiking. They're comfortable and supportive and offer a more lightweight alternative for long walks than your heavier hiking boot.
Merrell Moab 3
The Merrell Moab 3 walking shoes marry traditional hiking aesthetics with a sneaker but are more than equipped to deal with the great outdoors. They pack plenty of stability and versatility for keen mountain-hikers and countryside-walkers alike, so you're covered regardless of how you like to wander.
Get the Fit&Well Newsletter
Start your week with achievable workout ideas, health tips and wellbeing advice in your inbox.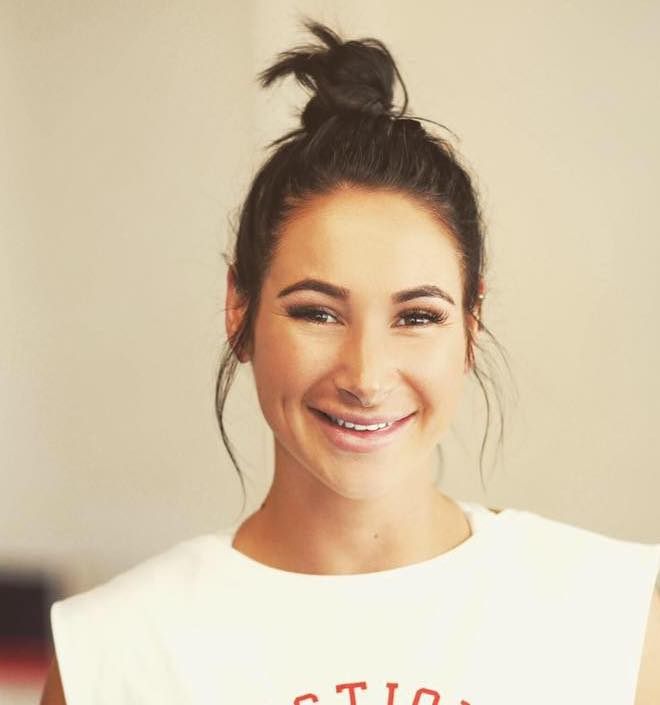 Sam Hopes is a level III fitness trainer, level II reiki practitioner, and resident fitness writer at Future PLC, the publisher of Fit&Well. Having trained to work with both the mind and body, Sam is a big advocate of using mindfulness techniques in sport and aims to bring mental wellbeing to the forefront of fitness. She's also passionate about the fundamentals of training and how we can build more sustainable training methods. You'll find her writing about the importance of habit-building, nutrition, sleep, recovery, and workouts.