Amazon Basics adjustable dumbbells review: A brilliant budget option
The Amazon Basics adjustable dumbbells set is a great budget option and perfect for beginners.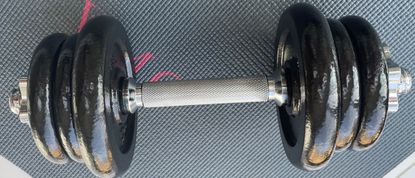 (Image credit: Vicki-Marie Cossar)
Not bad for a budget option, but you might need gloves to sustain a decent workout.
Reasons to buy
+

Really affordable

+

Housed in a portable case
Reasons to avoid
-

Fiddly screws to change

-

Uncomfortable hand grip
The Amazon Basics adjustable dumbbells set isn't going to win any awards for innovation. The set is made up of two screw plate dumbbells, which means you'll have to manually unscrew a 'collar' each time you want to add on a weighted plate. This is a time-consuming process that can really slow down your workout.
Because they're such a basic and fiddly model, we don't rate them as the best adjustable dumbbells on the market. That award goes to the incredibly well-designed Core Home Fitness dumbbells instead, which allow you to change weights with a flick of your wrist.
However, the Amazon dumbbells are a lot cheaper than the other models we've tested, coming in at just over $50 (or around £80 if you're in the UK). The popular budget weights can also withstand a lot of abuse, thanks to their durable steel design. And they still fall on the favourable side of the adjustable vs fixed weight dumbbell debate, offering a range of weight options in one compact package.
Here's what we made of them after trying them out for a week.
Amazon Basics adjustable dumbbells: Price
At just $51.74/£78.78, these are by far the cheapest dumbbells we've tested – most premium models cost around $400. However, this model is significantly cheaper for a reason. You'll spend a lot of time screwing plates on and off when you want to change your weights and there's no comfortable rubber grip here; just a tough metal handle that can cause blisters.
Amazon Basics adjustable dumbbells: Weight range
These are the only adjustable set of dumbbells in the Amazon Basics range. With this set, you get two hand barbells weighing 3lb/1.3kg each, plus four 5lb/2.27kg weight plates, four 2.5lb/1.13kg weight plates and four threaded collars coming in at 0.5lb/0.23kg each. This gives you a total weight of 38lb/17kg across both dumbbells and a maximum weight of 19lb/8.6kg per dumbbell.
It is possible to fit all the weight plates onto one barbell, which all together totals 34lb/15.4kg and could be used for targeted exercises such as a single arm bicep curl, or a shoulder press. However, if you're looking for a pair of really heavy dumbbells, then these weights aren't for you.
Amazon Basics adjustable dumbbells: Design
These look very much like a traditional set of old-school dumbbells. The barbell is silver metal, while the round weight plates come in a semi-gloss black colour. Not everyone has the space for a beast-sized pair of dumbbells and these Amazon Basics are a smaller, more compact option when compared to other models (L17in/43cm x W6.2in/15.7cm x H9.4in/23.9cm). In fact, they are the smallest set of the adjustable dumbbells we have reviewed.
They are also the only set without a cradle to house them. Instead, they come in a handy portable case which makes them super easy to store or take on holiday. Each barbell comes with a metal textured grip handle that's supposed to give you a secure hold. However it feels rough, scratchy and really uncomfortable, so we'd definitely recommend weight-training gloves for a more comfortable lifting experience.
Thanks to heavy duty rubber washers on the inside ends of each barbell and threaded collar, when done up tightly these weights don't clank around and they're completely noiseless. All-in-all they feel solid on pretty much every exercise we tried and we felt no need to be gentle when getting them to the floor between sets.
Amazon Basics adjustable dumbbells: Set-up and features
There's nothing really to set up here, you simply take everything out of the portable box and load the barbells. However, thanks to the fiddly threaded collars which hold the weight plates on the barbell, the whole loading and unloading process can take around 30 to 60 seconds per weight change.
This can be a bit frustrating mid-workout, especially if you have sweaty hands and the threaded collars don't want to play ball. If you're looking for something more rapid, the TwistLock technology in the Core Home Fitness adjustable dumbbell takes just seconds to complete. Simplicity is key when it comes to the Amazon Basics models and there's no fancy extras that come with these.
Amazon Basics adjustable dumbbells: Verdict
What you see is what you get with these. They aren't the best adjustable dumbbells on the market, but they are one of the cheapest. If you're a beginner and looking to add some simple progressive overload to your training, these are a great option without any airs and graces.
They offer a decent enough weight range so that you can play about with them for everything from chest presses to sumo squats. You might even be able to afford two sets, giving you a maximum weight of 34lb/15.4kg per barbell. The travel case is a fantastic idea and offers a great way to maintain your training regime while on holiday.
Amazon Basics adjustable dumbbells: User reviews
These dumbbells have netted a 4.6 star rating out of five on Amazon, with over 6,900 people submitting reviews. Happy customers praise the low price and the solid, steel material used in the dumbbell. Negative reviews state that the carrying box is flimsy and likely to break over time – and some people claim that there were metal shards and shavings in their box.
Also consider
Core Fitness adjustable dumbbells
Despite being a relatively unknown brand, the Core Fitness adjustable dumbbells are the best weights that we've tested. They feel solid and dependable in the hand – and their easy weight changing mechanism means that you can swiftly add or take away a few pounds during a workout, so you don't need to fiddle with tricky screw collars. They are more expensive though, coming it at around $399
Ativafit adjustable dumbbells
The Ativafit dumbbells mimic the design of most premium models, with a quick-release weight changing mechanism. However, they're about $100 cheaper than most high-end designs. While they're still more expensive than the Amazon Basics models (they're priced at $379.99) they're also a lot easier to use.
Get the Fit&Well Newsletter
Start your week with achievable workout ideas, health tips and wellbeing advice in your inbox.
Vicki-Marie Cossar is a UK-based freelance journalist who has more than 20 years experience writing across the topics of health, fitness, fashion, beauty and wellbeing. She was formerly responsible for the Life & Style section of Metro's features department (now called Trends) and currently writes Metro's weekly Wellbeing supplement.