Bose Sport Earbuds review: excellent sound quality to power your workouts
In our Bose Sport Earbuds review, we found that these earbuds offer impressive sound and comfort for all workouts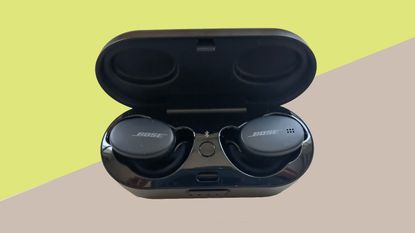 (Image credit: Lee Bell)
The Bose Sport Earbuds have just about everything you'd want from a pair of buds aimed for sports and fitness, with high-quality audio, reliable connectivity and exceptional comfort levels that should see you well through just about all types of exercise.
Reasons to buy
+

Incredibly comfortable

+

Excellent sound

+

IPX4 splash-resistant
Reasons to avoid
-

A touch bulky

-

Protrude from ears a little

-

No noise-cancellation
Welcome to this, my Bose Sport Earbuds review for Fit&Well.
After what was a long wait for those wanting Bose to release a more compact set of sports-focused buds, the American audio brand has finally given the people what they want in the form of the Sport Earbuds.
As the successor to the 2017 SoundSport Free earphones, which were celebrated as some of the best workout earbuds for their comfort while equally lambasted for their almost ridiculously large, ear-protruding design - the Bose Sport Earbuds have been given a totally new aesthetic (thank goodness).
Now, everything has been tightened up for a much more compact form that's light, sleek and much easier to wear. This, Bose says, will ensure the buds will offer increased comfort levels while remaining in your lug holes throughout even the most intense workouts, even long and sweaty ones.
With a $179/£179 price tag, they're not the cheapest buds out there, nor are they the most expensive - but this is Bose we're talking about. As always with this brand, you can expect a premium product that oozes minimal style and a fantastic audio quality.
Bose Sport Earbuds review: PRICE AND FEATURES
The Bose Sport Buds are available to buy now in three different colorways (blue, white or black) from most major retailers with an RRP of $179.99/£179.99.
In terms of features, you'll find a completely cable free (i.e. true wireless) setup with IPX4 sweat and wet weather resistance, a range of simple touch controls and around five hours of battery life per charge.
However, there's no noise cancellation tech here, which you'd typically expect for this price. Nevertheless, you can rely on Bose to bring you high quality sound and design, which (kind of) makes up for it.
Bose Sport Earbuds review: DESIGN AND COMFORT
If you're familiar with Bose's back catalogue, you'll know that over the years, the company has become exceptionally skilled at designing its in-ear headphones to sit stably in your ears, but in a way that's really comfortable - essential during workouts. While Bose perfected the art of this a while back, it took the brand much longer to shrink it down into a bud size that was on par with the more compact designs made by its competitors.
Thankfully, that's no longer the case. The Bose Sport Earbuds are a massive improvement on the super bulky SoundSport Free earphones the company released a few years back. The fresh, condensed size of these new buds makes up for the only downside of their predecessor. They're now about the size of a thumb, (which is admittedly still a little bigger than other buds on the market right now, but they're ultra lightweight, comfortable and look great in the ear.
They also come with three different sizes of Bose's new StayHear Max tips, which have been designed in a way so that the only thing touching your ear is the soft silicone, not a hard plastic like many other earbud releases. Here you'll find a unique umbrella-shaped tip alongside an extended flexible wing. These work together to keep each earbud securely in place no matter how much you shake your head or move around. This means the earbuds feel like you're not even wearing any and, naturally, makes them ideal for all kinds of activities, from running to cycling and even weights sessions and yoga.
Bose Sport Earbuds review: SOUND
Through something Bose refers to as its "acoustic port design", the Sport Earbuds are able to deliver an impressively big sound despite their smaller size. On top of this, there's an innovation called volume-optimised Active EQ, which works to automatically boost the lows and highs of the audio you're listening to so it sounds balanced, no matter what volume you have it.
Audio performance is therefore top notch, and I wasn't expecting anything less from Bose. The company has never let me down before when it comes to audio performance, so I wasn't surprised to find the Sport Earbuds offer a great, bass-rich and balanced sound.
We'd also like to note how the StayHear Max tips I mentioned earlier help to deliver deeper and more impactful low notes in music thanks to the tighter seal they create between the ear canal and the earphone.
Bose Sport Earbuds review: PERFORMANCE
With day-to-day use, the Bose Sport Earbuds don't fail to impress. Alongside top audio quality and a secure and comfort fit, you'll also find that the Bluetooth connectivity is solid. One thing I find all too often with true wireless buds is that they're vulnerable to outside interference. A sudden change of environment, such as a busy street or passing train on the platform, can sometimes interfere with the connection of one or even both buds. This hasn't happened once during my time using Bose's Sport Earbuds, which is a relief.
In terms of battery life, the Sport Earbuds are charged by placing them in the included charging case. If the case is charged, it will automatically rejuice the buds, providing two full charges, which equates to more than 10 hours of use. This means that each charge will give you around five hours of use, which - for us, anyway - is enough to power most workouts. If you're an endurance athlete, however, and looking for a pair of wireless buds to see you through an ultra marathon, for instance, then these aren't the earphones for you.
Another neat feature, though, is the Sports Earbuds' rapid charge capability. If your battery runs out when you're on the go, you can do a 15-minute quick charge and you'll get up to two hours of playback time in return. Handy if you've forgotten to charge your buds before a quick run.
Bose Sport Earbuds review: VERDICT
The Bose Sport Earbuds are a great set of all-round earbuds, touting high-quality audio, reliable connectivity and exceptional comfort levels that should see you well through all types of exercise (except for swimming, that is - remember that they're only splash proof!).
It's this combination of qualities that really make these earbuds stand out in a considerably crowded market. Yes, the battery life could be better but unless you're an endurance athlete, you're not going to have any issues in that department when using these for sports and fitness.
At just under £180, these earphones aren't the cheapest but the high grade design and features certainly make them worth it. We'd say these earphones are perfect for anyone who has a little bit of extra budget to spend on a pair of wireless earphones to ensure they're getting a quality product that will not only withstand the onslaught of a hot and sweaty prolonged workout, but stand the test of time, too.
ALSO CONSIDER
If you're in the market for a pair of workout buds that offer everything that the Bose Sport Earbuds do, but in a more compact form and with active noise cancellation, we'd not hesitate in recommending the Jabra Elite Active 75t. For the same RRP, you're getting everything and more apart from a slightly lower quality audio and less reliable connection.
The Sony WF-SP800N earbuds have been designed especially for sports and offers a much longer battery life than Bose's Sport Earbuds (nine hours), alongside a better water resistance rating of IP55 and digital noise cancellation. However, the sound quality, while good, just doesn't compare. They also don't look quite as sleek, in my opinion. It's good news for British consumers - these earbuds ring-in £40 cheaper than the Bose and Jabra models, with an RRP of £149. Unfortunately for our American readers, the US RRP is $199 - however they can usually be found for up to half that price. Check out our price comparison widget below for all the latest deals
Get the Fit&Well Newsletter
Start your week with achievable workout ideas, health tips and wellbeing advice in your inbox.
Lee Bell is a London-based journalist, copywriter, specializing in all things tech and lifestyle. He is also a qualified personal trainer. He started his journalism career a decade ago as a reporter covering the latest gadgets and innovations at tech tabloid The Inquirer. Lee went freelance in 2016 to broaden his expertise, moving into news, reviews and feature writing for a host of national print and online lifestyle titles such as GQ, Forbes, Esquire, Men's Health, Wired, The Metro, and The Mirror. He has an insatiable appetite for travel, Dharma yoga, and the odd outdoor challenge.