I used the Fiit workout app for six months, and it created a virtual workout community I loved
Fiit is easily one of the top ways to exercise at home, whatever your goal, but beginners might want to look elsewhere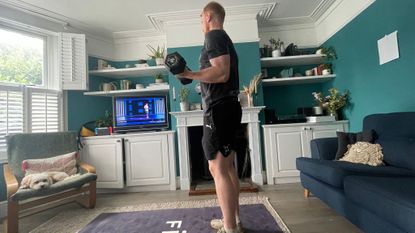 (Image credit: Future / Harry Bullmore)
Few fitness apps create a group class feel as authentically as Fiit. The instructors are likable, the workouts are varied and fun, and features like the optional leaderboards create a sense of community. The classes can be challenging, but there's a huge selection of sessions and programs on offer, making Fiit one of the top ways to hit your fitness goals, at home or the gym.
Reasons to buy
+

Free group classes without subscription

+

Connected workouts with certain exercise machines

+

Motivational instructors

+

Wide variety of activities
Reasons to avoid
-

Intense sessions not ideal for beginners

-

Limited amount of connected workouts
I'm a fan of group exercise classes. The community element isn't just motivating, it also holds me accountable when I don't feel like training. I also love the double social and fitness hit, which usually leaves me with a sweat-soaked grin.
But there will always be days I can't make it to the gym, or join my usual CrossFit session. That's when I find it useful to turn to the best workout apps to train effectively at home, and why I started regularly using Fiit for home workouts.
Unlike other options like Apple Fitness+ or Centr, Fiit recreates the in-person environment with live classes led by enthusiastic instructors, but also has a vast library of on-demand sessions for when you're looking to train hard.
I have an intense workout regime, bouncing between CrossFit and other strength training sessions, and I still found Fiit's workouts a challenge, so it is probably better suited to experienced exercisers than other apps I've tried like Peloton or JRNY.
However, there's still something for everyone due to the ever-growing variety within the app. You can try everything from yoga and Pilates to strength sessions, and even link to cardio machines for some classes.
1. The workouts are intense
My go-to training style is CrossFit, which has a reputation for grueling workouts. Some of the fitness apps that I've tried in the past have been good, but they haven't provided much of a challenge compared to my daily CrossFit.
This isn't the case with Fiit: its signature circuit-style workouts soon had my heart rate rising and my muscles burning. Of course, there are ways to scale these sessions to suit all fitness levels.
Most classes use timed intervals and rest times rather than a number of repetitions you need to complete, so you can work at your own pace, and can always drop the weight during dumbbell and kettlebell workouts.
But, being a competitive person, I stuck to my 27.5lb dumbbells for strength sessions and buried myself pushing for the highest score possible. But the fact that you can adjust the intensity to suit your mood or ability is a great feature.
However, because the classes are designed to push you hard, it's not the most accessible entry point to exercise. If you're looking for a workout app to add some movement into your day, you'll be better off with a platform like Apple Fitness+.
2. Structured plans kept me on track
I genuinely look forward to going to the gym most days. Where my motivation tends to falter is on all the things I should be doing to support this: getting enough sleep, eating healthily, and generally looking after my body.
Fiit helped with the last point, as you can opt in to longer-term plans to reach a specific goal, so I joined a four-week yoga plan, with four short sessions each week. And the app even sends you notifications to remind you to practice.
I know I could use one of the best yoga apps instead, but these are centered around yoga, while Fiit suits my primary passion for strength training and also offered me options to expand my horizons beyond lifting weights.
3. You don't need expensive connected equipment
While the best exercise bikes, including Peloton, can be an effective way to train at home, they're definitely not your only option. You have the option to connect to Concept2 rowers and Assault Fitness machines through Fiit to track your workouts.
And if you have other equipment at home (or the gym) you can still tackle running, rowing, or cycling workouts, just without the connected element. I gave it a go, and tried a session on the Concept2 BikeErg that saw me jump between the saddle and dumbbells in an enjoyable interval-style session.
As part of Fiit's group-class mode, I competed against a friend of mine, on the other side of the country, in real time. Fiit's heart rate tracker kept count of my reps and the live leaderboard let me know how I was getting on against my friend/rival.
This is the best recreation of a class setting I've experienced with a fitness app, and I quickly forgot I was in my kitchen as I chased down my buddy's ever-increasing score on the screen.
The connected kit workout selection isn't huge, though the team at Fiit says more on the way. Thankfully, you don't actually need the heart rate monitor (available at extra cost) to take part in most of the live and on-demand sessions anyway.
4. You don't have to break the bank
When Fiit launched in 2017, it came with a fixed-price monthly subscription. It currently costs $7 per month for over 200 equipment-free classes, with unlimited access to the full library setting you back $20 a month or $120 annually.
But, to help bring the benefits of exercise to as many people as possible, Fiit has also made some of its content free, so anyone can access as many of the live classes they want, without paying a cent.
Fiit also lets you invite friends, family, and even coworkers, to your chosen live classes, whether they're signed up to the app or not. I really like this feature, as it meant I got some of the community elements I love, even when miles apart.
5. Fiit isn't just for home workouts
I alternated between apps during the Covid-era lockdowns; from Centr to Freeletics. But now that businesses are open again, I'm more interested in a hybrid approach, where I train at home and at the gym.
Fiit sits in that neat spot, where there are plenty of options if you want a low-equipment setup at home, and then complex sessions for when you're at the gym or fitness center.
But, given my CrossFit fix, I'll probably stick with Fiit for at-home sessions, but I can definitely see how it'd be useful at the gym, offering guidance for newcomers and a reliable experience for regular exercisers.
Joining a gym can be daunting: I remember when I first walked into one 10 years ago, I headed straight to my safe space of the treadmill and stayed there for the full 60 minutes. But I found that having a program or plan gives me direction and makes me more productive.
Having a guided class on your phone through Fiit works in a similar way, helping you decide what to do, and teaching you which equipment to use to make the most of your time in the gym and hit your fitness goals.
Should you subscribe to Fiit?
After using it for several months, I really believe Fiit is one of the top fitness apps for taking your training to the next step, whether you want to do that at home or at the gym; with loads of equipment or just a set of dumbbells.
The classes are challenging, and can help you develop strength, cardio fitness, endurance, and your mobility. But they're also quite intense, so if you're a fan of high-intensity interval training (HIIT), i wouldn't hesitate to recommend Fiit.
The free group classes might be all you need, or they could be a great entry point to Fiit's other offerings, like yoga routines, Pilates programs, breathwork sessions, and barre classes. But if those are your primary focus, you'd be better served by a specialist app, like Alo Moves.
I found the workouts intense—even those labeled "beginner"—so it pays to have exercise experience under your belt before joining. That said, if you're looking for engaging group classes and exercise plans to upgrade your training, this is the app for you.
Get the Fit&Well Newsletter
Start your week with achievable workout ideas, health tips and wellbeing advice in your inbox.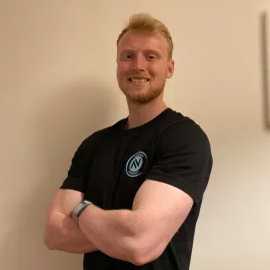 Harry Bullmore is a Fitness Writer for Fit&Well and its sister site Coach, covering accessible home workouts, strength training session, and yoga routines. He joined the team from Hearst, where he reviewed products for Men's Health, Women's Health, and Runner's World. He is passionate about the physical and mental benefits of exercise, and splits his time between weightlifting, CrossFit, and gymnastics, which he does to build strength, boost his wellbeing, and have fun.
Harry is a NCTJ-qualified journalist, and has written for Vice, Learning Disability Today, and The Argus, where he was a crime, politics, and sports reporter for several UK regional and national newspapers.