Fitbit Inspire HR review: a great first fitness tracker for counting steps and more
The Fitbit Inspire HR is a compact and low maintenance fitness band that features slimline looks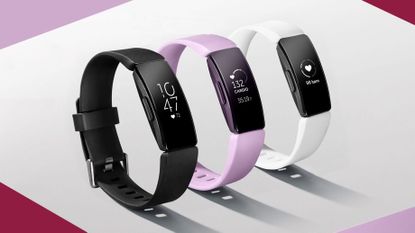 (Image credit: Fitbit)
The Fitbit Inspire HR is a solid choice if you want a simple steps tracker that will keep up if you start running as a hobby. Other brands offer more for your money though, and the screen doesn't hold up well in bright sunlight.
Reasons to buy
+

It's small and not nerdy-looking

+

Easy to use

+

Has some real fitness cred
Reasons to avoid
-

The screen is small and a relatively dim

-

Rivals offer Full GPS at the price
Why you can trust Fit&Well Our expert reviewers spend hours testing and comparing products and services so you can choose the best for you. Find out more about how we test.
Fitbit is almost as synonymous with fitness bands as Google is with web searches. It's Inspire line - which includes the Fitbit Inspire, Fitbit Inspire HR and the newest model, the Fitbit Inspire 2 - is the closest we get to what the company was traditionally all about.
The Fitbit Inspire HR is a small, low maintenance fitness band that counts your steps and reminds you to get off your backside more often.
It's friendly, easy to use and cute. And unlike the basic Inspire, the Fitbit Inspire HR has features that can take you further. Connected GPS and heart rate tracking make it perfect for the transition from just aiming to walk a little more, to trying out running or a couch-to-5K program.
Chinese brands like Huawei, Honor and Xiaomi do offer more features for less cash, but its sheer simplicity may mean the Fitbit Inspire HR is a better fit if you're shopping for your first fitness tracker.
Right - let's dive into the pros and cons of the Fitbit Inspire HR in my full review...
Fitbit Inspire HR: Price & features
The Fitbit Inspire HR (opens in new tab) is the pricier model of the original two in the Inspire range. It costs $99.95/£89.99, a chunk more than the $59.99/£49.99 Fitbit Inspire (opens in new tab).
If you just want step tracking and nothing more, you might as well buy the cheaper one. However, if you think wanting to hit 8000 or 10,000 steps a day might develop into something more, buy the Inspire HR. It'll save you upgrading down the road.
There are two crucial differences here. The Inspire HR has Connected GPS, which means it borrows the location data from your phone as you track a run, walk or bike ride. This means you get much more accurate speed and distance readings, and can see them as you exercise.
I also believe a fitness tracker isn't complete without a heart rate scanner in 2021. The Inspire HR has one, whilst the standard Inspire does not.
And when Huawei, Xiaomi and Honor make some of the best fitness trackers around for the same - or less - money as the Inspire, it's the Inspire HR I tend to recommend to those keen on owning a Fitbit.
Neither Fitbit Inspire is the absolute best value fitness tracker you can get at its price, but I enjoyed using the Inspire HR. It also comes with "large" and "small/medium" silicone bands too, so you don't need to worry about whether it will fit or not.
Let's look into some of the reasons, and some of the limitations you need to consider.
Fitbit Inspire HR: Design
Simplicity: it's a word I've already used in this review. But having tried out almost every other big-name tracker under £100, I think it's the best argument for the Fitbit Inspire HR.
Lots of fitness bands are small, but the Fitbit Inspire HR is among the trimmest. You could wear this alongside a normal watch and it will not look silly.
It's a lozenge of plastic, and the two sides of the strap are held in place by two sliding fasteners. You can remove them, and stacks of funky and even jewellery-like straps are available online. There are more options here than if you buy a cheaper Huawei or Xiaomi tracker.
However, the entirely central part is plastic, and that includes the screen covering. I prefer to see glass, because it's harder than plastic. The harder a screen covering, the less likely you are to scratch it. I've used the Fitbit Inspire HR for more than a year now, on and off, and there's still no major damage to the screen. But toughened glass would be better.
I am, however, a fan of the bundled strap. Some cheap fitness trackers have silicone straps that make you slip the slack under a slot in the other half, but the Inspire HR has a classic buckle watch strap.
There's a bit of give to the silicone used, too, so you can fasten it tight enough for good heart rate readings without ending up with an impression of the strap's contours etched into your skin. I tend to loosen it by one notch when not tracking a run. That way it's so comfortable you often forget you're wearing the thing. After all, it weighs just 17g including strap (according to my scales).
The Fitbit Inspire HR is also one of the easiest tracker to jump in and start using. There's one button on the side, which takes you back to the watch face, and only one primary gesture.
You flick up and down the screen to cycle between pages. From the watch face, swipe up to see your current stats. These might be your heart rate, your steps for the day, how far you've walked and how many calories you've zapped.
Swipe down from the watch face to see features/modes. These are things like active run/cycle tracking, alarms and the "relax" mode.
By using a flat interface, Fitbit has made a gadget you don't really have to learn to use. Assuming you're not a real technophobe, it's all pretty intuitive.
Fitbit Inspire HR: Display
You'll see all this on the Fitbit Inspire HR's 1.4-inch monochrome OLED screen. At 128 x 72 pixels its image is not Apple-Watch-smooth, but is sharp enough to make the little animated graphics look solid.
Interface pages scroll by with nice bouncy transitions, which have a crucial part to play in making a simple fitness tracker like this seem polished and glossy.
Data density is where you pay for Fitbit's approach, and this is a reminder I'm not really the target audience for the Inspire HR. Each stat gets its own page. When you're not out for a run, calories, steps, heart rate and so on each get their own page.
For day-to-day steps tracking, this is fine. And, pro tip, the default watch face actually shows the time and a tiny read-out of one stat, and you can cycle through these stats (steps, heart rate etc) by tapping the screen.
However, it continues when you go out for a run. I like to be able to see several stats at once when exercising, ideally distance, heart rate and pace. The Fitbit Inspire HR approach means you have to flick through a few screens to get to them, and can only look at one at a time.
Still, no-one claims the Inspire HR is meant for stat obsessives or marathon-running types.
Screen brightness is an issue more of you should take note of. You can't change the brightness of the Fitbit Inspire HR's screen, and it's quite hard to make out in bright sunlight.
Overcast day? It gets by just fine, but if there's one part of the Inspire HR I'd change, it's this.
The band also lacks any kind of "always on" mode, either for day-to-day use or during exercise. It wakes up when you flick your wrist to your face, but the snappy time-out may get on your nerves if you want to keep a keen eye on your heart rate during a workout.
It's another reminder the Fitbit Inspire HR is a turbo-charged step counter, not really a training watch.
Fitbit Inspire HR: Health and fitness features
Exercise modes
If you go out for a walk wearing the Inspire HR it'll detect this and log the session in the Fitbit app. You don't have to do anything.
However, for runs and bikes rides you should head into the Exercise section and manually start a tracked session. Here are the available modes:
Run
Bike
Swim
Treadmill
Weights
Interval Workout
Where's hike or walk? The Inspire HR does not have an altimeter, which measures your elevation, so Fitbit hasn't put any hiking modes in here. But just start the run mode before setting off and you'll get a nice map of your route to look at (if you take your phone with you, anyway).
Run and Bike use Connected GPS to record location data, Treadmill uses the band's accelerometer to estimate your distance. Swim detects when you've finished a lap, but Weights just records your heart rate and time spent, not reps. It's most useful if you want to set a workout duration. The Inspire HR then buzzes when you're done.
Heart rate tracking
The Fitbit Inspire HR has a standard optical heart rate sensor, one that works 24/7 as standard. It does a perfectly fine job for running and cycling sessions too.
Pitted against my Wahoo Tickr (opens in new tab) chest strap sensor (one of our top picks for best heart rate monitor) it was often a little off, recording higher rates at high exertion levels, but is generally pretty quick to respond to changes in your effort.
While it's not the perfect fit for HIIT sessions where your heart rate goes up and down like a yo-yo, it does the job well for someone who goes for runs a couple of times a week. You can see a graph of your heart rate after you finish in the Fitbit app.
I also like how Fitbit deals with your resting heart rate. This has an entry on the "front page" of the app. It shows a graph of your heart rate through each day, and these entries are headed-up by your "resting heart rate" reading. It's actually one of the better ways to see your fitness level improve over time, and you can flick through weeks and months of data in just a few seconds.
Sleep tracking
The Fitbit Inspire HR also has, like virtually all of its competitors, sleep tracking. It uses the band's motion sensors to see how much you move in the night, and translates it into a chart showing your sleep stages.
These are REM, light and deep sleep. You'll also see any periods of wakefulness in the app, and each night is given a sleep score.
I don't advise putting too much weight on these results. All wearable sleep tracking is at least slightly flaky. However, take a step back and the data can be useful.
Take a look over the last week's result and it can be a useful wakeup call that, wow, you really need to get to bed earlier next week.
Once again, one of the Fitbit Inspire HR's main strengths is how the Fitbit app displays your data, no necessarily how great the data itself is.
Fitbit Inspire HR: Connectivity
This kind of effect is particularly achievable in the Fitbit Inspire HR and other Fitbits because of the way the app relays data.
It's clear, colourful where colour helps, and there's nothing like the intimidating avalanche of data you'll see when loading up Garmin Connect.
Still, there's more if you want it. The Community section lets you connect and compete with friends and strangers. The Discover tabs offers fitness plans and challenges, but most of these are locked behind the Fitbit Premium paywall.
This costs $9.99/£7.99 a month. It's not cheap. But I've used Fitbits for years at a time without any of these "premium" parts. It's additional content, not something the Inspire HR feels bereft without.
Fitbit Inspire HR: Other features
The Fitbit Inspire HR has several other smartwatch-like features. It can receive notifications from your phone. These aren't restricted to SMS and call alerts. You can choose which apps' notifications make it to the band in the Fitbit app.
You can't reply from the Inspire HR, these are just to let you see that last WhatsApp message without taking your phone out. The screen is a little too small for reading long messages too, but this is still a feature I recommend switching on when you setup your Fitbit.
Unlike some low-cost trackers, you can't change the Inspire HR's watch face on the watch itself. But there are 15 additional designs in the app. Most of these are just light style changes. Some have cute line drawings of animals, for example. But "Stat Heavy" is a little different, letting you see all your main fitness stats right there on the watch face.
You can also set alarms and timers, and the Inspire HR's vibration motor has a decent amount of power for a tiny, low cost tracker. It should be able to wake most, if not the heaviest sleepers.
This vibration is also used in the Relax mode, which offers mindfulness breathing exercises. It's a little thin and gimmicky, and the vibrate motor is really not refined enough to provide relaxed-feeling tactile feedback. But, hey, it's better than nothing.
One obvious part is missing. The Fitbit Inspire HR does not have a Find My Phone feature. This would let you set off a sound alert on your phone, so you can find it when it works its way under the sofa cushions. It's a feature that goes unused until you need it. And then in an instant you love the thing.
Fitbit Inspire HR: Battery
The Fitbit Inspire HR is rated for five days of use between charges, and that's about what you can expect here. If you don't wear it 24/7 it may last a full week, as it seems to enter a hibernation state when not worn, switching off the heart rate sensor.
This isn't the longest-lasting tracker around. The Huawei Band 4 Pro lasts around a week and the Xiaomi Mi Smart Band 5 up to two weeks. But five days is still enough to get you far away from the every-day-charge doldrums of a smartwatch.
The Inspire HR uses a little magnetic clip-on adapter to charge. Thanks to the popularity of this series, you can pick up replacements online fairly cheaply.
Fitbit Inspire HR: Verdict
The Fitbit Inspire HR makes a great first fitness tracker, and takes us back to the roots of what Fitbit was all about when it first arrived. It made step counting a hobby, a surprisingly competitive one.
This particular band offers scope for more advanced tracking too. A heart rate sensor and Connected GPS are must-haves if you want to get real insight about runs and bike rides.
Chinese brands like Huawei and Xiaomi do get you more for your money, it's true, including colour screens and longer batter life. However, there's an enduring appeal to Fitbit's friendly software, particularly if you have friends who also own Fitbit trackers. A band can help your motivation, but a little healthy competition is even more effective.
Also consider
We've seen the Xiaomi Mi Smart Band 5 (opens in new tab) fitness tracker on sale for as little as $30/£27.99 online. And it's a real bargain at a slightly higher price too.
It covers the same core features as the Inspire HR, including Connected GPS tracking, basic notification support and all-day heart rate. The Xiaomi's screen is much easier to read on bright days too, as it has a more powerful colour OLED panel.
It may not be as good-looking as the Inspire HR to some and we prefer Fitbit's app. But in the tech-per-dollar stakes, the Xiaomi Mi Smart Band 5 wins.
Fitbit must be no fan of Huawei. Its Band 4 Pro does everything the Inspire HR can do, but also packs in Full GPS, longer battery life and a brighter colour screen in for less money.
The screen covering is glass and the display surround aluminium too, for an extra touch of class. Its interface can feel a little more fiddly than Fitbit's at times, but for sheer value for money the Band 4 Pro is hard to beat.
The Inspire HR's lower-cost sibling looks almost exactly the same front-on, but it loses several core features. There's no heart rate sensor, no Connected GPS for real location tracking during workouts. This means it is not really in the same league as the Inspire HR as a fitness tracker and should only really bought if you're after what made Fitbit famous in the first place: competitive step counting.
Andrew is a freelance contributor to Fit&Well. He has written about health and fitness for more than a decade, specializing in consumer tech. When not testing fitness tech for Fit&Well he writes about fitness for Forbes and contributes to publications including WIRED, TechRadar, Stuff, Trusted Reviews and others. Andrew runs to keep fit, and can often be round jogging around the parks of South London with several wearables and a heart rate strap attached. He also enjoys indoor cycling, using a turbo trainer and platforms like Zwift to get some kilometers in while avoiding London's busy streets.