Flybird Adjustable Dumbbell review
The Flybird Adjustable Dumbbell set is easy to use and perfect for home workouts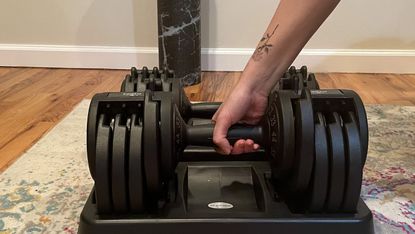 (Image credit: Brielle Diskin)
The Flybird Adjustable Dumbbell set offers a sleek, easy-to-use design that makes it painless to switch between weights.
Reasons to buy
+

Simple to adjust

+

Excellent design

+

Compact
Reasons to avoid
-

Only 5 weight options

-

Round shape means weights roll
Why you can trust Fit&Well Our expert reviewers spend hours testing and comparing products and services so you can choose the best for you. Find out more about how we test.
If you're in the market for a new set of weights, then the Flybird Adjustable Dumbbells could be a good option. They're remarkably easy to operate, requiring a simple twist of the handle to shift between weights. This makes for a seamless workout, where you don't have to pause and fiddle with annoying dials.
The handle itself feels good in the hand, thanks to its non-slip grip. And they have the benefit that almost all of the best adjustable dumbbells have, which is being space-saving exercise equipment.
We rate them highly, but they haven't quite made the top spot. This is partly because they have a 'round' shape, which means they can roll away during a workout session. They're also only adjustable in either 5lb/2.3kg or 11lb/5kg increments depending on which model you get.
For context, something like the NordicTrack Select-A-Weight model allows you to add smaller 2.5lb/1kg amounts, so you can use the principle of progressive overload to build strength at a steady pace.
Flybird Adjustable Dumbbell: Price
The MSRP for a set of the Flybird Adjustable Dumbbells is $519.99 for the 55lb/25kg set and $276.99 for the 25lb/11kg set.
If you're buying in the UK, you'll have to pay a bit more thanks to import fees – a single 55lb/25kg dumbbell will cost you around £550 while a single 25lb/11kg will set you back by £267. These dumbbells definitely sit at the top-end of the price scale, alongside models like the Bowflex SelectTech 552i and NordicTrack Select-A-Weight. (If you're looking for a cheaper strength training tool, you can find a bargain in our list of the best dumbbells on sale.)
You might only need to buy a single Flybird dumbbell, if you're using them for things like one arm swings, single dumbbell shoulder raises, and goblet squats. This would save you some dollar, as a single 25lb/11kg model is $138 (MSRP) and a 55lb/25kg model is $259.99 (MSRP.)
Flybird Adjustable Dumbbell: Weight range
The dumbbells are available as 25lb/11kg or 55lb/25kg models. For the 55lb/25kg, which is what we tested for this review, the weights can be adjusted from 11lb/5kg to 55lb/25kg, going up in 11lb/5kg increments. On the 25lb/11kg model, the weights can be increased by 5lb/2.3kg each turn, with the lightest weight option being 5lb/2.3kg.
This is actually one of our issues with the weights; while other models, like those produced by NordicTrack, allow you to adjust in tiny 2.5lb/1kg increments, here you have to make a sizeable leap from 11lb/5kg to 22lb/10kg on the heavier model, and 5lb/2.3kg to 10lb/4.5kg on the lighter option. It's not ideal if you're trying to slowly build up strength.
Flybird Adjustable Dumbbell: Design
The Flybird Adjustable Dumbbells have a sleek, simple design. The weights feel secure on both ends of the dumbbell. The handle is coated in a black plastic material that increases friction, resulting in a sturdier grip. At 14.6 x 7.9 x 6.7 inches, the handle is on the longer side, which we liked as it gave a more balanced feel when holding the dumbbells.
These dumbbells feature a lock design that ensures the dumbbells will not fall off during use. We didn't find ourselves worrying about our toes or hardwood floors. But you do need to be mindful of the round shape of the weight stacks when placing the dumbbells down on the floor. One time, when we had them on the 11lb setting, they rolled away.
You can actually use the weights themselves during a workout, without the dumbbell attached. We used two weight stacks for tricep extensions behind our head. The horseshoe-like shape of the weights made them easy to use on their own.
Flybird Adjustable Dumbbell: Set-up and features
Changing weights on the Flybird Adjustable Dumbbells requires the dumbbells to be in the tray. The anti-slip grip on the handle makes it particularly easy to operate the weight-changing mechanic, though – it can be done with one quick twist.
Included in the dumbbell manual is a page of 15 exercise suggestions, which we tried out with the dumbbells. These were fine, but you'll get a better workout if you try something pacier, like following a video workout or doing strength training classes.
Flybird adjustable dumbbell: Verdict
We really liked the design and feel of the Flybird Adjustable Dumbbell set. The shape is sleek and the handle makes adjusting the weight very easy, with the added bonus of a satisfying clicking sound when doing so. We work from home and found ourselves taking breaks throughout the day to squeeze in a quick workout. But we also enjoyed ending our day with full body workouts, which were made more challenging thanks to the dumbbells.
We found that the weight felt evenly distributed in the dumbbells when we picked them up and they didn't rattle when we threw them around. All in all, a solid option for most home-based strength training.
Flybird adjustable dumbbell: User reviews
The dumbbells have 4.6 out of five stars on Amazon, with 3,374 global ratings overall. Positive reviews mention that the weight-changing mechanism is easy to operate. Happy customers also comment that the weights don't feel as bulky as competitor models.
However, there are a handful of one-star reviews where people have commented that plates have come off during a workout, as the plastic mechanism wears down. Some buyers have also noted that the weight doesn't feel evenly distributed when you pick up the dumbbells.
Flybird adjustable dumbbell: Alternatives
When it comes to weights, our favorites are the Core Home Fitness dumbbells. They're easy to adjust, requiring you to simply twist the dumbbell in its cradle to add on more weight. They're also a little cheaper than Flybird at $399, and they come with a two year warranty.
If you're looking for something that's a lot cheaper, you will probably want something like the Amazon Basics 40-pound weight set. These are very basic, with a screw collar mechanism that means you have to manually add on the weighted plates. At $50, you can't expect fancy features, but they are durable thanks to their steel design.
Brielle Diskin is a freelance journalist based in New York City. She covers health, fitness, wellness, and pop culture. Unable to start her day without a quick Pilates flow and a hot cup of water with lemon, she's very passionate about having a healthy body and mind. With her writing she hopes to provide readers with the tools and information they need to lead healthy lifestyles.

She enjoys long walks on the treadmill as much as she enjoys long hikes along the trails in Upstate New York. One of her favorite topics of discussion is food, particularly cooking. She works hard at creating nutritious and delicious recipes with a firm belief in meal planning over meal prepping.