Bowflex SelectTech 552i dumbbells review
The upgraded Bowflex SelectTech 552i dumbbells are a nifty piece of kit for any home gym.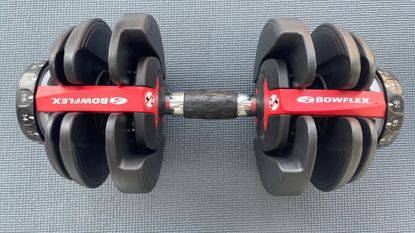 (Image credit: Vicki-Marie Cossar)
A premium set that certainly looks the part and offers a great variety of weight adjustments.
Reasons to buy
+

Sleek design

+

Connects to the brand's app with free workouts

+

Great variety of weight adjustments

+
Reasons to avoid
-

Has the potential to break
The Bowflex SelectTech 552i dumbbells are incredibly popular. Regularly sold out on the retailer's site – and in other places, like Amazon – they're a smash hit with fitness enthusiasts. But we don't rank them as the best adjustable dumbbells on the market.
They look pretty sleek and have some commendable features, but we think there are better weight-changing mechanisms out there. On the Bowflex dumbbell, you have to fiddle around with two dials to select your desired weight. Other dumbbells, like the Core Home Fitness model, allow you to change weights with a flick of the wrist.
Being able to change quickly between weights is important in a workout, which is why we've knocked off a few points in our rating. The Bowflex 552i dumbbells are also incredibly expensive, retailing for nearly $600. (If you're looking for a more affordable weights set, try our pick of the best dumbbells on sale.)
The design does manage to pack in 15 different weight options and it feels great in the hand. The weight itself feels evenly distributed across the dumbbell too, so there's no lopsided feeling when you pick it up.
Bowflex SelectTech 552i: Price
These are some pricey dumbbells, costing $599/£460 for a pair. For context, most adjustable dumbbells are priced at around $499. You could save money by buying a single dumbbell, which would cost half the price – but you'd limit yourself in terms of the exercises you could do.
Bowflex SelectTech 552i: Weight range
Say goodbye to 15 sets of dumbbells littering your training area, as the 552i set from Bowflex can adjust from 5lb/2.3kg to 52.5lb/24kg using a dial located at the end of each dumbbell. The fact that there's 15 weight options in the set means you really can play around during your session, and we think this is a compelling argument in the adjustable vs fixed weight dumbbell debate.
These are the lighter dumbbell options in the Bowflex SelectTech collection, as the brand also has its SelectTech 1090i dumbbells which have a weight range of 10lbs/4kg to 90lb/41kg and increase in 5lb/2.3kg increments.
Alternatively, the Bowflex SmartTech 560 dumbbells have a weight range of 5lb/2.3kg to 60lb/27kg and are the brand's more technology-inspired offering with integrated Bluetooth tracking. Link them up with the Bowflex SelectTech app and you can track your weight and calories burned, while also counting reps and sets. It sends the performance data to your phone, while video coaching also ensures perfect form – a great option for beginners.
Bowflex SelectTech 552i: Design
These have a super sleek premium design, featuring an all-black cradle and weight plates with a hint of chrome in the handle. The deep red Bowflex strip at the top is a nice design touch. The round weight plates also have a slight straight edge on the bottom side to prevent the weights rolling away on the floor between sets.
The weight is distributed evenly along the barbell, so they feel safe when you're performing a move. Plus, as with most adjustable dumbbells of this calibre, there is hardly any noise – despite a bit of wiggle room when hurling them about during a clean and snatch. Durable moulding around the metal plates gives them a really smooth lift-off and quieter set-down back into the cradle, too. They're also pretty compact, measuring in at L16.9in/42.9cm x W8.3in/21.1cm x H9in/22.9cm (including the cradle).
Bowflex SelectTech 552i: Set-up and features
There's real versatility here when it comes to training thanks to the abundance of weight options. You can easily switch between your weight preference for triceps and biceps during a superset and play around with some heavier options for legs.
However, while the dials themselves are incredibly easy to move around, you need to turn both the dials in opposite directions to exactly the same point for the weights to align. In other words, your right hand would turn clockwise to reach the 20lb weight marker while your left hand would turn anti-clockwise to reach the same marker. This is a little confusing at first.
The weights will still lift out of the cradle if both markers aren't aligned, so be wary of uneven barbell distribution. There are small buffer plates on each end of the hand grip. Unfortunately, as the weight plates are placed at various locations along the barbell, it's not really possible to use the weight plates themselves as anchors for exercises such as a tricep extension where you might want just one heavy weight and two hands to hold it. This was something we enjoyed doing when testing out the Flybird dumbbells.
The old Bowflex 552 dumbbells were discontinued and in their place stand this 552i version with some subtle changes to design and features, including a new hand grip that has a soft rubber coating. This is a much more comfortable piece of kit to have at home, especially when compared to the hash metal offering of the Amazon Basics Adjustable Dumbbells.
The instructions clearly state, however, that you're not supposed to lean on the Bowflex 552i's handles or use them to support your body weight in something like a press up as this could damage the weight plates or the locking mechanism. This is a little frustrating, but understandable.
Purchase of these also gives you free access to the Bowflex SelectTech training app for iOS and Android – although, to be honest, you can get access to this for free anyway. You won't be able to connect it to your devices if they don't have Bowflex technology, but you can access the workouts on there.
The app itself is a pretty basic design when compared to the abundance of free apps currently on the market, but there's a six-week challenge you can participate in and six simple workouts to get you started including Armageddon, Back Attack and Legs of Steel. You can also create your own workouts and save them for a rainy day.
Bowflex SelectTech 552i: Verdict
We loved the slick design and colour scheme of these dumbbells. However, while these are arguably the most popular adjustable dumbbells on the market, we're not completely sold. We didn't like the double rotation system for the weight adjustment and found the barbell handles on other models, such as Core Home Fitness and Ativafit, more comfortable to use.
The whole product is also quite cumbersome and for the price, we would expect a much more progressive training app than what's currently there. Saying that, it's got a really diverse weight offering so it's well suited to most people.
Bowflex SelectTech 552i: User reviews
There aren't that many user reviews available for the 552i model yet - most user reviews relate to the older design (the 552.) However, we did manage to find a handful on a UK website called Fitness Superstore. There, the dumbbells have been awarded an impressive 4.9 out of five stars, with most people commending the quality and look of the product.
We also found a reseller page on Amazon, where this particular design had been sold. Reviews are overwhelmingly positive, with the dumbbells earning an impressive 4.7 out of five stars and people praising the high-quality feel of the product.
Bowflex SelectTech 552i: Alternatives
In the mid-range market, the Core Home Fitness 50lb/22.6kg adjustable dumbbells have a much speedier weight adjustment with just a flick of the wrist. The aluminium cradle might make them look cheap, but they're actually fairly robust.
The Ativafit 55lb adjustable dumbbell set is cheaper than all of the above and replaces 10 dumbbells in one. While its mechanism isn't quite as easy to use as that on the Core Home Fitness design, it does come with a very comfortable rubber grip.
Get the Fit&Well Newsletter
Start your week with achievable workout ideas, health tips and wellbeing advice in your inbox.
Vicki-Marie Cossar is a UK-based freelance journalist who has more than 20 years experience writing across the topics of health, fitness, fashion, beauty and wellbeing. She was formerly responsible for the Life & Style section of Metro's features department (now called Trends) and currently writes Metro's weekly Wellbeing supplement.