Honor Watch GS Pro review: a good looking, long-lasting fitness watch
The Honor Watch GS Pro fuses good fitness smartwatch looks with impressive battery life and a super-bright screen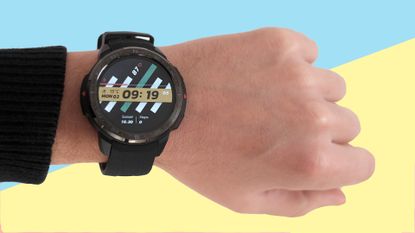 (Image credit: Andrew Williams)
With good looks, sound exercise tracking and the longest battery life of almost any other we've tried, the Honor Watch GS Pro is a great fitness smartwatch. It lacks advanced features that would push it into best-in-class territory, which should give hardcore fitness fanatics pause for though. But if your routine mostly consists of well-worn running and cycling routes or general workouts, it has the exercise features you need.
Reasons to buy
+

Ultra-long battery life

+

Solid heart rate readings

+

Outdoors-friendly bright OLED screen
Reasons to avoid
-

Doesn't have the feature depth to match its appearance

-

Lacks full on-screen maps
The Honor Watch GS Pro looks like a hardcore runner's watch, but don't go comparing it to a Garmin Fenix 6 or Suunto 9.
This watch's core fitness abilities aren't all that different to others in its family, with features that you'd often find on the best running watches. You still can't see maps as you hike, upload GPX route files to use the Honor Watch GS Pro as a bike computer, control a bike turbo trainer or hook up a heart rate chest strap.
However, most people don't need advanced features like these. The Honor Watch GS Pro performs well as one of the best exercise watches, with reliable GPS and heart rate readings that match those of a chest strap fairly well.
Plus it lasts absolutely ages off a charge; 25 days use if you go easy, and at least a week if you hammer it with the always-on screen mode and lots of GPS-tracked activities make this one of the lowest upkeep watches around.
Honor Watch GS Pro: price and features
The Honor Watch GS Pro was released in September 2020 and retails at $319.99 in the US or £249.99 in the UK. This puts it in contention with fitness watches like the Samsung Galaxy Watch 3, Apple Watch SE and Garmin Instinct.
It sits somewhere between these two 'fitness smartwatch' and 'runner's watch' camps. It has a rugged appearance and ultra-long battery life, but the color-rich OLED screen has plenty of the glossy tech charm some of you may want.
The main Honor Watch GS Pro caveat you'll find in the breakdown below is the watch does not have the depth of features you'll find in some of the best fitness watches. This is something to consider if you are a keen cyclist or hiker, or like to plan out run routes on roads you don't know by heart (if the latter is you, check out Fit&Well's edit of the best running watches).
Honor Watch GS Pro: fitness tracking
The Honor Watch GS Pro has a bunch of extra hardware for health and fitness tracking, but the core elements you should care about most remain the reliability of its GPS and heart rate readings.
This heart rate sensor is good enough for all kinds of exercise. It's fast enough to keep up with interval workouts, and its readings are usually within a couple of bpm of my Wahoo Tickr heart rate strap, which I use as a reference.
On one run the Honor Watch GS Pro recorded a peak heart of 171bpm, to the Tickr HR's 168bpm. But after overlaying the graphs the Honor's results looked like a near-identical twin.
There are also none of the tracking issues I encountered with the Huawei Watch GT 2 Pro, which is a sister watch of sorts. That watch has a tendency to miss out chunks of data with certain types of exercise, as if the sensor went to sleep briefly when exertion levels dropped. The Honor Watch GS Pro performed much better.
GPS accuracy is good too. After an 8km run the Honor Watch GS Pro was within a couple of hundred meters of the reading of the Samsung Galaxy Watch 3 and the Samsung Galaxy Note 20, using its internal GPS for a third result.
Your data ends up in the Huawei Health app (Huawei being former owners of the Honor brand), complete with the usual stack of heart rate, pace, cadence and altitude graphs. And here we come to the first potential road block.
Huawei Health only lets you sync up your data to Google Fit and MyFitnessPal. This may be an issue if, for example, you are a cyclist who wants to link up to Strava.
You could link to Google Fit and then export data to Strava. But you don't have to look far online to find many cyclists annoyed Huawei does not offer proper integration. Huawei has been limited to MyFitnessPal and Google Fit for years, and any plans to expand this are at best vague.
Honor Watch GS Pro: exercise modes
The Honor Watch GS Pro has a huge stack of exercise tracking modes. You see this across all of Honor's latest trackers, beyond the basic bands.
However, as I said about the Huawei Watch GT 2 Pro, don't give it too much credit for this. Only a handful of them have anything approaching an admirable level of depth.
A huge number of the "100+" modes only show your session duration and heart rate. Beyond this, a great many of the Honor Watch GS Pro's modes are thin. There's no rep counter in the Strength mode. You can't record your scores in Archery or Darts. And, unlike the cheaper Watch Fit, there are no guided exercises for things like Yoga.
That said, the Honor Watch GS Pro tracks the essentials perfectly well. Go for a run and you'll see four stats on-screen at once: all the basics you need.
There are separate pages for ascent, other metrics, and even an "AI ghost" that shows your pace versus a fictional opponent based on your general performance level. It's a bit silly, but may keep the more competitive among you motivated.
Other modes have stats tailored to the specific pursuit. There's an SPO2 (blood oxygen) page in the Mountain Hiking mode, for example. Skiing highlights your max speed and descent. The Indoor Swim mode attempts to record your laps based on the pool length, which you set manually.
The Honor Watch GS Pro's "serious fitness watch" design reminds me of the advanced features you get in a dedicated exercise watch - but not here. You can't see maps when you go for a walk, run or cycle. You can't hook up a chest strap heart rate monitor, a cadence sensor or power meter. You can't upload a GPX file to let the Honor Watch GS Pro act as a bike computer or navigation tool.
The closest you get is Route Back, which is a "breadcrumb" view that shows a line of your route, but without the context of any map data. Garmin's closest rival in price, the Instinct, doesn't have full mapping either, but you can upload routes to it so you know when to take a turn.
These issues highlight the problem with Huawei's higher-end 2020 watches. The build and surface-level features have been given a big upgrade, but the underlying software is really much the same as that of the older Huawei watches and the cheaper Huawei Watch Fit/Honor Watch ES.
I love this software in a $150/£150 watch, but its limitations become a little too clear at this price point.
The add-on running features are friendly ones made for people starting out with running as a hobby. A set of guided runs tell you when to speed up, slow down or aim for a level of exertion. It's a bit like a couch-to-5K app on your wrist.
Honor Watch GS Pro: advanced features
The Honor Watch GS Pro doesn't have real depth, so what are the new features that can attempt to justify the added cost?
This watch has a blood oxygen saturation monitor, support for music, a barometer and compass. The first, blood oxygen/SpO2, is one of the most talked-about wearable features of 2020, even though it has been around for years. The Withings Pulse Ox was one of the first, and that launched in 2014.
Blood oxygen readings use red and infrared lights built into the heart rate sensor array. As more and less oxygenated blood absorbs differing amounts of red and IR light, the Honor Watch GS Pro sensor can estimate your saturation level as your heart pumps.
I don't find blood oxygen data as useful as normal heart rate readings. It takes longer, is more picky about movement when capturing data, and these wrist-worn sensors are not terribly accurate. I recorded 100% and 89%, which is abnormally low, within the space of two minutes. The lower rate was likely because I wasn't still enough, but it ensures the best time to use this feature is while you sleep.
Blood oxygen is arguably more of a health stat than a fitness one, and has gained prominence this year because the way Covid-19 attacks your respiratory system can seriously decrease SpO2.
Music is arguably more important for some, as it may affect how you use the Honor Watch GS Pro day-to-day. There's 2079MB of space for tracks, which gives you enough room for a good set of playlists, which you curate on your phone via the Health app.
There's nothing here for those who have fully moved over to streaming, though. You can only transfer files, as there's no support for third-party services like Spotify. And no, you cannot send over tracks you have downloaded from Spotify to the Honor Watch GS Pro.
Pair a set of the best workout earbuds and your music will play through them, and there's a mini app on the watch to control playback. This same app can be used to control your phone's music, to a limited extent, if you'd rather listen to Spotify on your phone.
Alternatively, tracks can play through the integrated speaker. It's predictably thin-sounding, but can put out respectable volume for a watch driver.
There's another reason to use headphones here. Whenever you hit a km on a run, a voice pipes up with your stats for that kilometer. It makes much more sense for these to be played over earphones than the watch speaker, particularly if you run in areas full of people.
I must have attracted a lot of odd looks in the local park running with this watch.
The manufacturers could do more with these Honor Watch GS Pro vocalized stats. You can't tweak what this virtual person says, and he blabbers on for about 10 seconds each time. I only really want to know my pace for that kilometer. To be able to snip out some of these stats would be handy because, as is, I'm always tempted to turn them off altogether.
Finally, there are the Honor Watch GS Pro's compass and barometer. These power two separate mini-apps that show the air pressure and, you guessed it, a compass view. They may appeal if you read my previous complaints about the lack of full on-watch navigation and didn't care because you like to hike with a paper map, and consider using Google Maps "cheating".
Honor Watch GS Pro: design
The Honor Watch GS Pro is larger than other Honor watches, in order to fit in that large battery. I'm not a particular fan of big, bulky watches, but this one avoids the part I find most problematic.
Honor's Watch GS Pro may be fairly big, but it is not that heavy. You don't feel its watch face take on its own momentum and try to move about on your wrist as you run. The only real downside here, then, is the potentially off-putting macho aura of a big casing.
I dug out the scales to find out the real weight difference, including strap, next to some top wearables:
Honor Watch GS Pro: 77g
Garmin Fenix 6 Pro Solar (47mm): 84g
Apple Watch Series 6 (44mm) 66
Samsung Galaxy Watch 3: 67g
Huawei Watch Fit: 36g
The Honor Watch GS Pro is heavier than the rivals from Apple and Samsung, but is noticeably lighter than the top Garmins. And 10-11g is a low price to pay for incredible battery life.
Honor achieves this by using practical, rather than overtly expensive, materials. The Honor Watch GS Pro's casing is a tough plastic. Only the bezel and side buttons are stainless steel. And the screen covering is normal toughened glass, not the harder Sapphire.
Overall this style is far removed from the ultra-high-end Huawei Watch GT 2 Pro, but the design looks and feels more like that of a fitness watch. Its screen is partially protected by the slight lip between bezel and display glass, for example.
Speaking of the screen, this is a 1.39-inch 454 x 454 pixel OLED, similar to the displays of all the other higher-end Honor trackers. I found that it was big enough and bright enough to stay clear on a very bright day.
Honor Watch GS Pro: battery life
Battery life is the number one Honor Watch GS Pro stand-out feature. Honor says it lasts up to 25 days, almost double the longevity of other Honor and Huawei watches that use the same software.
It's all thanks to a huge — for a wearable — battery. The Honor Watch GS Pro has a 790mAh cell, roughly twice the capacity of the average larger smartwatch or watch-style tracker.
What can I say here other than that it comes up with the goods? A 2.5 hour hike took just five per cent off the Honor Watch GS Pro battery. Hour-long runs, again, take off around five to six per cent. And this is in-line with Honor's own claims.
It says the Honor Watch GS Pro can handle 40 hours of GPS tracking between charges, and that's true when you walk or hike. My testing shows the runtime is roughly halved when you use a mode that demands more GPS calls, such as running or cycling. Expect up to 20 hours of GPS run tracking, not 40.
There's no deceit here. All of the very best fitness watches have battery-saving GPS profiles for when you won't move all that quickly.
It's difficult to get the Honor Watch GS Pro to die in the space of a week, with the way I exercise at present anyway. Using it for daily indoor cycling sessions and a couple of runs, it was not even close to running out by day seven of testing, with around half its battery life left.
This is the longest-lasting wearable with an OLED screen I have ever used. And as someone who likes to be able to act lazy with tech and save the effort for actually going out to exercise, this is a very good thing.
Battery life is roughly halved if you use the "always on" screen mode, which I usually recommend. This makes it display a watch face when not in use. But even then only a diary packed full of longer GPS-tracked runs or rides will see the Honor Watch GS Pro last less than seven days.
Honor Watch GS Pro: verdict
The Honor Watch GS Pro looks, feels and lasts like a true top-tier fitness watch. And if your routine mostly consists of well-worn running and cycling routes, it has the exercise features you need.
However, it's not so strong if you're an enthusiast who wants to load up routes onto your watch, or navigate using on-screen maps. The Honor Watch GS Pro doesn't have either of these, because Huawei's software does not support them.
A few extras aside, the Honor Watch GS Pro's fitness features are much like those of the Honor Magic Watch or the Huawei Watch Fit. That's more than enough to keep us happy in a tracker at that sort of price, but this one costs double. Exercise tracking here is relatively shallow next to other watches that look like this one, making ultra-long battery life the main appeal.
Still, as USPs go, up to 25 days' use between charges is a damn good one.
Also consider
A Garmin alternative
The Instinct (pictured), Vivoactive 4 and Forerunner 245 are the obvious Garmin watches to choose at the price. None have as punchy-looking a screen as the Honor but the Instinct lasts about as long between charges. All have more advanced fitness features like the ability to connect to external sensors, and use pre-planned routes that allow for better on-watch navigation.
Huawei Watch GT 2 Pro
Honor and Huawei are like cousins, and the Watch GT 2 Pro is the closest alternative from the other side of the family. It uses higher-end materials, like titanium, ceramic and Sapphire. But there's no protective lip for the display glass and battery life is only half as long. Their fitness features are near-identical. So do you want luxury style or ultra-long battery life? The Huawei is also a little more expensive.
Samsung Galaxy Watch 3
The Samsung Galaxy Watch 3 seems similar to the Honor Watch GS Pro, but is not. This is a smartwatch that will only last a couple of days between charges if you use a lot of GPS tracking. However, the interface is slicker and, as it is a proper smart band, you can install apps that add a little to its otherwise fairly mainstream fitness abilities. It can also broadcast its heart rate readings with the help of an app - handy for a lot of home workout gear.
Get the Fit&Well Newsletter
Start your week with achievable workout ideas, health tips and wellbeing advice in your inbox.
Andrew is a freelance contributor to Fit&Well. He has written about health and fitness for more than a decade, specializing in consumer tech. When not testing fitness tech for Fit&Well he writes about fitness for Forbes and contributes to publications including WIRED, TechRadar, Stuff, Trusted Reviews and others. Andrew runs to keep fit, and can often be round jogging around the parks of South London with several wearables and a heart rate strap attached. He also enjoys indoor cycling, using a turbo trainer and platforms like Zwift to get some kilometers in while avoiding London's busy streets.