Samsung Galaxy Watch 3 review: a great all-rounder fitness watch
Samsung's latest fitness watch matches stylish design with advanced health sensors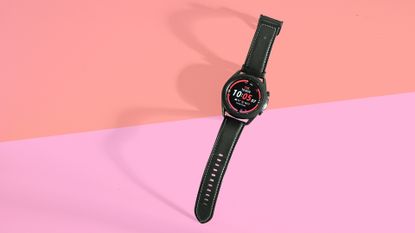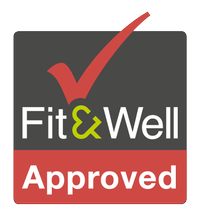 (Image credit: Andrew Williams)
The Samsung Galaxy Watch 3 is a fun-to-use and versatile fitness tracker. Just make sure its short, smartwatch-style battery life won't get on your nerves.
Reasons to buy
+

Bright screen

+

Links to Strava

+

Fun to use
Reasons to avoid
-

Short battery life of up to 2 days

-

Several health features are not enabled yet
The Samsung Galaxy Watch 3 is a smartwatch geared for fitness. It has loads of tracking modes, thoughtful features for those who workout most days, a bright screen and baked-in support for apps such as Strava.
That should keep the cyclists happy. A Spotify app, including downloaded albums and playlists, should be a hit among runners who want to leave their phone at home too.
The Samsung Galaxy Watch 3 doesn't let you hook up to other hardware, like HR chest straps and bike cadence sensors. You'll still want something like a Garmin Fenix 6 for that. But some feature gaps for activities like hiking can be plugged with third-party apps.
This watch is also enjoyable to use, thanks to nippy-feeling software and a tactile control wheel that's a bit like a stress toy right there on your wrist.
Battery life is the main reason to pause. At a day and a half to two days, the Samsung Galaxy Watch 3 is very much in smartwatch, not fitness watch, territory - and for that reason doesn't make it onto our list of the best fitness watches.
Price
The Samsung Galaxy Watch 3 is a fairly pricey watch. It starts at $429/£419 for the 45mm version reviewed here, or $399/£399 for the smaller 41mm version.
4G adds around $50/£50 in each case, and these use eSIM tech to avoid having to fit a SIM card in the watch itself.
Samsung also makes a higher-end titanium variant of these watches for an additional $200. However, the standard stainless steel is the obvious one to head to first.
These prices pit the Samsung Galaxy Watch 3 against the Apple Watch Series 6 and Huawei Watch GT 2 Pro. It isn't cheap. Those looking for a more budget-friendly option should check out the Samsung Galaxy Watch Active 2 and even the original Watch Active. All offer the fitness essentials of full GPS and a heart rate sensor.
Design and feel
The Samsung Galaxy Watch 3 comes in two sizes, 45mm and 41mm. I'm using the larger version.
Samsung pulls off a real trick here. Even the larger Galaxy Watch 3 comes across elegant and refined, not bulky and oversized. I have fairly weedy wrists for a 6ft man (ok, 5ft 11.5 inches) and it looks and feels great. It is far more sophisticated-looking than the original Galaxy Watch even though they sound similar on paper.
Both are largely stainless steel watches with two side buttons and a circular display.
You might want to buy a separate wrist strap if you plan on tracking exercise most days, though. The Samsung Galaxy Watch 3 includes a classy leather strap that looks and feels great. But it will quickly pick up salt deposits from your sweat and a silicone strap with a little "give" makes attaining a tight fit more comfortable.
You'll want the Samsung Galaxy Watch 3 to stay in place on your wrist to get accurate heart rate readings during runs. At almost 60g (70g with strap), you may feel the watch try to move along with the motion of your arms.
Whilst Samsung has levelled-up the look and feel of its watches with the Galaxy Watch 3, but one of the key appeals was already there in the original Galaxy Watch. I'm talking about its clicky bezel, which is the main way to scroll through the watch's features.
Rotate it from the watch face and the Galaxy Watch 3 scrolls through pages of "widgets". These offer shortcuts to tracked workouts, weather reports, your daily activity summary, music controls recent phone notifications and more. You choose which widgets end up on the watch.
Give it a turn while exercising and you'll flick through screens of stats.
The Samsung Galaxy Watch 3 is an antidote to the often fiddly feel of smartwatch touchscreen navigation. I loved this clicky bezel in the first Galaxy Watch, and that hasn't changed. This watch has enough power to let you tear through interface screens at real speed. The Samsung Galaxy Watch 3 does not lag behind.
There are occasional little pauses elsewhere but this is one of the most responsive-feeling fitness trackers or smartwatches, all considered.
Screen
The 45mm version of the Samsung Galaxy Watch 3 has a 1.4-inch 360 x 360 pixel Super AMOLED screen. Huawei's Watch GT 2 Pro screen is sharper at 454 x 454 pixels but this is still a great display for a fitness watch.
It's bold, colorful and large enough to show four sets of info on-screen at one time as you run.
I was also struck by how bright it is. The Samsung Galaxy Watch 3 is always clear, and has a fast-reacting auto brightness sensor to alter the display power to suit the conditions, outdoors or indoors.
Apple made some noise about how the Watch Series 6 has a 1000-nit brightness screen, but Samsung doesn't publish these figures. I had a go at finding out for myself.
Using a "torch" app for the Galaxy Watch 3 and a screen-analysing Datacolor Spyder colorimeter I measured 590nits. This watch doesn't seem to be quite as bright as an Apple Watch, but it's still plenty bright.
You can also set the display to stay on constantly while you exercise, an option missing from far too many trackers. It will use more battery, but I think it's worth the sacrifice if you tend to run for 30-60 minutes at a time.
Data tracking
The Samsung Galaxy Watch 3 works best as an everyday fitness watch, rather than a serious training tool. Why?
This is a somewhat walled-off watch that expects you to use the hardware it has on-board. You can't connect it to a heart rate strap for running, or a power meter on your bike. Buy a Garmin if you want that sort of interconnected tracking experience.
Still, the Galaxy Watch 3 otherwise performs pretty well. It has full GPS, showing you a map of your route in the Samsung Health app on your phone after you're done. And the heart rate sensor is fairly advanced, using eight photodiodes to reduce errors in its results.
I am mostly happy with how it performs. There was no missing data in any tracked exercises, the Samsung Galaxy Watch 3 didn't leave out any drops in exertion. And it only recorded a base heart rate of a few bpm higher than the Wahoo Tickr HR (one of our best heart rate monitors) during a mid-run walking break.
The Samsung Galaxy Watch 3 does seem to have a habit of overestimating your heart rate when you reach higher exertion levels, over 165 bpm. I saw a few brief instances where its readings were 3-5 bpm above the Tickr HR chest strap. This kind of thing may mess with the charts that tell you how much time you spent in each heart rate zone a little.
Samsung also uses a heap of smoothing in its heart rate graphs, with one data point for each minute, giving you the sense you're not really looking at the raw data.
Health and fitness features
Dig into a run summary in the Samsung Health app on your phone and you'll see some interesting and unusual stats. The Samsung Galaxy Watch 3 doesn't just analyse your performance in terms of pace and distance. It judges your running form.
These are based on the regularity of your foot strokes, your vertical moment, contact time and "flight time".
I haven't thought about these aspects of running technique in a while, not since my last knee injury healed. But, sure enough, Samsung offered a few ways to tweak my running from my first tracked session. Those same metrics then improved on the second, as I was bearing them in mind.
Samsung does a good job of explaining what each of these form stats actually mean in the app.
The Galaxy Watch 3 also calculates your VO2 max, one of the best gauges of your fitness. It spits out a figure of 51 for me, which is exactly Garmin reports.

Samsung wants this watch to be fairly beginner-friendly. But you have to dig deep to find some of these friendly parts.
For example, the workout modes given prime position in the interface are basics like running, cycling and swimming. But in the "more workouts" section you will find semi-guided workouts for basic gym exercises like arm curls and crunches.
The on-watch speaker will give you instructions, and splits the workouts into sets. I find these sorts of modes handy for early morning exercise when motivation is hard to find, and your brain isn't quite switched on fully yet.
At the time of review, some of the Galaxy Watch 3's most interesting health and fitness features were not yet enabled, in the UK at least.
The watch has hardware for blood oxygen (SpO2), blood pressure and electrocardiogram readings. But none of them have been switched on in the firmware yet, in the UK.
Why? Manufacturers are more wary about making these metrics are at least reasonably accurate, as an abnormal reading could well cause you to get in contact with your doctor. ECG sensors need to be validated by a country's relevant body. That's the FDA in the US, and the EU's CE mark in Europe.
These holes don't make the Galaxy Watch 3 seem hobbled day-to-day, as they are less passive readings than your heart rate. For example, the ECG uses one of the side buttons as a touch node to effectively complete a circuit. And accurate SpO2 readings can only currently be made from wearables when you are very still for around 30 seconds.
Fitness app connectivity
Those on the other end of the spectrum may want to spread out from the default apps and Samsung Health. You can do this because this is a full smartwatch with an app store to hand. It can send data to a couple of other platforms too.
The Samsung Health app will let you connect directly to the Strava platform or to Technogym, which is likely only going to be of interest to those who go to very up-to-date gyms.
Strava is a biggie for cyclists, though. Samsung used to hook up to a bunch more platforms, but no longer does. The connection to Strava is likely maintained because Strava made a pretty fully-featured app for the watch itself.
There's arguably not much benefit to using the Samsung Galaxy Watch 3 Strava app given your data can end up on the platform if you use the standard Samsung cycling mode. But it's a nice-to-have option.
Other fitness platforms are much better represented on Apple Watch. It's no surprise when that audience is much larger. However, a few notables are present on the Galaxy Store app store.
There's route planning and navigation app Komoot, MyFitnessPal's Calorie Counter and an interesting hiking app called Outdoor Maps by Christof Meerwald. This costs £8.99, a pretty big investment in watch app terms, but it adds significantly to the Samsung Galaxy Watch 3's abilities. You can import gpx route files and download topographical maps to the watch for real-time offline route tracking should you go for a hiking weekend.
Extras like this are a pretty good argument to buy a smartwatch like this rather than a Huawei Watch GT 2.
What's more, the Samsung Galaxy Watch 3 is one of the few fitness watches I'd be happy to use for runs without my phone. Why? It has a great Spotify app.
It lets you browse Spotify fully when connected to Wi-Fi or your phone, and you can download albums, tracks and playlists just as you would with the full mobile app. You could snag a few playlist just a few minutes before going for a run.
Several reviews on the Galaxy app store complain this app is buggy, but I'm representing my own experience here. It seems to run fine. The Samsung Galaxy Watch 3 is far better at providing music while you run than a Huawei or Garmin watch.
Don't use Spotify? There are also apps for TIDAL and Napster, but I don't use these services and have not tested the apps.
Not a streamer at all? Music files can also be transferred to the Samsung Galaxy Watch 3 using the Samsung Wearable app on your phone. These are played through a separate app called Music, and it has a solid interface that lets you browse a library by album and artist. You don't have to make organised playlists.
There's around 4GB of space for tracks, from the full 8GB storage, which is a lot for a watch.
You might want to play, say, a podcast or audiobook right on the Galaxy Watch 3's built-in speaker while cooking dinner. But for any exercise you'll obviously want to pair some Bluetooth headphones. Doing so is easy.
Smart features
The Galaxy Watch 3's smartwatch status means it is better at handling notifications than most other fitness watches. Not only can it receive them from any app you like, you can reply to messages with pre-written replies.
It also has a Siri-a-like digital assistant called Bixby. You access it by long-pressing one of the side buttons.
Long-press the other button and Samsung Pay loads up. This can be handy if you want to pay for something after a run, perhaps a coffee, but have left your card at home. Just head over to the Samsung website first to make sure your bank is supported.
Battery life
Battery life is the reason not to buy a true smartwatch like the Samsung Galaxy Watch 3. While it lasts longer than an Apple Watch, living with this fitness watch requires more patience than a Garmin or Huawei.
Samsung says it lasts up to 2 days between charges, but a day and a half is more realistic if you actually do anything with the Galaxy Watch 3.
A half-hour tracked run took 10% off the battery. Another hour-long run took, you guessed it, 20% off. The Galaxy Watch 3 should last for around five hours of run tracking with a full battery: enough for a slow marathon.
Battery life is the main factor to consider when choosing between a dedicated fitness watch and a smartwatch with good fitness tracker features, like the Galaxy Watch 3. The difference boils down to whether you'll have to charge it more-or-less every day, or once a week.
A half-hour charge on the little wireless dock only gets you to 25% too. Charging is not super-fast.
I'm a big fan of watches that don't need to be charged too often, but the Galaxy Watch 3 almost has me convinced because wearing and using the thing is just so enjoyable.
Verdict
The Samsung Galaxy Watch 3 is a great all-rounder fitness watch, as long as you can deal with charging it every day, or perhaps every other day.
This is a smartwatch. You don't get the long battery life of a Huawei Watch GT2 Pro.
In return the Samsung Galaxy Watch 3 lets you install extra apps and, perhaps more important for some, offers much better support for some music streaming services.
Its fitness tracking is great, buoyed by a bright screen and solid heart rate and location metrics. This isn't the obvious choice for the hardcore runner, hiker or cyclist, but for the rest of us it's a joy to use.
Also consider
The Apple Watch Series 6 has more apps, as slightly better heart rate sensor and an even brighter screen. However, it doesn't have the Samsung's neat bezel control and the battery life is even shorter, potentially making sleep tracking a no-go if you go for a long run or hike on the same day.
Huawei's rival, the Watch GT 2 Pro, is not a true smartwatch. It doesn't offer an app store and can't hook up to Strava. However, its battery life is far, far better. It can last two weeks instead of two days, which will be a huge benefit if you're already fed up with charging your phone each day.
The Sense is Fitbit's most sensor-packed watch to date. It's a smartwatch too, but has better battery life than the Samsung at up to five days.
Get the Fit&Well Newsletter
Start your week with achievable workout ideas, health tips and wellbeing advice in your inbox.
Andrew is a freelance contributor to Fit&Well. He has written about health and fitness for more than a decade, specializing in consumer tech. When not testing fitness tech for Fit&Well he writes about fitness for Forbes and contributes to publications including WIRED, TechRadar, Stuff, Trusted Reviews and others. Andrew runs to keep fit, and can often be round jogging around the parks of South London with several wearables and a heart rate strap attached. He also enjoys indoor cycling, using a turbo trainer and platforms like Zwift to get some kilometers in while avoiding London's busy streets.