Huawei Watch Fit review: a top fitness tracker with smartwatch looks
The Huawei Watch Fit will appeal to just about anyone who likes to stay in shape from amateurs through to pros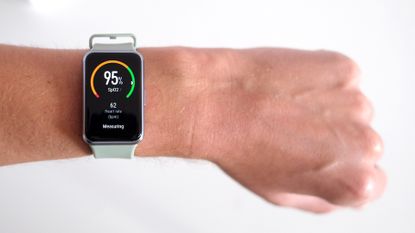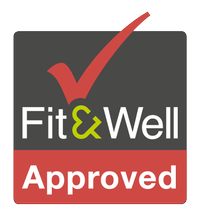 (Image credit: Huawei)
The Huawei Watch Fit has smartwatch looks, runner's watch features and a fitness band price. What's not to like? Only hiking fans need pause, as there's no altimeter to measure climbs here.
Reasons to buy
+

It's great value

+

Big, bold, screen is perfect for run stats and notifications

+

Cuter than most rivals

+

Its battery life is long as up to 10 days
The Huawei Watch Fit is an attempt at a fitness tracker that can lure people away from the Fitbit Versa 3 and, at a push, the Apple Watch SE.
It has smartwatch looks, but the Watch Fit is best thought of as an advanced-looking exercise tracker that pulls off telling you the time and delivering notifications better than anything Fitbit or Samsung offers at the price.
The Huawei Watch Fit is great, and definitely one of the best fitness trackers around. A big part of its 5-star appeal is how easy it is to live with, how enjoyable it is to use and wear. There are a few small issues, which we'll cover in this review - but they don't detract from its overall greatness.
Price and Features
The Huawei Watch Fit costs $139.99 in the US, £119.99 in the UK. This is much cheaper than most of the trackers, watches and smartwatches it looks a little similar to. By comparison, the Garmin Venu Sq is $200, the Fitbit Versa 3 is $220 and the Apple Watch SE is $280.
How is it so affordable? Simple: this isn't a smartwatch. You can't download apps, or ask a virtual assistant questions.
The Huawei Watch Fit is a fitness tracker with a smartwatch's sense of style. And in that feature-cutting bargain you get 10-day battery life, or 4-5 days if you want the watch face to be displayed 24/7. This makes it a much lower maintenance wrist pal than any smartwatch, but you still get the gloss of a bright and colorful OLED screen.
It has some advanced features of its own too, like blood oxygen readings and on-watch guided workouts. Big fan of hiking at the weekend? Think twice because the Watch Fit does not have an elevation-sensing altimeter.
And if you're mostly here for everyday exercise tracking and aren't interested in running without your phone, consider the Honor Watch ES. It is very similar, and $20/£30 less, but does not have Full GPS.
Display quality
Your first reaction to the Huawei Watch Fit may be the same as mine: wow, that looks strange. It seems like an Apple Watch, but a bit stretched.
Within two hours you realize this is only because it has a different display aspect ratio to other rectangular screen smartwatches. You get used to it quickly.
This is not only a great display for the price, but there are genuine practical benefits to the shape. There's simply much more room for on-screen stats and info than in any other affordable competitor.
Watch faces can comfortably show a bunch of stats at once, and when you go for a run the Watch Fit can squeeze every essential stat onto one page. With rival Garmins and Fitbits, I tend to have to switch between two screens (or more) every now and then to see what I want to know. But here the default running screen shows your heart rate, pace, distance, time and heart rate zone at once.
Thanks to the space-efficient rectangular shape, none of it looks cramped.
This works for WhatsApps too. The Watch Fit can receive app notifications, and longer ones like messages and emails are far clearer here than on any other £100-ish fitness tracker.
Within three hours my impression of the Watch Fit went from "that's odd", to "I kinda love it".
Other aspects of the screen are excellent too. It's covered by toughened glass, not more scratch-happy plastic, and there's an "always on" mode.
This halves the Huawei Watch Fit's battery life, but I strongly recommend using Always On. It makes the band an excellent — well — watch. You don't need to wake it to see the time, and as the Watch Fit also has an auto brightness sensor, the screen is clear no matter the lighting conditions outside.
This is only possible because of the Huawei Watch Fit's display tech. It has a 1.64-inch OLED screen, a panel not too dissimilar to an Apple Watch Series 6's.
Colour is bold, max brightness is very high and it's sharp enough to make the watch face graphics look sharp. This makes the Huawei Watch Fit look almost unreasonably high-end for a £120 fitness tracker.
There's just one issue. This screen has a low refresh rate, used likely in order to save battery. When you flick through its menu systems, the animations appear more juddery than those of a Fitbit Inspire HR or Apple Watch.
It makes the Watch Fit seem less glossy in use than it is when just sitting there, looking pretty. However, it is only particularly noticeable when you scroll through the features menu. After a few days I found I only tend to do this when starting an exercise.
Customization options
Huawei otherwise makes the most of the large screen. There are around a dozen watch faces built-in and you can download hundreds more from the Huawei Health app on your phone.
These vary in quality wildly, not least because Huawei doesn't make most of them. A watch face designer for the platform was released at the beginning of 2020. The watch face "store" is already well stocked because the Huawei Watch Fit is part of an existing software platform. It uses the same software as round watches like the Watch GT 2.
Some other kinds of watches have a simplified "always on" design for each watch face. But the Watch Fit has a standard selection of six. This means the standby screen won't match the watch face, but there are analogue and digital options.
Design
The Huawei Watch Fit is an immensely likeable fitness tracker. It is affordable, the screen sets the standard at £120 and, just as important, the design has a fun and friendly appeal that reminds me of Fitbit's smartwatches.
Its rounded rectangular front is cute, and has a much softer appearance than Huawei's round GT watches. The pastel-colour straps are perfectly matched to the face. Their colour, the lack of sport watch contouring and the slight give to the silicone are all exactly what I want to see here.
The main shape of the watch is also slightly curved, side on, only adding to the friendly look, and is fairly slim. An appreciation of wearable design is a personal thing, but I haven't instantly simply liked the presence of a fitness tracker as much as the Huawei Watch Fit in years.
I should add: all tech earns brownie points for me if it seems like a good deal, and the Huawei Watch Fit certainly does.
There's just one design concession. The Huawei Watch Fit's sides may look a little like metal but are plastic. Huawei made a stainless steel watch for only a little more money, the Watch GT2e, but it aims for a different crowd.
Fitness tracking
The Huawei Watch Fit has all the core tech I look for in a fitness tracker. There's a good heart sensor with 24/7 tracking and Full GPS. This means you can use it for fully mapped tracking without taking your phone.
I have not done this, and would not, because the Huawei Watch Fit cannot play music itself. If you want to run to a podcast or Spotify, you'll still need your phone. This is normal at the price.
As I said earlier, the Watch Fit is a superb little tracker for regular running. Its screen is bright and I don't need to touch the display once during a run to see the stats I want to check.
There is an almost ridiculous roster of exercise modes: 96 of them. Although, as ever, the main differences between most is how they display stats and how the recorded exercises are logged in the Huawei Health app on your phone.
Still, there is some interesting stuff going on here. The Watch Fit has a fairly wide array of guided workouts. These tell you what stretches, lifts and moves to make through neat little on-screen animations.
You know to have another look at the screen for the next set of exercises because the Watch Fit buzzes on your wrist.
These kinds of guided workouts are nothing new, but you don't tend to get them at around the £100/$100 mark because such trackers never have a screen as big and sharp as the Watch Fit's. I don't use these guided workouts all that often but I find them a great way to force myself to stretch for the right amount of time after a workout.
There's just one feature missing in the Huawei Watch Fit's fitness tracking line-up: it does not have an altimeter. This measures how high up you are. An altimeter is used in bands like the Garmin Vivosport to tell how many flights of stairs you walk up each day.
It's one to consider if you work in an office, and walking up to the fifth floor is part of your daily exercise.
It is also important for hikers. Height climbed, even if you're wearing Converse rather than crampons, is the main metric hiking modes assess. As such the Huawei Watch Fit is great for tracking walks through rolling countryside, but not those up hills and mountains.
Health features
The Huawei Watch Fit's heart rate tracker is also surprisingly advanced. It offers blood oxygen (SpO2) readings just like an Apple Watch Series 6.
This involves dedicated hardware, not just an algorithm that works a figure out from your heart rate. The Huawei Watch Fit uses green LEDs to determine your heart rate and red/infrared ones to check your blood oxygen saturation.
You need to start one of these readings manually. It takes around 30 seconds, you need to stay very still for it to work and even then it sometimes says it can't find a reading on my wrist.
SpO2/blood oxygen/Pulse Ox sensors like the Huawei Watch Fit are interesting, but largely a novelty unless they have been, at the very least, cleared by bodies like the US FDA or the EU's classification board. They're not medical-grade sensors, and their results may be unreliable.
Saying that, the Watch Fit has not shown any unexpected abnormal readings in my time with it. 95-99% saturation is what it routinely says, which is within normal limits.
Battery life
Ultra-long battery life has always been a top draw of all Huawei wearables since it stopped making ones with Google's WearOS software. It says the Watch Fit lasts 10 days off a charge. And judging by my first couple of days with the watch, that is about right.
However, I highly recommend sacrificing battery life in order to make the Watch Fit more useful and enjoyable to wear.
Hook up WhatsApp and Gmail for notifications, switch on the Always On screen mode, and the Huawei Watch Fit lasts around four days with a short GPS tracked workout or two added to the mix. Or up to five with only basic step and HR tracking.
Yes, that is a huge drop in stamina, but still only what you see from the Fitbit Inspire HR without a big, bright and colourful always-on display. Given how much I enjoy using the Watch Fit with all its features switched on, charging once or twice a week is not a deal-breaker.
The Huawei Watch Fit uses a little two-prong magnetic cable to recharge, and in half an hour it gets from flat to 87% charge. It's nippy: all the more reason to sacrifice a few days of battery.
Smart features
The Huawei Watch Fit is not a smartwatch. You can't download apps, reply to messages on the watch itself, play music or ask for directions to the nearest McDonalds. So what can it do?
Core extras are weather reports, notifications from your phone, which the screen handles very well, music control and sleep tracking. Music control works a bit like the remote of a pair of Bluetooth earphones. You can pause/play or skip tracks, but you can't select albums or playlists.
The Huawei Watch Fit also offers guided breathing exercises. But it's a thin feature, not a replacement for a Headspace subscription.
Tertiary extras include timers and alarms and Find My Phone, which sets off an alarm on the connected phone.
Verdict
The Huawei Watch Fit is a fitness tracker that also works brilliantly as a watch. You can think of it as a glossier alternative to a Fitbit Inspire HR or a Huawei Watch GT2e, squeezed into a cuter-looking rectangular format.
Or, yes, a stretched Apple Watch.
Apple Watch comparisons don't get to the root of why the Watch Fit is so appealing, though. It's a simple fitness tracker with a screen that handles mid-run metrics and WhatsApp notifications better than anything else at the price.
As such, you get a real smartwatch flavour but with five or ten day battery life depending on whether you use the Always On display mode or not. We recommend you do.
Also consider
Huawei's sister company Honor makes its own version of this watch. The two are very similar but the Honor Watch ES lacks Full GPS. It does have Connected GPS, though, which borrows the location data from your phone. Is the upgrade to Full GPS worth $30/£20? That's for you to decide, but we think so.
The long-standing Garmin Vivosport is an obvious alternative, as a band that has Full GPS tracking and does not cost too much. It also has an altimeter, so is actually better for hikers than the Huawei Watch Fit. However, it does not have the same cute charm and is nowhere near as good for quick check-ups of notifications thanks to its tiny screen. They do similar things, but the Watch Fit pulls it all off with far greater style.
The Charge 4 is Fitbit's most direct competitor to the Watch Fit in price. It has the same core fitness features, like GPS, blood oxygen readings and a heart rate sensor. Its screen is not nearly as good, though. It's lower-res, smaller and nowhere near as bright. We much prefer the Watch Fit for checking stats during a run. The Huawei also handles notifications much better.
Get the Fit&Well Newsletter
Start your week with achievable workout ideas, health tips and wellbeing advice in your inbox.
Andrew is a freelance contributor to Fit&Well. He has written about health and fitness for more than a decade, specializing in consumer tech. When not testing fitness tech for Fit&Well he writes about fitness for Forbes and contributes to publications including WIRED, TechRadar, Stuff, Trusted Reviews and others. Andrew runs to keep fit, and can often be round jogging around the parks of South London with several wearables and a heart rate strap attached. He also enjoys indoor cycling, using a turbo trainer and platforms like Zwift to get some kilometers in while avoiding London's busy streets.