Nike Metcon 7 review: The top cross-training shoe series just gets better
The Nike Metcon 7 provides a rock-solid foundation for cross-training, comfort and outstanding workout performance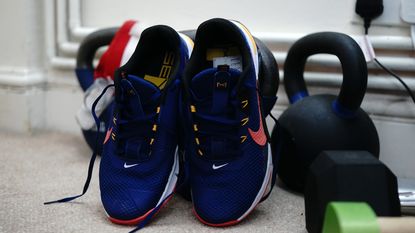 (Image credit: Matt Kollat)
The Metcon 7 is one of the best cross-training shoes to date from Nike. The brand completely overhauled the design, making the Metcon 7 more pertinent for cardio training and exceptionally well-suited for CrossFit and HIIT training. Highly recommended for people who need stable workout shoes for explosive moves, lifting and circuits.
Reasons to buy
+

Provides stability for both heavy lifts and explosive moves

+

Looks great, very supportive

+

Ideal for people with wide feet
Reasons to avoid
-

Heel lockdown is still not great

-

Not ideal for prolonged bouts of cardio
Why you can trust Fit&Well Our expert reviewers spend hours testing and comparing products and services so you can choose the best for you. Find out more about how we test.
In this Nike Metcon 7 review, we'll explore how Nike rectified itself after releasing the rather underwhelming Metcon 6 and why the Metcon 7 should be on top of your shopping list if you're on the market for cross-training shoes.
Although Nike wasn't the first fitness brand to produce cross-training shoes, by now, it's generally regarded as one of the top dogs. The Nike Metcon series consistently places first in our guide to the best cross training shoes. It's no surprise; Nike shoes usually are popular, and whenever the brand enters a new market, it will inevitably become the number one choice for many top athletes.
The Metcon 7 is an excellent example of why people like Nike cross-training shoes: it performs well under the conditions it was designed for, looks good and feels premium through and through. Thanks to the addition of the resilient React foam, the Metcon 7 is now more competent in supporting people during cardio-based workouts.
Is the Nike Metcon 7 good for strength and CrossFit training? Is there a reason why you should avoid buying one? Will the upper survive more than just a couple of workouts without being ripped into shreds during rope climbing sessions? Let's find out.
Nike Metcon 7 review: Price and features
The Nike Metcon 7 is available to buy now directly from Nike (opens in new tab) and third-party retailers such as sportsshoes.com (opens in new tab) for £114.99 in the UK and $140 in the US, although other retailers might frequently offer better prices on the shoe during peak deals times. The shoe's main distinguishing features include the React foam, borrowed from Nike's running shoes, that provides better energy returns than any other Metcon shoes have before. This comes in handy for cardio workouts; however, the Metcon 7 won't replace running shoes for pure cardio performance.
The Metcon 7 has a wide, flat heel with an inner plate that is said to distribute the weight from edge to edge, providing a steady platform for powerlifting moves such as barbell snatches and deadlifts. That stable platform also provides a solid landing surface for plyometric movements like burpees and box jumps, helping you stay on your feet. Nike has also revamped the rubber wraps around the shoes' midsection, especially on the medial side, where the shoes' upper is more likely to be rubbed during rope climbs. There is also plenty of rubber on the outsole of the Metcon 7 for added traction on the tarmac and hard floors.
Another new addition is the tab-lock at the top of the tongue with a hook-and-loop closure that keeps the laces out of the way.
Nike Metcon 7 review: Design
The Metcon 6 looked almost identical to the Metcon 5, so it's refreshing to see that Nike Metcon 7 is significantly different from its predecessors. It's wider, sturdier, and generally more brutalist than the sleek and modern Metcon 6. The overall design feels chunkier but not in an overwhelming way.
That said, the Nike Metcon 7 weighs 380 grams (men's UK size 10) thanks to the ridiculous amount of rubber on the outsole. We're not complaining, though: there is a reason why Nike included so much rubber, and that is to provide stable footing when lifting heavy. The rubber even runs up on the medial and lateral sides of the shoes to provide support in key areas.
Despite the chunky rubber outsole, the Nike Metcon 7 is surprisingly flexible, thanks to the grooves at the front of the outsole. This enables wearers to bend the shoes – and their foot – which enhances comfort levels and makes the Metcon 7 more ideal for sprint training.
The addition of the React foam makes running in the shoes an even more comfortable ordeal. Nike's React foam is famous for its resilience and energy return, but it's not quite as soft as the ZoomX foam used in most Nike racing shoes. We wouldn't recommend the shoes for long-distance running, but this design is perfect for CrossFit, sprints, and HIIT workouts.
One of the best aspects of the Metcon 7 is the upper. It's tough yet accommodating and provides support in all the right areas. The tongue is slightly padded, and the tab locks are a good addition, too, although the laces are not terribly long, so there is no need to use them unless for exercises that rub against the top of the shoes (e.g. rope climb).
Nike Metcon 7 review: Performance
Speaking of exercises: the Nike Metcon 7 delivers on workout performance big time. The sole is extremely stable and the traction is just sublime. On hard floors, the Metcon 7 will turn you into an object no force can move!
We tried the Nike Metcon 7 in various workout situations that included heavy lifting, jumping and circuit training, yet there wasn't an instance when we thought we would be better of wearing another pair of cross-training shoes. The shoes performed exceptionally well during explosive movements such as the barbell snatch and clean and jerk.
We haven't had the chance to give rope climbing a try but taking into consideration the performance of the Metcon 7 in all other activities, we would be surprised if it didn't do well there. The only criticism we can offer is that the rear of the upper is not quite firm enough to hold the heels in place when they move vertically. However, the actual platform under the heels is super wide which counterbalance this slightly.
Nike Metcon 7: Verdict
The Nike Metcon 7 is an awesome cross-training shoe and one that's worth the asking price. There are cheaper workout shoes available for sure but by getting the Metcon 7, you can rest assured that you'll invest in a pair of shoes that will not only perform well but maintain their performance over the long run.
Thanks to the React foam and the grooves on the outsole, the Metcon 7 won't hold you back even if you have to do some cardio work during your workouts. Make no mistake, though: the Metcon 7 is not a running shoe, but it will do just fine for sprints and sessions on an air bike. Highly recommended!
Nike Metcon 7 review: also consider
On a budget? The Under Armour Hovr Rise 2 offers a sleek, supportive training shoe at a very competitive price compared to rival brands. The UA HOVR technology makes these feel super lightweight, ideal for HIIT and Crossfit workouts where feet move in different directions.
The slightly unusual-looking On Cloud X might be a better choice for those who do more cardio than heavy lifting. This unique product balances a great mix of features, making them ideal for use in all kinds of fitness activities, especially those constantly mixing up their workouts.
Matt has been writing about fitness for a number of years across various Future titles including Fit&Well and T3. PR reps describe him as 'nice guy' but his family members beg to differ. He's always looking for new ways to improve his overall fitness and wellbeing, and is particularly fond of home workout - mainly lifting weights. At any given point, his home is overrun with fitness equipment, running shoes and wearables. And he loves it.