ProForm 750R rower review: a great rowing machine for keeping fit
ProForm 750R review - a brilliant mid-range rowing machine for home use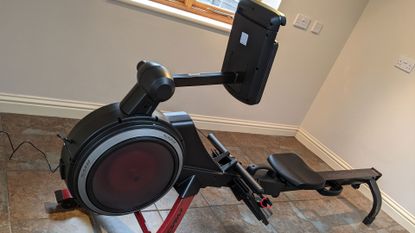 (Image credit: Patricia Carswell)
The ProForm 750R is a terrific, mid-range rowing machine that's great for staying active at home. Quiet and smooth, it folds up easily for storage and is comfortable to row on. It comes with iFit - an impressively extensive subscription with both rowing and cross training workouts.
Reasons to buy
+

Quiet

+

Folds up

+

Good workout programs
Reasons to avoid
-

Ongoing monthly subscription

-

Stats unreliable

-

No live rowing sessions
If you don't want to spend a fortune but fancy an interactive rowing machine for home use, the ProForm 750R makes a great choice. With 24 levels of magnetic resistance, it's quiet, smooth, comfortable and easy to fold up for storage.
It doesn't have a touchscreen but comes with a device holder big enough for a tablet so you can follow the iFit workouts on a screen (and the inbuilt digital console gives you basic information), making it one of the best rowing machines around.
The iFit program that it comes with isn't cheap ($39 / £28 per month) but you get 30 days free and it is exhaustive and regularly updated. There are both studio-style rowing classes and scenic rows led by elite rowers, plus all sorts of non-rowing workouts.
ProForm 750R: price & features
The ProForm 750R is available for $999/£799.
The family monthly subscription to iFit, which is free for the first 30 days, comes in at $39 / £28 per month. You can cancel your iFit subscription and the machine will work without it. If you do, you'll only get a very limited number of programs via the console, though you can use your tablet or phone to access workouts elsewhere.
Unlike some other brands, ProForm doesn't try to sell you premium packages with added (and possibly overpriced) accessories such as mats, resistance bands, and dumbbells, all of which are easily available online.
The ProForm 750R uses magnetic resistance (with 24 levels) so it's very quiet. It's built for comfort - the console can be moved up and down to achieve the right height, the seat is slightly padded and the foot straps are adjustable.
Unlike some high-end rowing machines, the ProForm 750R doesn't have an inbuilt screen (though this may mean it dates less quickly). Instead, you access the iFit app via your phone or tablet - the device holder is just above the console. If you have a Bluetooth-enabled heart rate monitor, it will sync with the rowing machine and show your heart rate both on the console and on the screen.
The dimensions of the ProForm 750R are 22" x 86.5"x 45.5" (w x d x h). It folds up easily, just by pulling up a handle, and has wheels to move it into place.
ProForm 750R: key features in-depth
The ProForm 750R isn't the best looking machine on the market, but neither is it the ugliest. The designers have made an effort with the splashes of red on the body of the machine, and it has a pretty decent appearance for the price.
It's solidly built and doesn't move around or wobble even when you're rowing hard, and has adjustable parts so you can make sure you're rowing in a comfortable position for you.
It's not particularly easy or quick to assemble; setup is definitely a two-person job (just getting it out of the box is a bit of a challenge). Be warned, you need a Phillips screwdriver and an adjustable wrench to put it together. I found some of the bolts and screws wouldn't go in easily as they were slightly misaligned. It was only after I'd assembled it that I found a video telling you what to do if this was a problem.
Storage is a cinch. It is genuinely easy to fold up - you just pull up a chunky handle beneath the console and up it pops. It also has wheels so you can maneuver it to wherever you want it to go.
ProForm 750R: workout performance
Some rowing machines (especially budget ones) become uncomfortable after you've been rowing for any length of time and score low on ergonomics - not so the ProForm 750R. I found that it delivered a genuinely comfortable row, even over longer distances (I tried it out with different workouts, including one that was over an hour-long).
The console arm can be moved up and down so you don't get neck strain by looking too high or low, and the foot stretcher can be moved up and down so you're rowing in the correct position. The foot straps are nice and wide and feel secure. The seat has a little bit of give to it, so you don't end up with an achy rear during a long row.
If you're used to an air or water rower, the magnetic action takes a little getting used to. When I was doing intervals, I found I had to adjust the resistance on higher speed pieces, but with 24 levels of resistance, it wasn't hard to find a suitable level. The magnetic action also means that it's much quieter than an air or water rowing machine.
The experience of having the resistance adjusted remotely during iFit rows can also be a bit startling. I sometimes found that the resistance was higher than I wanted it to be so I temporarily disabled this function, but this is easy to do as you're rowing along.
ProForm 750R: tech
The ProForm 750R doesn't come with its own touchscreen, so you don't get quite the immersive experience you might have with the giant screens that feature in some premium rowing machines, but if you use a tablet you can still enjoy the benefits of an interactive row.
The digital console is reasonably easy to use. It scrolls through data as you row, showing calories, distance, split/500m, time, strokes per minute and heart rate. There is a way to set it to show only one of these, but I didn't find this necessary as the key data is also shown on the screen above if you're following an iFit workout.
It's worth noting that the split (time per 500m) is wildly out of line with the industry-standard Concept2 data. It's much more generous and gave me a speed that an elite rower wouldn't be ashamed of, so if you're thinking of competing you might be sorely disappointed on race day - indoor rowing competitions are all done on Concept2 RowErg machines.
The iFit app is terrific, although browsing the library isn't entirely intuitive and could do with some improvement. I really enjoyed both the rowing workouts and the cross training ones. Sadly, there are no live rowing sessions (only bike, treadmill, and elliptical), but I actually found the on-demand sessions felt pretty much like live ones as the resistance is adjusted on the instructor's prompt and a leaderboard shows how you rate against other users as you row.
Quite a few of the sessions involve instructors rowing in scenic locations which is fun, although in some of them you're mostly seeing the end of the boat with a bit of background until they show the occasional shot of the surroundings. Some of the cross training workouts are in far-flung places, too; I got a particular thrill from a stretch session from outside a research station in Antarctica!
I also loved the fact that there's an increasing emphasis on mental health on the iFit app, with a few meditations being added to the menu.
ProForm 750R: user reviews
I wouldn't go so far as to say that the ProForm 750R is a fan favorite - it scores a fairly lowly 3.5 stars out of 5 on Amazon (contrast this with the Concept2 RowErg which gets a stellar 4.9 stars). On the whole, however, users seem pretty happy with it.
Reviewers praise the ProForm 750R for being a good quality piece of equipment (although some complain that they struggled with the assembly). They find it comfortable, quiet, and solid ("The seat is probably the most comfortable rowing machine I've sat on," says one Amazon reviewer). Most feel that it's good value for money.
There are a few comments about the digital console being rather basic and old-fashioned, and some are unimpressed with the preloaded workouts on it. The iFit app receives mixed reviews. Most love the variety and the style of coaching, though some reviewers feel it's very expensive and not worth the investment.
ProForm 750R: verdict
The ProForm 750R would be a great choice for you if you're looking for a reasonably priced, well-made rowing machine to keep fit on at home, especially if you enjoy having a bit of encouragement from instructors both on and off the rowing machine.
It's not the most swanky machine either in appearance or in terms of tech, but it folds away which is great if you don't have a lot of space. It's sturdy and super comfortable to use, even on long rows.
The iFit app is great for home workouts and there's a wide variety of sessions including lots of rowing ones. Having the instructor adjust your resistance is a fun feature. It's a pity there aren't any live rowing sessions, especially as there are live sessions for treadmills, bikes, and ellipticals.
There's no giant touchscreen but following the workouts on the tablet is a decent second best and will probably mean the machine doesn't date as quickly as the ones with integrated screens. You may well be glad of this in years to come!
Also consider
Echelon Smart Rower
If the lack of live rowing sessions is an issue for you, you might want to consider the Echelon Smart Rower. It has many similarities with the ProForm 750R including having a tablet holder rather than an integrated screen, but the Echelon United program, which also has cross training workouts, does include live rowing classes.
Concept2 RowErg
If you're looking for a quality rowing machine that comes without a monthly program, take a look at the Concept2 RowErg, which involves just an upfront payment, has industry-standard data and is great value for money.
Patricia Carswell is a freelance journalist, specialising in health and fitness. She has written for a huge variety of national newspapers and magazines, including Healthy, Top Santé and Women's Fitness, and writes a monthly column for British Rowing's content hub. She's the founder and host of rowing blog and podcast, Girl on the River, where guests have included Sir Matthew Pinsent and multiple Olympian Frances Houghton MBE.
She won Rowperfect's Rowing Blogger of the Year several years in a row, the Endurance Award in the MyProtein Blog Awards and was runner-up in the Sports & Fitness Category in the UK Blog Awards in 2017.
She keeps fit by rowing, walking and swimming, and is at her happiest when on or in the water.