Samsung Galaxy Buds2 review: great sound-quality and fast charging earbuds
In this Samsung Galaxy Buds2 review, we let you know if these earbuds are worth the investment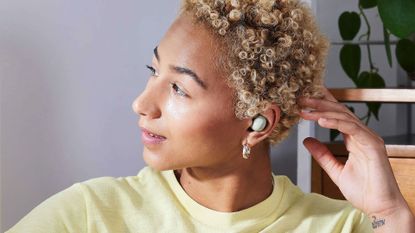 (Image credit: Samsung)
The Samsung Galaxy Buds2 are a solid choice for everyday wear and can stay snug during high-impact workouts. We loved the clear sound, fast wireless charge system, and Galaxy-specific features. However, audiophiles may want to save for the Buds Pro earbud set.
Reasons to buy
+

In-ear fit app test

+

Solid sound quality

+

Fast wireless charging

+
Reasons to avoid
-

No iOS app support

-

Only IPX2-rated waterproof

-

Noise cancellation could be improved
Get the Fit&Well Newsletter
Start your week with achievable workout ideas, health tips and wellbeing advice in your inbox.
Thank you for signing up to Fit And Well. You will receive a verification email shortly.
There was a problem. Please refresh the page and try again.
Before we dive into this Samsung Galaxy Buds2 review, we need to cover some key facts. Samsung released its first set of earbuds, the Galaxy Buds, back in early 2019, as part of their plan to go toe-to-toe with Apple.
Since then, Samsung has released Buds Plus, Buds Live, and Buds Pro to their lineup, making them some of the best workout earbuds for many Android smartphone owners. The Buds 2, released in mid-2019, are meant to replace earlier models while being the most affordable choice in Samsung's arsenal.
Overall, I found the Samsung Galaxy Buds2 to be good everyday earbuds with solid active noise-canceling for the price, excellent battery life, and Galaxy features. However, if you are a highly discernible audiophile, you may want to take advantage of a deal to try the Buds Pro earbuds instead.
Samsung Galaxy Buds2 review: price & features
Samsung Galaxy Buds2 earbuds are available for $149.99 in the US and £139 in the UK. This is cheaper than both the Live and Pro models, which are available for $169.99/£159 and $199.99/ £219 respectively.
The Galaxy Buds2 headphones boast an active noise-canceling system that can eliminate up to 98% of background noise and is backed by UL verification. Receiving calls, pausing podcasts, and skipping songs are possible with a few taps on either earbud.
The battery life is decent and can be boosted on the go by the lightweight chargeable case. Four colors - Olive, Graphite, Lavender, and White - are available to keep you looking stylish during your workout.
Samsung Galaxy Buds2 review: sound quality and performance
As I opened the small white box for these earbuds, the feature I was most excited to test out was the Active Noise-Canceling (ANC). Why? My neighbors' dog barks constantly which can make working from home difficult at times. Once I popped the buds in properly, even before I activated the ANC feature, external noise was drastically reduced. So reduced, that I didn't even notice my partner walking towards my office until he got two steps away from the door.
Once the active noise-canceling was activated, it was good, but not as good as the noise-canceling on the Samsung Galaxy Pro earbud set. It was effective, but could be improved to create a more immersive sound. Being able to switch the ambient sound off when calling a friend meant that I didn't have to raise my voice needlessly, which was a great touch. While my voice on the call was clear enough, it felt very standard for calls taken through Bluetooth headphones.
Even before adjusting one of the six equalizer settings in the Galaxy Wearable app, the music was rich and clear thanks to the speakers emitting quality sound. Being able to boost the bass on my workout playlist did add an extra kick to my soundscape and motivation. In terms of sound customization, there are six equalizer settings to choose from - normal, bass boost, soft, dynamic, clear, and treble boost.
Samsung Galaxy Buds2 review: design and comfort
Samsung's Galaxy Buds2 have stuck to the lightweight, sleek pebble style of previous iterations. While the earbuds and case appear the same, there is less protrusion and the buds are lighter than previous models, meaning they should stay snug throughout the day. The charging case is also lighter and significantly less bulky than the Buds' case, making for more convenient travel.
It is important to note that these buds were not specifically designed with working out in mind - however, they are meant to keep up with you.
When I received them, the buds arrived with the medium pair of silicone buds attached, which felt loose in my ears. After changing to the larger set of buds and thanks to the in-app ear test, they feel snug most of the time. I did have to fiddle and twist the buds a little to pass the setup test in both ears, though.
After the setup was complete, I proceeded to charge the buds up and wear them for the entire day. During work, listening to podcasts and music felt comfortable and neither bud fell out. I went for a walk, worked out, and made dinner in these without an issue. Once I got on a call with a friend, however, the left bud started to fall out repeatedly, much to my annoyance; I had taken them out to eat and tried just putting them back in without using the in-app test before answering the call.
If you have owned other Galaxy earbuds, like me, using them will feel very familiar. Being able to tap either bud to change songs or receive calls is great, but sometimes the buds didn't pick up on my gestures when I didn't tap in exactly the right spot.
Overall, these buds felt comfortable and secure but I do wish that they had a higher water resistance than IPX2 for rainy days. This level of protection means they can withstand spraying water when tilted up to 15 degrees vertically. If you live somewhere particularly rainy or wet, we would recommend choosing the Buds Pro set as they have an IPX7 rating, meaning they are protected against water immersion up to 1 meter.
Samsung Galaxy Buds2 review: battery life
The Samsung Galaxy Buds2's battery can last up to five hours while using the ANC feature, and up to 20 hours when the buds and the case are charged. On arrival, the buds were at 55% power and the case was at 39% - after only five minutes on a charge, they were ready to go for an additional hour.
While this is impressive, there are other earbuds on the market that can give 25 hours or more on a single charge, making the Buds2 seem a little lackluster in comparison.
Samsung Galaxy Buds2 review: pairing
In terms of pairing, the Samsung Galaxy Buds2 work like a dream with Samsung smartphones; the setup for these buds only took a few moments with my Galaxy S21.
Samsung's Auto-Switch feature, which allows you to switch the pairing between Galaxy devices, worked very well and seems a great fit for people who go from running outdoors to following cool-down videos on their tablets. Controlling and pairing the Galaxy Buds 2 is not limited to phones and tablets; Galaxy Watch users can easily control the ANC and check on the buds' battery life.
While we love all of this, it is important to note that some of the Galaxy-specific features may not work as well with other branded smartphones and tablets; multiple online reviews discuss how there is little-to-no iOS app support. As an iPhone user, you would only have basic functionality, losing out on features like the equalizers and custom touch controls.
With this in mind, we recommend that non-Samsung users get their earbuds elsewhere. It is also important to note that these buds are only compatible with Android devices that are 7.0 or higher and have at least 1.5 GB of RAM available.
Samsung Galaxy Buds2 review: user reviews
Samsung Galaxy Buds2 users love that these earbuds are quick and easy to use, have a decent battery life, and fast charging system. In addition, the manufacturer's two-year guarantee is a great help in a pinch. However, a common complaint comes regarding the buds falling out regularly. While the three different bud sizes and digital fit test will help with that, these may not work for all ears.
Samsung Galaxy Buds2 review: verdict
Overall, the Galaxy Buds2 are a great everyday set to replace the older Samsung models. If you like a clear sound and prefer earbuds in the Galaxy style for a cheaper price, then the Galaxy Buds 2 are a great option. Although they were not designed for workouts specifically, they will stay snug and comfortable once you find the right fit. However, these buds may not be the best choice for those who consider themselves audiophiles, use iOS, prefer earbuds with wingtips, or are more water-prone than most.
Also consider
Jabra Elite Active 75t
If battery life is your concern, the Jabra Elite Active 75t earbud set is a great sports-oriented option. While they are not as sleek as the Samsung Galaxy Buds 2, they have crisp sounds, excellent features, and plush comfort
JayBird Vista 2
The successor to the Vistas, the Jaybird Vista 2, did not disappoint during our tests; rugged, lightweight, and durable, they are a fantastic addition to any daily routine.
Get the Fit&Well Newsletter
Start your week with achievable workout ideas, health tips and wellbeing advice in your inbox.

Chloe Page is a UK-based freelance writer and editor with a bachelor's degree in Creative Writing from the University of Winchester. Over the span of her seven-year freelancing career, Chloe has covered various niches, including health, fitness, plumbing, entertainment, and music. Her work includes interactive fiction, blog posts, and web copy. When she's not writing, Chloe enjoys streaming, cycling, and trying new recipes.