Under Armour HOVR Apex 3 review: A versatile premium all-rounder
The Under Armour HOVR Apex 3 is a versatile workout shoe providing support and comfort no matter what you like to do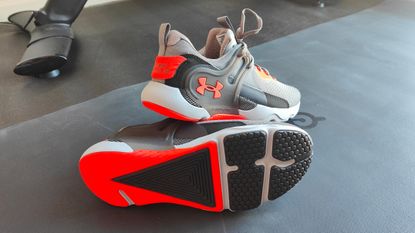 (Image credit: Lee Bell)
Under Armour's HOVR Apex 3 is a great all-round workout shoe that offers versatility and the performance needed by those who don't just stick to one type of workout.
Reasons to buy
+

Stylish and accessible design

+

Great level of support and cushioning

+

Good all-rounder
Get the Fit&Well Newsletter
Start your week with achievable workout ideas, health tips and wellbeing advice in your inbox.
Thank you for signing up to Fit And Well. You will receive a verification email shortly.
There was a problem. Please refresh the page and try again.
If you're on the lookout for the best workout shoes, you shouldn't be surprised to stumble upon Under Armour. The British sportswear brand has one of the most extensive collections of workout shoe offerings you've ever seen, from the HOVR range right through to the TriBase and Charged collections. And that's not counting its dedicated running shoe lineup and older, discounted lines. The list is endless!
This means it's not always easy to know which of Under Armour's workout shoes are catered best to your needs. But if you're looking for a trainer that can give you the support you need across most types of workouts, you're looking at the brand's HOVR Apex range, consistently one of the best cross training shoes.
The newest in this line is the Apex 3, and like both of its predecessors, boasts some Responsive cushioning, which serves to reduce impact and return energy. It's also said to help propel you forward during exercise, powering those much-needed explosive movements. Then, a lightweight mesh upper with 3D print promises added protection and long-lasting durability.
But the question is: do these features translate well in terms of real-life experience? This is exactly what our HOVR Apex 3 review will attempt to find out.
Under Armour HOVR Apex 3: Price and availability
The Under Armour HOVR Apex 3 gym shoes were launched in July 2021 with an RRP of £120 / $140 in four different colour options: Black and Halo Gray, Black and Radar Blue, White and High-Vis Yellow, and Black and Concrete.
They are available to purchase now from selected retailers and the Under Armour website.
Under Armour HOVR Apex 3: Design
The HOVR Apex 3 shoes tout a lightweight mesh upper that is sturdy yet still flexible enough to move with your foot to offer you the support needed throughout a wide range of movement.
This is thanks to a tight weave fabric for durability, overlaid with a rigid 3D print on the side of the ankle. This, Under Armour says, for enhanced protection and durability against the more extreme activities you'd find yourself doing in CrossFit, such as rope climbs, and not for stability or support like you'd expect. In addition to this, they also make the Apex 3 shoes look a little more unique, especially compared to run-of-the-mill designs from rivals such as the Reebok Nano series.
The most obvious difference when compared to its predecessors is the HOVR Apex 3's tongue. This has been redesigned to be more slimline. It's still bigger and more cushioned than your average workout kicks but, thankfully, no longer looks like a skate shoe as it did in the first iteration. As for the ankle area, this boasts a quilted padding that hugs the joint to give a perfectly snug fit during use.
While it's clear there are plenty of design pros, are there any cons? If we're being picky, we'd have to say that the HOVR Apex 3 is a little on the busy side. With Under Armour's bulky Tribase tech on the outsole, they're not the world's most sleek training shoes, so they might not be the kicks for you if you prefer minimal designs.
Under Armour HOVR Apex 3: Sizing and fit
When it comes to sizing, the HOVR Apex 3 possesses a somewhat wider fit than your average trainer, especially through the forefoot. This is only subtle, mind and if you've got an average width foot, you're likely to find it fits perfectly well for most activities. Saying that, those with more narrow feet might be troubled by a loose feeling during exercises which require quick and agile movement.
Under Armour HOVR Apex 3: Performance
While design is important, looks are everything - especially when it comes to workout shoes. So how does the HOVR Apex shoe fare performance-wise? Well, the first thing you should be aware of is that these trainers sport a construction that is best suited to more functional training, such as weight lifting, jumping and powerful, short bursts of movement. The rubber in the mid-sole and heel is perhaps a little too thick and stiff under foot for repetitive activities such as long-distance running. They just won't give you the flexibility you need.
What that does mean, though, is that the Apex 3 are brilliant when it comes to all-round, HIIT-style training as they offer up some great bounce back energy and supportive cushioning. However, it's during activities such as weight lifting that these shoes come into their own. They offer some very stable support in the ankle, right where you need it, thanks to the TriBase outsole - a design feature that has been perfectly developed to bring a nice, flat base to exercises such as weighted squats and deadlifts.
Overall, the HOVR Apex 3 has some really great mechanics built in to deliver a great solid base of support across the whole foot. This is balanced out nicely by a great level of cushioning and bounce-back in the sole. These shoes are hard to fault!
Under Armour HOVR Apex 3: Verdict
The HOVR Apex 3 is a very impressive and versatile workout shoe that offers a nice balance of support and cushioning, making it more than suitable for nearly all types of exercise, from explosive functional training to heavy weight lifting. This comfort and support might come at the price of a busy and somewhat bulky design, but this can easily be overlooked - especially since they're exceptional at eliminating impact in exercises such as jumps and quick sprints.
Overall, the HOVR Apex 3 is a great multi-disciplinary gym shoe that is way more comfortable than it looks. It certainly won't disappoint.
Also consider
Nike Metcon 6
The Nike Metcon 6 is probably the best workout shoe out there. It's been given some additional stability in the heel over its predecessors, assisting with exercises such as squats, deadlifts, box jumps and kettlebell exercises which require a solid base. The 3D-printed upper is breathable and roomy, while the raised carbon rubber sole material will offer some additional grip on rope climbs. And since it's no longer brand new, you should be able to pick up a pair online for cheaper than the latest generation, the Metcon 7.
Want to know more? Check out the full Nike Metcon 5 review.
On Running Cloud X
Using the same tech found in the brand's race shoes, the Cloud X workout shoes by On are geared more towards general training and can handle everything from weightlifting and HIIT to CrossFit and short sprints. The other great thing is that they still have that super lightweight construction that On is known for, thanks to a knit-weave upper. Light and breathable, they maintain a good level of cushioning on the outsole, not only making them highly comfortable, but well placed to handle high impact training moves such as box jumps.
Want to know more? Check out the full Cloud X review.
Get the Fit&Well Newsletter
Start your week with achievable workout ideas, health tips and wellbeing advice in your inbox.
Lee Bell is a London-based journalist, copywriter, specializing in all things tech and lifestyle. He is also a qualified personal trainer. He started his journalism career a decade ago as a reporter covering the latest gadgets and innovations at tech tabloid The Inquirer. Lee went freelance in 2016 to broaden his expertise, moving into news, reviews and feature writing for a host of national print and online lifestyle titles such as GQ, Forbes, Esquire, Men's Health, Wired, The Metro, and The Mirror. He has an insatiable appetite for travel, Dharma yoga, and the odd outdoor challenge.