Under Armour TriBase Reign 4 shoes review: a supportive shoe for sweaty workouts
Discover our Under Armour TriBase™ Reign 4 shoes review to find out everything you need to know about these gym kicks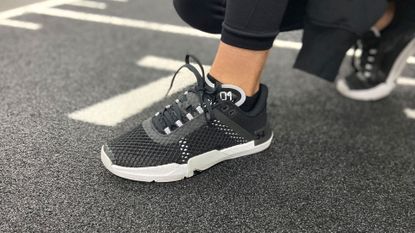 (Image credit: Getty)
It's official: the Under Armour TriBase™ Reign 4s are worthy contenders for being leaders in their field. Coming with a low drop, designed with breathable fabrics and tech that puts stability in every step – the TriBase™ Reign 4s help you win at weighted workouts.
Reasons to buy
+

Very lightweight trainers

+

Super supportive

+

Shoes feel breathable, even through sweaty workouts

+

Low drop
Reasons to avoid
-

Limited amount of colors

-

Expensive

-

Minimal cushioning
Our Under Armour TriBase™ Reign 4 review has landed. So if you're wondering whether the sportswear brand's cross-training kicks are worth the hype, stick right here. Over the course of a month, I was lucky enough to test one of the newest trainer offerings from Under Armour, and put them through their paces – as they put me through mine.
The result? Maybe one of the best cross training shoes and a very welcomed sneaker addition to my gym collection that's built for heavy lifting and close floor contact. Having only been released in March 2022, the TriBase™ Reign 4s are the fourth edition in the Reign collection.
Helping to support my frame, build a powerful base from which to spring, and keep my feet steady, it's fair to say the new TriBase™ Reign 4s take pride of place in Under Armour's stellar line up of gym shoes.
But before I get ahead of myself (and have you adding them to your basket) – there were some cons to Under Armour's latest spin on its TriBase™ Reigns. From the design and the price to the features and the fit, keep scrolling to read the full Under Armour TriBase Reign 4 review.
Under Armour TriBase™ Reign 4 review: price & features
Coming in a wide range of different sizes – including half sizes – there is a pair of Under Armour TriBase™ Reign 4s for most feet. US size-wise, you can pick up a pair of these sneaks in size 5 right up to size 8.5. While in the UK, you can find Under Armour's TriBase™ Reign 4s in size 2.5 up to 8.5. I tested out a pair of size UK 5s in the Black/Halo gray and they were true to size. The only other colorway option was a wine-red pair, in the shade Wildflower/Beta.
If you're accustomed to the trainer scene, you'll know that cross training shoes, or gym shoes, can be pricey. And with Under Armour's TriBase™ Reign 4s only having launched in March 2022, they are the brand's most advanced take on this style. In the world of trainers, newer editions mean higher prices. This is why, at $150/£115, the Under Armour TriBase™ Reign 4s don't come cheap. But are they worth the top-of-the-range price point? Perhaps so.
Under Armour TriBase™ Reign 4s come with a number of USPs. Firstly, they have a low drop (the difference in height between your heel and forefoot area). So low in fact they come with just a 2mm offset (more on this later). They're also crafted with TriBase™ tech. This ensures your feet make contact with the ground throughout your workout – a massive plus in the world of cross training shoes, as it provides a stable surface to help you lift. And thirdly: the shoe is super lightweight which adds to its competitive edge.
Under Armour TriBase™ Reign 4 review: design and technology
Fan of gym trainers with low drops? Then give some serious consideration to Under Armour's TriBase Reign 4s and your feet will thank you later. As I touched on, the TriBase Reign 4s have a 2mm offset. One quick Google and this confirms a 2mm offset is one of the lowest drops you'll find in the cross trainer game. A low drop means you're positioned very low to the ground. But why is this good?
Research has shown that good weightlifting shoes can help you achieve optimal positions without compromising posture. When you've got a low drop, this positions you closer to the ground, enabling you to produce more force. Put simply: the more force you can produce, the more weight you can lift.
Another ingenious design idea with these sneakers, is the fact they are equipped with Under Armour's TriBase™ tech. According to Under Armour, this helps to maximize ground contact and 'promote natural motion'. Combined with a full and grippy rubber sole, the shoes provided me with the flexibility to grip during lifts, while ensuring my feet were staying stable and strong as I powered through my sets. Plus, the same solid rubber lining also wraps up the sides of the shoe for better durability, and protection, and offers resistance with medial rope grip for your climbs.
But there's more to this shoe's sole than meets the naked eye. Under Armour has placed 'strategic zones of flexibility & traction' in the forefoot for a more powerful floor grip and greater mobility. And, weighing in at just 10 oz, these shoes won't make your workout any harder than it needs to be. The design of these shoes works with you, not against you.
Under Armour TriBase™ Reign 4 review: fit, feel, and comfort
Peak comfort levels were reached during each workout in the Under Armour TriBase™ Reign 4s. I found the fit was true to size and thanks to the brand's Micro G® foam midsole, you can rest assured your joints are more than adequately cushioned as you bend, push, move, and mix up your training.
No one needs sweaty feet as they train. Fortunately, Under Armour knows that. This is why the lightweight TriBase™ Reign 4s are kitted out with breathable mesh, allowing your feet to breathe and do so without you even realizing. The large tongue and sturdy laces mean these sneakers fit you comfortably – while being stable and supportive.
But while the TriBase Reign 4s were comfortable for weights and resistance-based workouts, they're best used for just that. I found it's best to avoid doing intense cardiovascular sprints on the treadmill and swap your shoes for something more springy to ensure your joints are cushioned with each contact.
Under Armour TriBase™ Reign 4 review: support
Cross training sneakers can never have too much support. Along with providing a sturdy, solid and stable triangular base for you to put your muscles under some resistance, the Under Armour TriBase Reign 4s come with an external heel clip for support you never knew your reps needed.
This means even if you have a little wobble, the heel clips have quite literally got your back. While the internal heel counter adds another layer of support and stability, so you can stay focused on the reps in hand.
Under Armour TriBase Reign 4 review: user reviews
The Under Armour TriBase Reign 4s haven't racked up many user reviews just yet, as they've only been on the market a month (at the time of writng). From the reviews we did find, however, the trainers have scored an average of 4.8 stars.
Overall, these sneakers have gone down a storm in the fitness world for their features. However, it looks like it's their design aesthetic which users believe could be stronger.
One person says: "I have been using these for a couple of weeks and the difference they have made to resistance workouts is noticeable. I usually wear running trainers which are comfortable but not as practical for HIIT and lifting. Not 5 stars because not as pretty as some other shoes. Otherwise would recommend!"
Another person says: "Super comfy and very stable for weights workout!"
However, another buyer says it's the fit and lack of colorways which cause the product to lose some stars. The user says: "I love these shoes. They are very comfy. It does run bigger than other UA shoes. Normally I wear 40.5, but based on other reviews I went half a size smaller (40) and these fit perfectly. I use them for all my exercise at the gym."
Under Armour TriBase Reign 4 review: verdict
It's been said, your workout is only as good as the trainers you wear. And once kitted out in Under Armour's TriBase Reign 4s, you'll have a strong, supportive and sturdy base to help you win at weighted workouts.
The lightweight and super breathable trainers will protect you as you push and pull your way through your reps and sets. While the grippy soles and external and internal heel clips ensure your feet only move when you want them to. This is a shoe that nearly does it all.
The only thing I found the Under Armour's TriBase Reign 4s can't do is bounce you from weights to long minutes of high-intensity cardio workouts. Yes, the full-length Micro G foam midsole provides cushioning so you can box jump and power transfer. But it's not enough to help protect your joints from the pressure they're put under while running on a treadmill.
Also consider
Nike Metcon 7
If you're not convinced by Under Armour's update on its Reigns, feast your eyes on Nike's Metcon 7. The brand's sneakers have a great reputation in the world of cross-training shoes. They are also at the same price point as Under Armour's offering. Other similarities include a lightweight fit and a super stable sole. But its differences are what may sway you. The Metcon 7 are more springy and responsive meaning you can add sprint training to your sessions. And, if you're not a fan of a super low drop, you'll be pleased to know Nike's latest Metcons come with a 4mm heel-to-toe inset.
Under Armour Hovr Rise 2
Looking for another lightweight option to choose from? Check out Under Armour's other offering in our best cross training shoes line up – the Under Armour Hovr Rise 2. The sneakers weigh 11oz in total, just one more oz than the TriBase Reign 4s, but they come in vastly cheaper being currently priced at around $78/£60. Plus, these neat shoes are ideal for CrossFit and HIIT. Meaning they come with more cushion and more all-important protection for our joints. So you can introduce even more explosive exercises into your workouts like burpees or box jumps.
Becks is a freelance journalist and writer with more than 7 years of experience in the field. She writes health and lifestyle content for a range of titles including Live Science, Top Ten Reviews, Tom's Guide, Stylist, The Independent, and more. She also ghostwrites for a number of Physiotherapists and Osteopaths.
Health has been a big part of Becks' lifestyle since time began. When she's not writing about the topic of health, she's in the gym learning new compound exercises. And when she's not in the gym, she's most probably reading.