Xplora XGO 2 review: We let a six-year-old loose with the child-friendly smartwatch
With calls, camera, text chat, and activity tracking, is the Xplora XGO 2 the smartest watch for kids?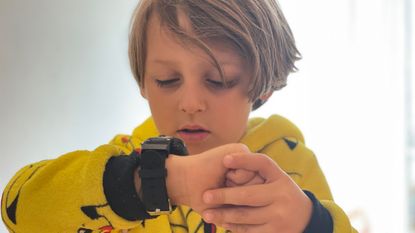 (Image credit: Kieron Alger)
The Xplora X Go 2 has all the features you might expect, but it doesn't do anything particularly well and there are cheaper options with a better UX for kids
Reasons to buy
+

Includes a camera

+

Can take and receive calls

+

Safety 'zones' to keep an eye on kids
Reasons to avoid
-

Expensive SIM plans

-

Audio prone to glitches

-

Unfriendly UX design

-

Poor battery life
This is Fit&Well's Xplora XGO 2 review. We've been hands-on with the kid-friendly smartwatch to find out exactly how it stacks up to competitors – and how it can be used best by its target audience – to determine if it's worth a buy.

It's often said that kids today aren't active enough. The lure of games, social media and screen time beats playing in the park, jumpers for goalposts, and getting active outdoors. So in a world where tech arguably makes youngsters more sedentary, is an activity tracking, kid-friendly version of the best fitness watch really the answer?

Xplora – makers of the new XGO 2 children's smartwatch – certainly thinks so. Its call-making, camera-toting watch hopes to inspire activity by converting steps into coins that can be cashed in for games. But does it work? To put this theory and the watch's potential to the test, I strapped it onto my six-year-old son, and here's what we found in our Xplora XGO 2 review
Xplora XGO 2 review: Price & availability
The Xplora XGO 2 starts from $99 in the US and costs £99.99 in the UK. As smart devices go, on paper that isn't hugely expensive. But when you consider this is an investment for an under 10-year-old, it's also not pocket money cheap. Particularly when you compare it to other kid-friendly wearables.
Granted, the Fitbit Ace 3 ($59.99) and the Garmin Vivofit Junior 3 ($79.99) don't offer the camera and phone bells and whistles, but if you're looking for something that inspires your kids to move, these trackers are by far the best at that.
You can also pick up a pre-owned Apple Watch Series 4 for around $150. That's the cheapest model that lets you use Apple's suite of family features.
To make the most of the Xplora XGO 2's connected calls and messaging features, you'll also need a monthly data plan. Depending on how much data your Mini You rips through, you're looking at roughly a $10 monthly top-up to add to the initial price.
Xplora XGO 2 review: Design and specification
The first Xplora XGO 2 sample we tested refused to charge or even switch on. It's possible that we unluckily landed a one-off faulty device but whenever this happens, it always raises concerns that others could easily suffer the same fate. It certainly burst my six-year-old's initial excitement bubble. Had this been Christmas Day, it would've been a huge letdown. Thankfully the second product worked.
Straight out of the box the Xplora XGO 2 feels cheap and plastic even for a watch aimed at kids. One benefit of the plastic design is perhaps durability. This watch will likely stand up to the inevitable drops, knocks, and scuffs. Though even from a month's use the casing is scratched and the screen looks worn. On the plus side, the IP67 water-resistant rating happily survived a bit of rain and the odd sink splash.
It's surprisingly big and bulky too. At a chunky 60g, the Xplora XGO 2 weighs more than a 45mm Apple Watch Series 7, and its fat watch case swamped my six-year-old's wrist. Though he seemed happy to ignore it, in all the excitement of having a smartwatch to play with and that heft might prove less of an issue for larger wristed, older children. However, for those older children, there are faults here that are likely to be more frustrating.
The Xplora XGO 2 packs a 1.4", 240 x 240 pixel color touchscreen. But anyone over a certain age, who's used to the slick controls and touchscreen experience of an iPad or Nintendo Switch, will find this sadly wanting. It's laggy, unresponsive, and low-resolution. All of which makes the navigation and controls frustratingly juddery and inconsistent. At times it bamboozled my son as when delayed response lurched him onto unwanted screens while he was trying to tap and navigate. For example, while trying to scroll down the contacts list, he'd often end up calling someone accidentally.
The frustrations didn't stop there. What really surprised me was how quickly my son zeroed in on the watch's other major design faults. And there are quite a lot.
He immediately clocked the limitations of the front-mounted camera that makes it almost impossible to take any photos other than selfies and the awful picture quality from the 0.3 megapixel snapper renders it pretty much useless anyway. He tested this out on a trip to the circus and the results say it all. This feature was a huge disappointment for him.
He also pointed out that the frustratingly dim, built-in torchlight is awkwardly positioned on the top right-hand side of the watch chassis, making it hard to direct what little light it does shed. The beam barely made it beyond the top of his hand.
He was also completely miffed when on more than one occasion the Xplora XGO 2 froze with the message "Unfortunately the watch has stopped."
As the adult in the mix, I found the setup clunky and slightly confusing. Certainly not the slick experience we've come to expect from modern tech. The Xplora XGO 2 has WiFi and has Bluetooth connectivity. Pairing with the app took multiple attempts, unscrewing the SIM card tray was fiddly and linking the watch to the GiffGaff account wasn't very straightforward.
The Xplora GO2 comes in four colors; pink, blue, back, and green. The blue got the vote from my son, though we tested the black.
Xplora GO2 review: Features
As you'd expect, the Xplora XGO 2 has a stripped down, child-friendly feature set that largely boils down to activity tracking, calls, messaging, music and photos.
The activity tracking comes in the form of a classic step counter and kids can unlock goal-based badges that are startlingly similar in design to Apple's badges. They can also earn Xcoins to spend on games in the in-app arcade. Games are played on a phone or computer rather than on the watch. Xplora tells us this is to help keep that balance between screen time and real world activity. There are also movie tie-ins to motivate kids to move more. For example activity-based leaderboards where you can win Boss Baby 2 prizes.
Like most people who've been handed a step counter, my son was immediately hooked with the idea and spent time pacing the room to drive the number up. It's a simple concept, fairly well delivered. However, he wasn't the least bit interested in the games or the coins. Though hands up, I didn't really encourage him to focus on those. To me the whole coin thing feels like a very thinly-veiled invitation for an advertising onslaught. The coins to unlock games felt contradictory to the idea of promoting activity.
The watch can take and receive calls from numbers you add to a limited list. When it worked, this was a huge hit. My son loved being able to call his grandparents, cousins and family and I've never seen him speak with such confidence. Unlocking a closer family connection was easily the most positive thing the watch offered.
However, even this was glitchy. The audio quality was often sketchy. Outside of the quietest environments it was hard to hear him when he called me and the speaker on the watch made it hard for him to hear incoming callers unless he was in a completely silent room.
Despite the 4G SIM, connectivity was also unreliable and even when we had connectivity, incoming calls from numbers we'd added to the contacts often went straight to voicemail. That put a huge dampener on my son's initial excitement that his family could call him at any time. And family members soon gave up trying.
What the users say
With a 3.9 average rating on Amazon and 3.1 average rating on tech giant Curry's, users are saying the watch is good for kids and offers peace of mind for parents, although SIM deals are pricey and could be "a complete nightmare" to set up, according to one Amazon user.
Your child can also send and receive WhatsApp style text and voice messages from the contacts listed. The sender has to be on the approved list and use the Xplora smartphone app to read and reply. Voice messages sent from the watch and in the app had a tendency to cut off the beginning and end without explanation, again making the whole experience hit and miss.
The Xplora GO2 has a music player where MP3 tracks are added to the watch by sending the files attached to chat messages from within the Xplora app on your phone. If you've got MP3 on your phone it's a relatively fuss-free process to send them. However, the maximum file size is 5MB and that rules out an awful lot of songs and we often found the watch refused to download them, repeatedly asking us to connect to WiFi even though it was showing us we already were. Confusing and frustrating enough for an adult, let alone a 6-year-old child.
Other features include a calendar (though you can't add events), a stopwatch, calculator and voice recorder. You can set alarms, though this also has to be done in the app, so the child can't do it without borrowing your phone.
The security settings were pretty solid. There's a school mode that locks features and parents can track their child's live location as well as switching off the watch remotely.
Xplora XGO 2 review: Battery Life
Smartwatches aren't known for long battery life and despite a more limited feature set than most adult watches, the Xplora GO2 is no different. If anything it's worse. Xplora doesn't actually list a general usage battery life, they only claim that the watch should last 72 hours in standby. But in our tests it barely scraped through a full day, even when use was limited.
The moment you start making calls and sending voice messages, the Xplora GO2's staying power drops dramatically to the point where it'll just about squeezed out a day trip to the zoo.
Xplora XGO 2 review: Verdict
Let's start with the positives. There's no question that my 6-year-old had fun with this watch. He loved the independence of being able to call family, take his own photos, send voice messages, set alarms and watch his step count rise. And if you're happy to pay £100 for a bit of novelty, there's some fun to be had here. But even my 6 year-old quickly realised he was having to battle a clunky, glitchy and poorly delivered device to get to that enjoyment and useful function.
The watch itself is hard to use even for an adult, the screen is tiny and poor quality, the key features are buggy and the battery life is really poor. I spent far too much time explaining to a little frowning face, why something wasn't working.
If you want to empower your kids to connect with family or access some of the safety tracking features that come with these devices, the truth is you'd be better off investing in a second-hand older generation Apple Watch and setting up the kids mode on that. You might pay a little more but the features actually work and there's a quality to the build you're just not getting here.
If it's the activity tracking that you're really after, the cheaper options from Garmina and Fitbit offer a slicker experience and much higher quality build.
The fact is the Xplora GO2 doesn't do anything particularly well and this is probably best avoided.
Get the Fit&Well Newsletter
Start your week with achievable workout ideas, health tips and wellbeing advice in your inbox.