Yogamatters Eco Rise Yoga Mat review: a five-star buy our resident yogi loves
With the Yogamatters Eco Rise Yoga Mat, you get a high-quality, comfortable mat that won't break the bank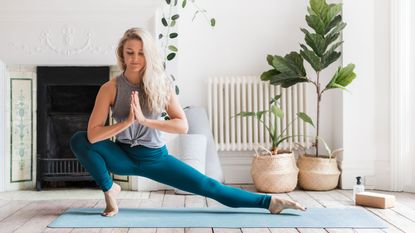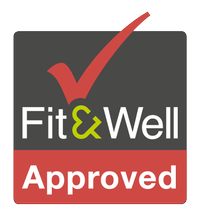 (Image credit: Yogamatters)
The Eco Rise Yoga Mat has stolen my heart. I love it's textured surface and its simple design. It's refreshing. I relish the way it feels as I move through my practise and feel excited each day to roll it out. This is an exceptional mat for a great price. If you're looking for a new mat, this is the one I'll be recommending from now on.
Reasons to buy
+

Environmentally friendly and sustainably sourced

+

Superior grip for all styles of yoga

+

Natural colors, no dyes used

+

Perfect thickness for pro-yogis
Reasons to avoid
-

Weird smell when opened

-

Must wipe down mat before use - cannot avoid this as it can irritate the eyes

-

Beginners may prefer a thicker mat
The Eco Rise Yoga Mat from Yogamatters gives other more expensive yoga mats a very good run for their money, and is my pick of the best yoga mats - hands down.
This yoga mat is the perfect blend of everything you need to enjoy your practise. It's thin and lightweight suiting a studio yoga class but has the added bonus of being light enough to take it away as a travel mat - something I recently did on a weekend away.
It's also made from sustainably harvested natural tree rubber with a delightful textured surface. The natural tree rubber means it's fully recyclable and biodegradable once it's served its purpose. For those environmentally conscious yogis out there who worry their mat choice may negatively affect the planet, this mat completely takes that worry away.
Yogamatters also boasts that it's suitable for all styles of yoga. This is a big statement to make, however the grip is fantastic and has managed to hold me in some compromising positions during a sweaty practise... It's not often you find a yoga mat that you can confidently recommend is suitable for every style of yoga but I think I may have finally found one.
Yogamatters Eco Rise Yoga Mat: price & features
Marketed as a morning yoga mat, the Eco Rise Yoga Mat comes in some beautifully neutral shades which I found gave me a little lift in the mornings. They are plain but attractive. They lend themselves to the idea of simplicity and peace. You are not distracted by busy patterns or bold colors. Your body and mind can arrive on your mat in calmness and serenity ready for your practise. The neutral shades available are typical calm, light colors; blue, grey and cream.
All color versions of the Eco Rise Yoga Mat come in the same size, 183cm length by 61cm width and 3mm in thickness. It weighs 2.3kg, making it lighter than some of the other top-end mats.
The price of this mat may seem a little steep if you're used to spending $20 / £15 on a yoga mat from the supermarket and a year later binning it (if it makes it that far). The Eco Rise Yoga Mat comes in at $60 / £45 which is at the lower end for the price of a top quality mat but its performance is equal to that of the top, more expensive brands. I used to think that was an extortionate amount to spend on a yoga mat but if you want quality and you want it to last, it's worth the investment.
Yogamatters Eco Rise Yoga Mat: look and feel
Recently, there seems to be a big craze with non-textured yoga mats. Some big brands are using a plastic-based polyurethane top layer to make their mats as smooth as a baby's bum. The plastic-based polyurethane top layer helps to absorb moisture and improves grip during hotter practises.
I love those mats, but I also love how grippy they are but the Eco Rise Yoga Mat has a slightly textured surface - which, to my surprise, I've completely fallen in love with. The texture is not like that of traditional plastic PVC yoga mats where you have the individual bumps that form the mat, like it has been stitched together. You may have seen this type of mat in your local yoga studio.
PVC is still the most commonly used type of mat. However, the Eco Rise Yoga Mat has a rubbery, subtly sandy texture that your hands and feet pick up on. Although I say sandy, it's not unpleasant. It's really helpful as it allows you to connect to your mat when you're practising and brings you straight back to the present moment, something I now notice I've lacked when using smoother mats.
The texture has helped to draw me back multiple times when I'm in a standing posture or upside down in a downward dog. I love the feel of it underneath my feet and hands. It seems to add something to my practise, deepening my connection to the here and now as I move. It feels a little unusual to start with but is now one of the highlights of the mat for me and is something I haven't experienced before.
Just as Yogamatters have chosen to use sustainably harvested natural tree rubber to make their Eco Rise Yoga Mat, they have also chosen to avoid the use of toxic chemicals and dyes in their production process. This would explain why the mats are only available in neutral, natural shades and as I've said previously, I really like the simplicity of this. By not using toxic chemicals or dyes, you know that your mat is environmentally 'clean' on all fronts and fits with the principle of 'ahimsa' - not causing harm to yourself or others.
I also really love their choice of keeping the colors limited and simple due to this manufacturing decision. Once upon a time, yoga wasn't even practised on a mat! It's not technically a necessity to have or own one. I like how back-to-basics the colors of these mats are and how this fits with the real meaning of yoga; to calm the mental fluctuations of the mind and withdraw from the outside world into our internal world. Simple colors, simple design helps us do this during our practise.
Yogamatters Eco Rise Yoga Mat: material
Yoga mats tend to be made from plastics, either completely known as PVC yoga mats or to some extent (with the polyurethane top layer mentioned above), and some of these plastics release toxins when the product is thrown in landfill or incinerated.
Most yogis, or at least the most dedicated yogis, are aware that their mat choice has an impact on the planet, from production to the mat's exhaustion. Yogis tend to avoid causing any harm to themselves, other living beings and the environment as part of their practise off the mat, known as 'ahimsa' in yoga philosophy. With Yogamatters using sustainably harvested natural tree rubber, this reduces the need to make yoga mats from nasty plastics that don't biodegrade and actually leak toxins into the earth at the end of their life.
Furthermore, using sustainably harvested tree rubber means no damage is done to the environment during production as natural rubbers have very little negative impact on the planet during the harvesting, manufacturing and recycling processes. The use of natural tree rubber means you're able to recycle your mat once you've finished with it. It's a yogi's dream! However, the material choice alone doesn't make this mat stand out from the rest. Lots of yoga mats are now made from natural tree rubber but not all have adequate grip. This leads me to my next point...
Yogamatters Eco Rise Yoga Mat: grip
I've tried a few natural tree rubber mats recently and not all are as sticky as the Eco Rise Yoga Mat. Some of the best mats on the market have the plastic-based polyurethane top layer I spoke about earlier, which absorbs moisture and helps grip during hotter practises. However, Yogamatters have developed a mat that has superior grip, even during hot, sweaty classes, without the need for this plastic-based top layer.
How amazing is that? I find that quite extraordinary especially as the other natural rubber mats I've used without the polyurethane top layer have had pretty bad grip to the point that I've given up using them.
Hands down, this is the best natural tree rubber mat I've practised on that can hold me in pretty much any posture with any amount of sweat dripping from me (some nice imagery for you there).
Yogamatters Eco Rise Yoga Mat: weight and thickness
Another great thing about this yoga mat is its practicality, in terms of its weight and thickness.
The mat is just 3mm thick, which I find to be ideal for practising yoga any time and in any place. This is, of course, my opinion and I know lots of other people prefer thicker mats.
What I like about the choice of the 3mm thickness is that you have the option to take your normal yoga mat away with you. It weighs 2.3kg which makes it more than 1kg lighter than some of its competitors. There's no need to purchase a special travel yoga mat. Roll up your day-to-day one and away you go, literally.
I'm happy with 3mm of padding beneath my knees and hips on harder floors as I prefer to feel the floor under me when I'm practising, it helps me feel grounded. This mat allows me to have that experience whether on wooden floors, carpet or outdoors. However, if you like a thicker mat this mat may not serve you as well as it does me.
Yogamatters Eco Rise Yoga Mat: versatility
This is a big one for me and one that makes this mat stand out from the rest. I hadn't yet come across a mat that suits all types of yoga practise, from hot and sweaty workouts to restorative, calming classes where you may even keep your socks on to get rid of toe chill.
Most yoga mats sit either at the hot, sweaty end of the scale with super-duper grip or are average and sit somewhere at the bottom. Those at the bottom of the scale do just fine in a restorative class but, for example, if the temperature increases during a gym yoga class and you're holding a downward dog, your hands start their slide almost immediately.
There didn't seem to be a mat out there that you could take to any style of class and be happy with its performance, until the Eco Rise Yoga Mat. This mat sits smack bang in the middle of the scale while also pulling out the stops to slide it up the scale when you need it for extra grip. It's an outstanding mat that has surprised me in its ability to adapt to my practise.
Yogamatters Eco Rise Yoga Mat: verdict
I love this yoga mat. It's quickly become my new favourite and isn't like anything else I've tried. The textured surface was an added benefit and one that I didn't think mattered but it really does. It stands out from its competitors due to the unique textured surface while also remaining entirely eco from start to finish. I love the simplicity it brings with it and really feel that this mat is the physical representation of the true meaning of yoga, to withdraw into our internal world and calm the mind. To live simply. To be.
Also consider
At 5mm, the Jade Yoga Harmony Mat is a thicker alternative. It's also made from natural tree rubber and a tree is planted for every mat sold. It's slightly more expensive, costing around $85 / £65. Various size options are available.
The Liforme yoga mat is a fully eco yoga mat made from sustainably sourced natural rubber with an eco-polyurethane top layer. It's one of the most superior mats on the market right now. Consider this option for the alignment lines to help with your home practise.
Get the Fit&Well Newsletter
Start your week with achievable workout ideas, health tips and wellbeing advice in your inbox.
Kat is a yoga teacher with over five years teaching experience with a speciality in supporting injured students. She is qualified to teach Hormone Yoga Therapy and is currently studying to become a Yoga Therapy Practitioner. Alongside this, Kat has written about yoga and mindfulness for T3 and is the founder of Kalindi Yoga.