BIG Apple Watch discounts this Amazon Prime Day - save over $70!
It's not often you can snap-up an Apple Watch at a discounted price - but you can this Amazon Prime Day. Here's how...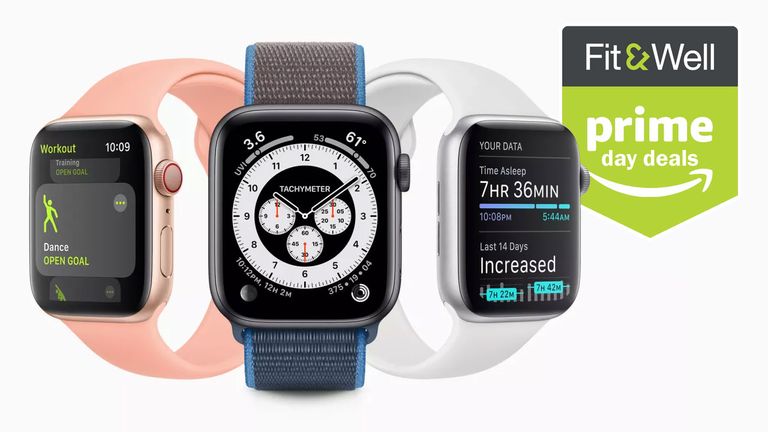 (Image credit: Apple)
If you've been considering joining the thousands of Apple Watch enthusiasts around the world, then now is the time to do so.
That's because Amazon Prime Day is in full swing, and we've found various models of the now-iconic Apple Watch at lower-than-usual prices.
For example, the latest model - the Apple Watch Series 6 - is available for $329 in the States, a saving of $70 on the RRP. This discount applies to the GPS 40mm version, and when we checked was available in the blue and pink colorways. Easily one of the best Prime Day fitness deals we've seen yet!
The same model is on offer at Amazon in the UK too, reduced by £50 from £379 to £329 across all five color options (black, red and white, as well as the blue and pink).
Apple make some of the best fitness watches on the market, and it's unusual to find them reduced by such significant amounts - so don't delay, check out this and other deals on Apple Watch below!
Apple Watch Prime Day deals - US
Apple Watch Prime Day deals - UK
Once you've snapped up one of these Prime Day Apple Watch deals, you can sit back and peruse all the other top offers available over the two-day shopping event.
Head to our Prime Day kitchen deals hub for savings on blenders, air fryers, food processors and more. And if you didn't decide to invest in an Apple Watch, perhaps one of the deals in our Prime Day Fitbit deals round-up will prove more tempting...
Stephanie is Editor of Fit&Well. With 15 years experience, she has previously worked for titles including Woman&Home, MSN and Stylist, covering all aspects of women's lifestyle including health and fitness. Her preferred way of staying fit and well is sport: she regularly plays tennis and has been a keen netballer since her school days. She currently plays with her London-based team, Cool Runnings, and is also a qualified Level 2 Netball Coach. Stephanie recently started strength training, and can now regularly be seen hobbling around her local area as DOMS kicks in. Happily, she's since discovered the joy of recovery days. As a result, her top fitness tip is: invest in a foam roller!