40 ways to burn 400 calories - in as little as 20 minutes
Here are 40 ways to burn 400 calories, no matter how much time you have to spare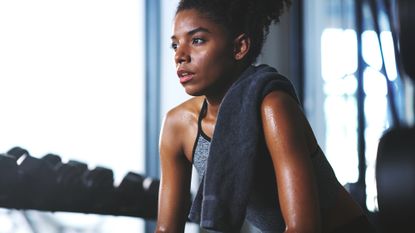 (Image credit: Getty Images)
Get the Fit&Well Newsletter
Start your week with achievable workout ideas, health tips and wellbeing advice in your inbox.
Thank you for signing up to Fit And Well. You will receive a verification email shortly.
There was a problem. Please refresh the page and try again.
If you're looking for 40 ways to burn 400 calories, you've come to the right place - we've rounded up a selection of activities that do just that!
From cardio workouts to strength training sessions using the best resistance bands or the best adjustable dumbbells, everything on this list will burn 400 calories within a set timeframe. If you find yourself struggling with boredom and motivation, there are plenty of options on the list to keep things interesting.
Of course, factors like weight and age play a role in the number of calories you'll burn during any activity. With that in mind, the 40 exercises below have all been included based on the typical calorie burn for an average person.
If you're short on time, you can ramp up the intensity and finish a fat-blasting workout in under half an hour or take things a little slower with a longer, gentler workout. Here are 40 ways to burn 400 calories – whether you have 20 minutes or two hours to spare.
Got 20-25 minutes? Burn 400 calories doing...
A kettlebell workout (using a 26lb, 35lb or 40lb kettlebell): a fun, full-body conditioning workout that improves strength without building bulk. A 2010 study published by the American Council on Exercise ACE found that a kettlebell workout can burn up to 20 calories per minute. Don't own one already? See our pick of the best kettlebells!
A Tabata workout: Similar to HIIT (high intensity interval training), Tabata workouts are characterized by periods of intense activity followed by a brief period of rest. Another study published by ACE found that participants who did a 20-minute bodyweight circuit (including push-ups, burpees, squats, and lunges) burned an average of 15 calories per minute - almost twice the rate burned during a long run.
Got 30 minutes? Burn 400 calories by...
Running at 7mph: A much-loved cardiovascular workout that helps reduce anxiety to boot. Happily, all you need to get started is a good pair of shoes and some suitable clothing. Check out our pick of the best running shoes for women and the best running shoes for men.
Squash: Make a weekly court booking, beat your opponent and improve hand-eye coordination whilst torching some kcals.
Rowing: Uses the large muscle groups in both your lower and upper body so you get a great tone-up too. If you don't have access to one at the gym, take a look at our pick of the best rowing machines for home.
Jump rope: Not just for the playground! Jump rope (or skipping, as it's also known) will improve cardiorespiratory fitness, flexibility, and coordination. Learn more about why jump rope is a brilliant workout in our dedicated article.
Spinning: Even just a half-hour class will strengthen your heart and tone your legs with pedal power. Check local gyms and leisure centers for classes, or else invest in one of the best exercise bikes to join virtual spin sessions in the comfort of your own home.
Step aerobics: This old-school form of cardio uses more than six times the effort of sitting.
Rollerblading: Helps strengthen muscles and bones, which in turn can lessen your risk of osteoporosis.
Boxing: Offering a full-body workout, boxing is undergoing somewhat of a renaissance, as people begin to appreciate the sport's calorie-torching credentials. Eye of the Tiger playing on your set of the best workout earbuds is optional!
Got 40 minutes? Burn 400 calories by...
Swimming: Specifically front crawl. This stroke works all your muscles with little strain, making it a great low-impact exercise. It's also often suggested for those suffering from asthma.
Jogging at 5mph: Not only will a 40-minute steady jog burn calories, but it can also have a positive effect on blood pressure and cholesterol.
Singles tennis: Working your arms, back, abs, bottom and legs, tennis is also a great exercise for strengthening your skeleton.
Basketball: A great social sport that can also help you to develop self-discipline.
Soccer: A fun way to improve weight loss and reduce heart disease.
Zumba: Improves your coordination and helps you let go of any inhibitions. Shake that booty!
Climbing the stairs: Free to do (although you could use the step machine at the local gym too) and super easy to add to your daily routine, this gets your heart pumping and doesn't allow for any coasting. Gulp!
Elliptical trainer: Less stressful on hips and knees than running on the treadmill, the best elliptical machines offer a low-impact workout - whilst still burning a ton of calories.
Synchronized swimming: Feeling inspired by those mesmerizing Olympians? Synchronized swimming not only looks impressive, but also boosts leg muscles and upper body strength. It also helps improve balance, posture and concentration.
Bikram yoga: Also known as 'hot yoga', Bikram is a favorite with sportspeople as it helps boost cardiovascular endurance. Given how much you'll sweat, you'll likely prefer to use your own mat - so take a look at our pick of the best yoga mats before you head off to class.
Got 50 minutes? Burn 400 calories by...
Mowing the lawn: And no, we don't mean on a ride-on mower! The pushing and pulling action of a walk-behind model will build strong arms, plus scientists at the University of Queensland say that smelling freshly cut grass boosts memory.
Circuit training: A 50-minute circuit class consisting of moves such as push-ups, sit-ups and jumping jacks will burn fat and help improve your stamina.
Ice skating: A great lower-body workout that's particularly good for all those muscles in your feet and ankles that don't get worked regularly.
Salsa dancing: This popular past-time helps lower the blood pressure, and really works your hips and midline - great if you're wondering how to get a slim waist.
Got an hour? Burn 400 calories by...
Cycling at 11mph: Make like Victoria Pendleton and Co – it's a great way to get
outside and see the world.
Hiking: Improve your stamina and overall coordination. Plus, it's free! Although you may like to invest in one of the best fitness trackers to monitor your step count.
Heavy gardening: The perfect excuse to do all that work you've been putting off since last summer. Work your muscles and enjoy the benefits of a pretty garden too – bonus!
Weightlifting: Lifting weights is often something people shy away from, but with the right coach there's really no reason to. It's great for burning kcals and building lean muscle. What's more, weight training has also been found to help regulate your sleep patterns.
Cleaning the kitchen/bathroom: With all that scrubbing action, cleaning should really be considered one of the best workouts for arms - plus you'll get a gleaming floor and sink into the bargain!
Hula-hooping: It can take some time to master, but once you've found your rhythm hula-hooping is a great activity for strengthening your core and posture - plus it's super fun.
Water aerobics: Another great low-impact exercise to help maintain healthy joints.
Got 75 minutes? Burn 400 calories with...
Badminton: A sociable sport that involves jumping, running and stretching. Known as 'physical chess', it also helps your intellectual skills by guessing your opponent's next move.
Trampolining: A fun aerobic and immune-boosting workout that the whole family can join in. Trampoline parks are popping up nationwide, or else invest in one for the garden.
Nintendo Switch: With games specifically aimed at improving your fitness (such as Ring Fit Adventure, Fitness Boxing and Just Dance), playing on the Switch is a great way to burn calories - without even thinking you're exercising. Challenge your family and get motivated, just remember to warm up properly and move any knick-knacks safely out of the way too!
Got 90 minutes? Burn 400 calories with...
A round of golf: And no, we don't mean crazy golf! The average golf course is six miles, so carrying clubs around the course is a great weight-bearing exercise, ideal for bone health and metabolism.
Paddleboarding: Paddling uses most of the muscles in your arms and shoulders. It also engages your core whilst also boosting your coordination.
Got two hours? Burn 400 calories by...
Horse riding: A good hack gives a great sense of freedom while physically boosting the cardiovascular system. Riding a horse is also good for your core too.
Pilates: Improves posture and can help joint pain in your back and neck.
Tai chi: A low-impact slow-motion exercise, tai chi is great for focusing attention and controlled breathing.
Playing the guitar: Release your inner rock god while enhancing your memory, coordination, and confidence.
Get the Fit&Well Newsletter
Start your week with achievable workout ideas, health tips and wellbeing advice in your inbox.
Currently Wellbeing Editor across several women's titles including Woman&Home, Woman and Woman's Own, Faye has worked in the magazine industry for over 15 years. She has previously interviewed celebrities for the Fit&Well brand. Having previously been the go-to sex columnist for Now magazine, there isn't much she won't discuss when it comes to women's health - which is important, as Faye's a firm believer that feeling good on the outside starts from within.
Faye's fitness routine is more focussed on finding inner balance rather than burning excess calories – think mindfulness, power breathing, yoga and plenty of walking in nearby woodlands rather than a sweaty HIIT class. Having been vegetarian for almost two decades, Faye's also passionate about eating well. She currently swears by her daily mix of probiotics, vitamin D and B12 to help boost energy instead of sugary treats.
Out of the office, Faye loves to binge-watch Netflix documentaries, plan cruise holidays and talk incessantly to anyone who will listen about how much cats rule. And you'd be surprised how long that can last!